Do you ever go out to eat and what you're served is just so ridiculously good you're reduced to mumblings and incomprehensible vowel sounds for several minutes? I've had
several
such occasions. My waistline isn't too happy, but oh it's worth it.
One of the interesting things about these dishes is that they don't look all that impressive. The first (and best) I have to tell you about is graham cracker gelato, called Graham Central, from
Treva
in West Hartford, CT. It's times like this I wish I'd taken some classes about food so I knew the correct terms to use. Because really, I know what you're thinking. Graham cracker gelato? Bo-ring. I thought the same thing when my mom convinced me to go over there with her to get some as take out. We ordered 2 servings, and they came in those containers you'd get wonton soup from a Chinese restaurant in. Filled with gelato. I thought, oh geez, that's way too much.
And then I took a bite.
This stuff truly is mind-blowing gelato. Graham cracker? No, try cold creamy gelato with that warm honey taste. It's like eating a delicious cake but pureed and frozen and turned into ice cream. There are tiny little bits of chocolate-covered graham crackers, as well as a swirl of buttery graham cracker crumbs. This stuff puts Ben & Jerry's to shame.
So I ate that entire container. And for the whole rest of the day, I could still taste it, the memories were so sharp! But then came the true test of life-changing food: the second try. You know, you have some delicious meal at a restaurant, and then a few weeks later, you return and order the same thing, so eager for the same experience, but it's just never as good. It's so disappointing! Well, miracle of miracles, my second serving of graham cracker gelato was
just as good
- possibly even
better
. Whoa.
My second time at Treva was for an actual dinner, not just takeout containers of icy, creamy deliciousness. I ordered a pork chop. It came with brussels sprouts and polenta, and I do love polenta, but my mom raved about their polenta (and she's not such a polenta fan, so I knew it had to be good!). I figured, eh, pork chop, it'll go with this Nero d'Avola red wine that's the wine special and I've never heard of it (this is how I order red wine- have I ever had it before or even heard of it? No? Then I order it. Yeah, I'm
such
a wine connoisseur.) It came and was unlike any pork chop I'd seen before. I really wish I'd photographed it. (you can kind of see a photo in their
gallery
, it's the close-up of a hunk of bacony-looking meat with brussels sprouts on top)
First of all, it looked like a slab of fat. I was horrified! I thought, ew is this how real Italians eat their pork?! Like a side of bacon? oh god. But after cutting into it (my horrors being continued, no muscle can be this tender) and taking a bite, I realized it wasn't fat, it was meat, but oh what meat it was. You could probably feed this pork to someone with no teeth, I kid you not. Granted, there was a thick layer of fat around the edge, but not in the middle. Again I wish I had a picture, because then you would see how I could have thought what I did.
Mom was right and the polenta was amazing. It was creamy and smooth, the perfect comfort food. It had delicious flavors that I sadly couldn't identify- cheese? herbs? Times like this I wish I went to culinary school or had some sort of education for my palate. Now I'm really on a quest to find a delicious polenta recipe, mine is good but gloppy. I wish I'd asked how the brussels sprouts were prepared, because when I roast mine, they certainly don't turn out tender yet cripsy on the edges like these.
My own dessert that night was the honey pundingo- kind of like a honey flan. We had a huge disappointment, the dessert special of the day was profiteroles, 3 to an order, each filled with a different gelato. Seriously, we almost ordered dessert first. But alas, when the time came for dessert, they'd run out. Dad got the affogato (nice thing for my poor dad- his health now prevents him from drinking coffee (even decaf, and Coke as well) but somehow the affogato doesn't bother him. I still say he could drink coffee if he put milk in it, but he still says that's gross), Mom got the graham cracker gelato (boy their servings are generous!) and I got the pundingo. Ruodan, our excellent waiter (the kind of waiter you hope for in a restaurant, very professional but still friendly and personable, and he remembered my parents from one of their previous visits), said the pundingo came with the graham cracker gelato, so that made my decision.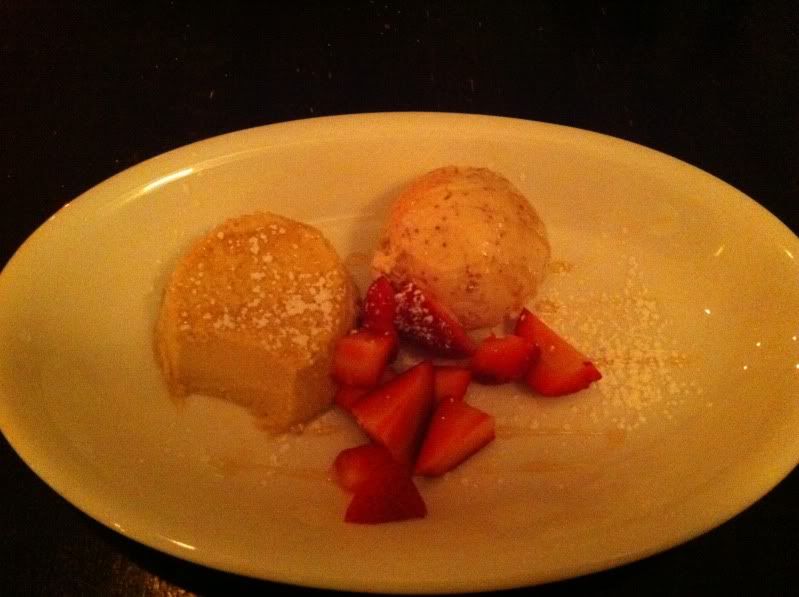 It actually came with fig gelato. But like the graham cracker gelato, it was the kind of gelato that you taste and then are reduced to nonsense syllables while you try to wrap your mind around what you just ate. First of all, I didn't know it was fig, I could tell it wasn't graham cracker but it took me a while to figure out what it was! Seriously this was like eating a delicious gourmet fig newton, in ice cream form. I don't know what this restaurants adds to their gelato but it's something amazing. The honey flan thing was good, but honestly it kind of paled in comparison to the gelato. It had a lovely texture! And the slightly tart strawberries were a great addition to the very sweet pudding.
I can't wait to go back there.
My mouth is very lucky and had another delicious meal recently- not as life-altering as Treva, but definitely delicious and there were those nonsense syllables!
Joey's Bar and Grille
recently moved to a new location about 2 blocks from us (one of the reasons I love where we live, several good restaurants within walking distance!). We tried it out after Thanksgiving and were very pleasantly surprised- the atmosphere was nice, it was kind of fancy but in a casual way, they have very interesting wall decorations (tall and thin panels painted blue that get lighter towards the bottom, with a handful of silver plastic rhinestones scattered all over, like the night sky), and the food was good. Clint had fish and chips (excellent) and I had the beet salad (which was a salad, but a very good one). And their foccacia was quite good, I think we ended up with a second helping.
On Monday I had the pork chop. This is like the mother of all pork chops- a huge hunk of boneless pork loin, wrapped in bacon, topped in melty gorgonzola and drizzled with a balsamic reduction. Would you have ever thought of balsamic and bacon? I don't think I would have but it's ridiculous. I'm totally duplicating this delicious dinner at home.
I had bread pudding for dessert, and I have a weird relationship with bread pudding. It's good, but ugh sometimes it's just so heavy! You eat 2 bites and you have this giant rock in your stomach. Joey's bread pudding is made with brioche or some similarly light bread, with chocolate chunks and bananas baked in. Not heavy at all! I'm considering getting an order for take out the next time I see a certain bread pudding-lovin' friend.
But Clint had the raspberry sorbet. Check it out.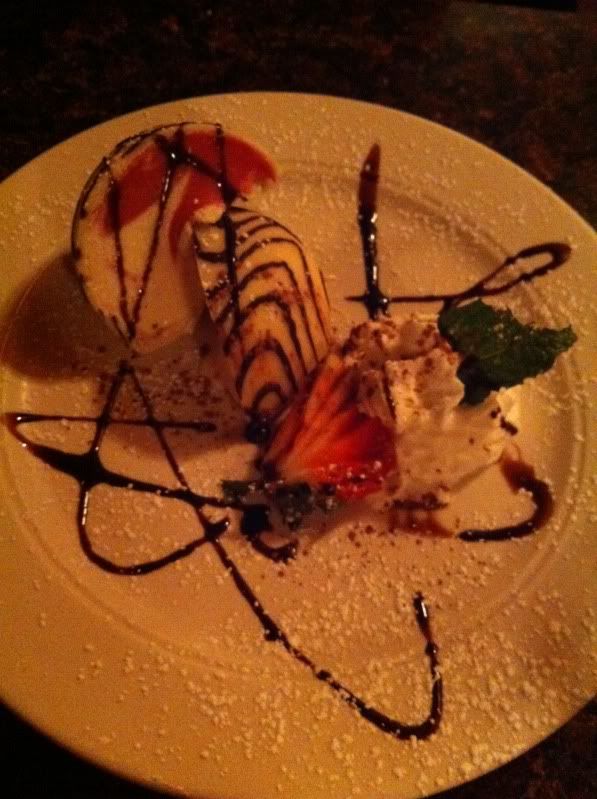 I know it's hard to see, but the raspberry sorbet is swirled with vanilla ice cream and encased in a shell of white chocolate. !! So simple but so delicious. I totally want to try serving sorbet this way... I wonder how hard it would be in my own kitchen.
So if you're ever in Worcester or West Hartford, you know of a good place to eat. And next time I'll be better about the photos!