I've been feeling kind of down lately, so for the past few days I've taken a little more care with my attire. I can lift my spirits by being a little more purposeful about pairing this scarf with that tunic top, rather than just throwing on whatever shirt is at the top of the clean-but-not-yet-folded laundry pile (does anyone else hate putting laundry away like I do? really, it's just such a horrible chore, yet I don't quite understand why I hate it! It's not that hard). I have a health problem that is both a huge deal and
not
a huge deal. It's not life-threatening, I'm not going to die. Yet it's a chronic thing and I'm having trouble adjusting to that. I'm going to the doctor today to see what he can tell me, and then I'll probably try to make an appointment with a specialist in Boston. I feel like karma's really shortchanging me here. I mean, isn't it enough that I can't find a job, I have to have a big health issue too?
So I'll try to ignore and look as pretty as I can.
Here's what I wore 2 days ago. We went car shopping and out to dinner. And Pansy scampered by as Clint was about to take the photo, so I snatched her up and she agreed to pose.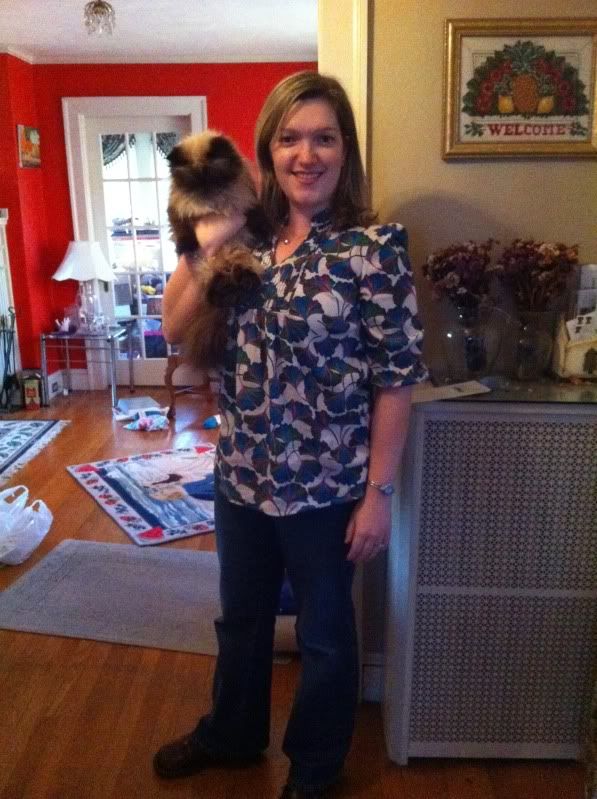 Vivi top in Let's Get Gingky, recently acquired from PPR, size S. Yes, you read that right, Small. This runs HUGE. I plan to take out the elastic in the sleeve cuffs, but I'm not sure if I'll make them a full, open sleeve or just replace with looser elastic. I'm wearing Lilly jeans that I got on ebay in August but only just altered so that I can actually wear them- they were a bit big, but I didn't really want to get rid of them.
For Valentine's Day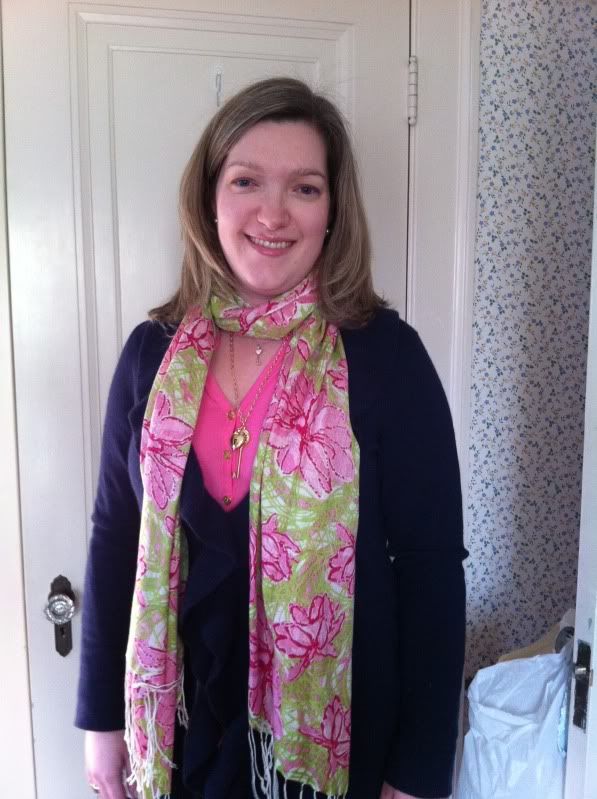 Valentine's Day was chilly, so I had to do a lot of layering. Pink tissue Elsa (M), cashmere Shere sweater coat (L) and Serenity murfee, with my Key to My Heart necklace and my Tiffany's heart key necklace- normally I don't layer necklaces but I figured Valentine's Day is a good day to do it with my heart necklaces! The Shere was a gift from my mom, and it's heavenly. I don't think it's the most flattering thing ever on me, but it's cashmere and warm and ruffly so I don't care.
I can't remember exactly what I did this day... probably just boring, generic errands.
Bess mock turtleneck, Society cords in cameo white, and my new Shaken N' Stirred necklace. I also threw on a murfee because this was just too much solid neutral colors, but of course with my pink She's a Piston murfee you can't see the necklace! The pants are a bit big and definitely need to be hemmed, but you can't really tell here. I got the Bess on ebay for $11 and am very glad- what a simple but comfy and well-cut top!
I took this picture after returning from choir. Choir rehearsals tend to be a bit chilly, so I had to throw on this cardigan- Cassies aren't really made for New England winters, even mild ones like we're having now.
Navy cardigan (possibly a Paley) and Cassie top in starry blue Drama Queen, with Key to My Heart necklace. This Cassie is the XL I got and shrunk in the dryer. After another couple washes without going in the dryer, it's getting a little roomy again, but I really love this solution- especially since I'm worried we'll forget and accidentally throw one of the size L Cassies in and shrink it. Worn with jeans and docs.
This day I'm pretty sure I had no reason at all to spend time on my outfit, aside from the desire to do so.
Pink cotton Elsa, new Fornash fishy necklace and my mom's Take Me Away murfee. Worn with jeans and brown suede boots.
Today I have a doctor appointment and am wearing my navy Echelon tunic, pink She's a Piston murfee, and the Lilly jeans. This Echelon tunic is kind of funny, it's a rather heavy knit so you'd think it'd be warm, but it's really not! And the sleeves are so full that it's hard to find a sweater that can fit over it- I'm glad wrapping myself in murfees does a lot to stay warm.