And I'll probably need a part 4, too. E.A. Davis has a LOT of spring in stock! They were unpacking a lot of it so I think even by today there are many more styles there.
Last Friday I had a meeting in CT, and afterwards I really felt that I needed some retail therapy. Yet, still being unemployed, retail therapy has to mean only trying on clothes (although I admit, I did buy a roll of Do the Wave wrapping paper. For my etsy shop! "Business expense"! I'll get some cupcake wrappers in that and I have a fab new item idea but I'm having trouble finding of the materials. I think I need to be brave and visit Home Depot.) I took the very long drive from north-central CT over to Wellesley. It was a long drive. I stopped at Marshalls and bought a bag of caramel corn... which I promptly devoured before I got home. Well hey, that was my lunch
and
snack. Fortunately, there was no traffic getting to Wellesley. (totally different story for getting home from Wellesley... Note to self: don't leave Wellesley or anywhere around Boston at 5pm on a Friday)
This wasn't such a successful trip, I really only liked one new thing, and improved my opinion on another. I also tried different sizes of the one thing I truly plan to buy, so that I can purchase online if a sale pops up sometime in the next 3 months (I'd like to get this for my birthday in June!). And I was a little tired when I got there, so I only had one round of trying on.
First up, the
Cherry Dress
. (In Prep Green Twinkle, for $268)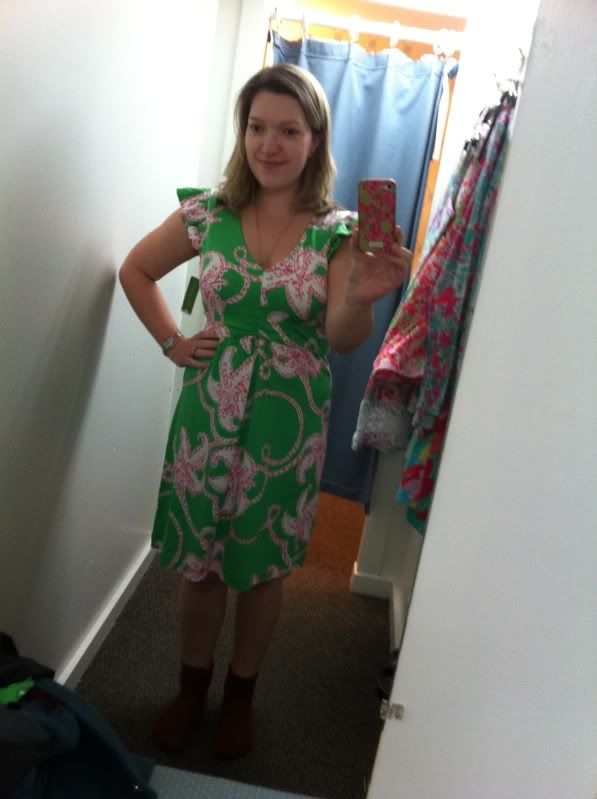 I really like this print. I'm not entirely sure it's the right green for my complexion, but it might have just been the dressing room lighting. This is a size L and fits comfortably, so I think fits true to size. I think the cut is pretty flattering, but the flutter sleeves aren't for me. I think this would be a great, easy dress to throw on in a hurry and still look lovely. I wish it were about $100 less, though! It seems awfully expensive for what it is- even though I think it's the same fabric as the Blanca and Blayneys, it doesn't feel as nice as those.
The
Carolyn
, in Shorely Blue Lavish Lillys, for $118.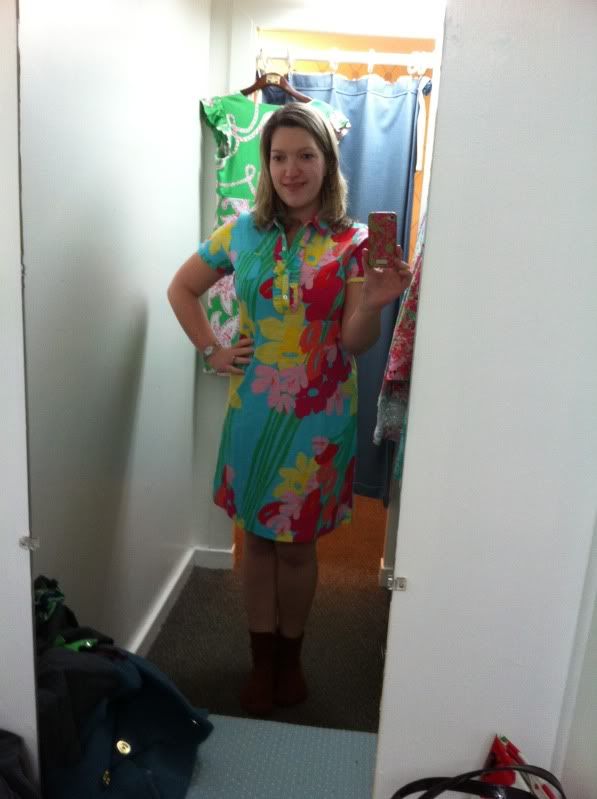 This is super cute!! I'm in a L and it's roomy but not overly so. It's a good length for 5'6-me, and for the low, Cassie-like price, this is definitely an adorable dress to throw in on a hurry. I feel that the cut is far better than the Cassie, more fitted and less smock-like. The ruffled button placket is super cute. Unfortunately, I'm not such a collar person, so I probably won't get this... if only it had more of a nehru collar or a neckline like an Elsa! But the body of the dress is splendid, and I approve of the cute little ruffles on the sleeves.
The
Ferra
, in Call Me Kitty, for $198.
Sorry for the blurry picture, I had a horrible time getting a decent picture of this one. Why, you ask? Well, this is a size 12, but I couldn't zip it past the waist. My arm is clutching the dress to me so that it doesn't fall down. Not cool! This fit about as poorly as the Franco, although at least the bottom half looks fine. It comes in a 14, but the store didn't have one (actually, now that I think of it, the largest size I've seen there in my spring visits is a 12! Hmm, that's not good.) Other than running
very
small, this dress is very cute, but it's a little short on my 5'6 frame. So sad! I love this print. It's very me, since some people call me Cat, and I do love cats. The only other possibility this print comes in is the Delia, so that's on my list for my next visit.
Amberley, in Prep Green Twinkle, for $228.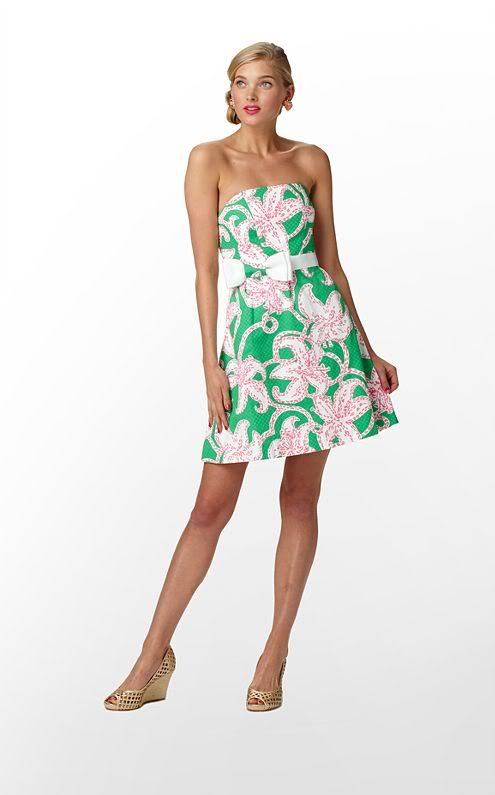 I'm not sharing a picture of me in this because it was worse than the Ferra. It basically had the same problems in fit and length, but without the pretty bodice to save it. Very sad. Size up, size up! The 12s in both of these seriously had about 5 inches of space between the sides of the zipper. That's ridiculous!
Let's get back to something cute.
The
Parker
, in Lagoon Green Birds and Bees, $228
This is very cute! Fits a tiny bit snugly, it was tough to zip up at the bust but fits more or less comfortably. I wouldn't size up, but I might wear spanx or a different bra. I thought this was cut pretty well for me. The skirt's a little more poofy than I need, but really this fit the way I'd hoped Eryn would. The straps were too long, but that's normal for me, and the V-neck is flattering without being too low (I'm wearing the same Not Just Fringe necklace as in my last trip- convenient coincidence!). I probably won't get it, but I may look for it when spring goes on sale!
(I just remembered- this fits like the Chichi! Which I adore. Poofier skirt and has that cute rosette at the waist, but otherwise like the Chichi! No wonder I liked it.)
Here's my favorite from the day:
Adeline
in White Sweet Daisy Eyelet, $228
This is a little snug. That day it felt like maybe I should have tried a 14 (but again, not in stock! geez) but looking at this picture it looks ok. Maybe I just need spanx? The bust was tight, but the way it's cut you can just spill out a little to relieve the tightness, which I'm doing here so it doesn't look crazy. It's pretty low cut, and you can see the edge of my
demi bra
, so I'd need to rethink undergarments for this. But the best thing is that I looked much better than the model in this-hahahaha!! I may be a little chubby, but I'm not awkward! This is a possibility for paging, although I'm not sure if it's too low-cut. Chichi is a little low and that's been fine, so maybe this would be ok.
Now, they had a few things on sale- a
few
. The Valentine's murfee for 50% off (SO tempting!!!!! But I left it there), a couple Minnies dresses in the Valentine's print, and the Estelle Love sweater.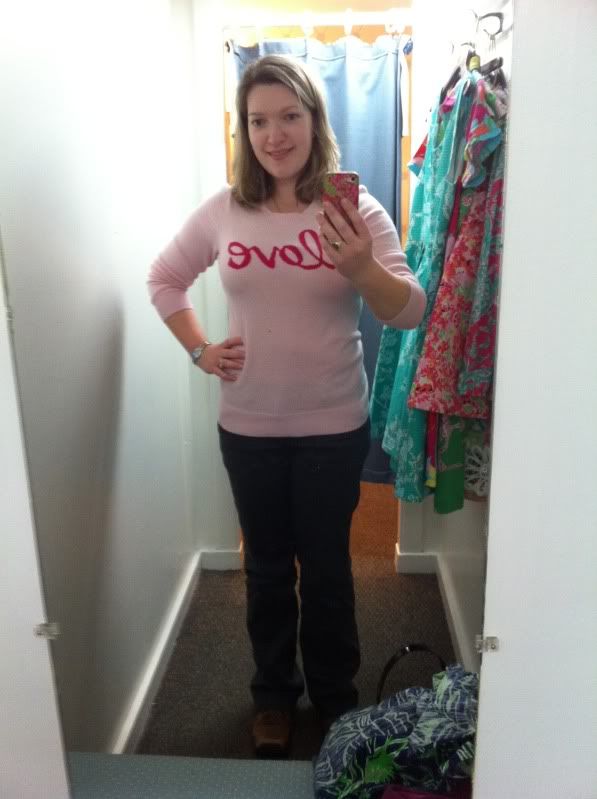 Which, fortunately, I didn't really love. I mean, it's ok, it's not bad, but I just didn't LOVE it. So I was glad, because I had wanted it and was sad I couldn't get it, and now I can't afford it. So that worked out well.
I also revisited Joycee. You may remember in my last spring post that I didn't much care for the Reef Me Up Joycee. The shoulders were weirdly tight.
Well, today I tried on a larger size.
Scorpion Bowl Joycee, size L.
Size L feels good. It's roomy (quite roomy) but the shoulders feel right. So I tried on the same thing in M.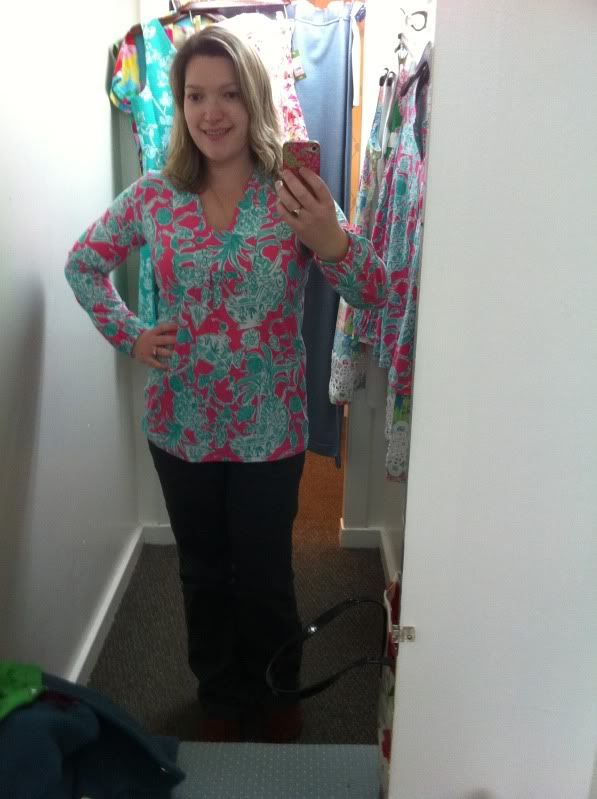 ....fits well. A little roomy, but not too roomy, and the shoulders feel... right. Really?
Don't you feel like I'm wearing the same top in both pictures? I'm not. The first really is L, the second really is M. Let's revisit the M Reef Me Up.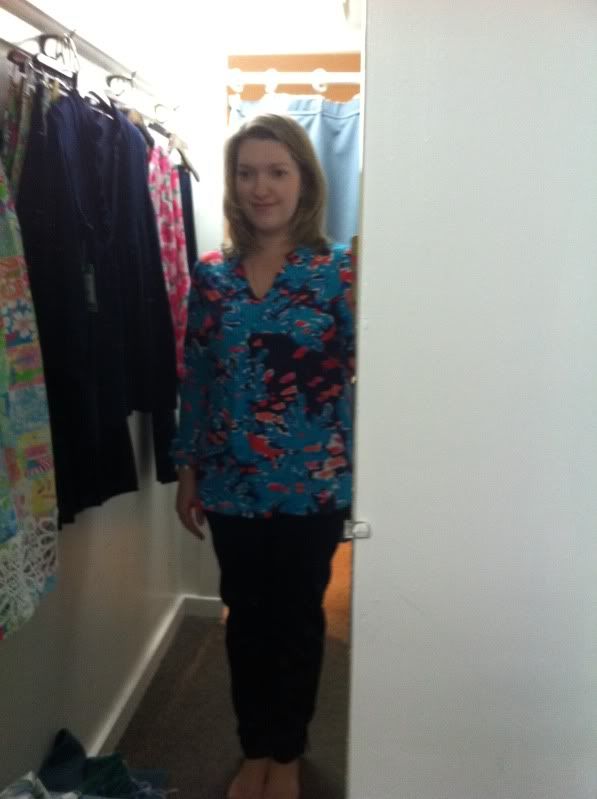 it's hard to tell in this picture, and it's hard to say if the shoulders were super tight in this simply compared to the awesome Via I'd been wearing for all the bottoms I tried on, or if they really were tight. I didn't grab a Via this time to study that aspect.
But I dunno. I guess I conclude that I can wear EITHER M or L in Joycee. Just like in the Bidi tank, either M or L fits. Somehow that just doesn't seem right.
But at least it widens the possibilities for shopping sales!
Speaking of sizing oddities, I didn't photograph the Mariana this time, but I tried on SOM in 10 and 12. Remember I tried on
Bloomin Cacoonin in 10 and 12
, and decided I preferred 10, but SOM I only grabbed as 12 and thought it fit right? Well, without a doubt, the Mariana in SOM size 10 is TOO SMALL. I need a 12 in SOM. But I need... a 10 in Bloomin' Cacoonin'? This is just too confusing! Dresses should not vary in size in the same season! Last year's Adelson can fit different than this year's, or my 2010 Shell We Dance Blayney can fit completely differently (I need M) than this year's Starry Blue Drama Queen Blayney (size L is a tad snug), but things can't vary in the same season! Step it up, Lilly.
But Lilly, remember that I love you, even with all your peculiarities. After all, it gives me a great excuse for this fake retail therapy afternoons :)