Not in a sandwich cookie way, either.
I was recently introduce to
Biscoff Spread
. It's essentially ground up Biscoff cookies, pureed into a peanut butter-like paste. It looks like gooey peanut butter, but it tastes amazing- like cinnamon-y nilla wafers. Or, it tastes like a paste made out of Biscoff cookies, but I'd never had those before.
We enjoyed biscoff on nilla wafers, pretzels and a spoon. It was good. This was at M's house, so of course once I got home, and was getting ready to have a few people over, I had to go out and buy Biscoff Spread for myself. You can find it with the peanut butter, and it's a little pricey, about the same as Nutella (although I lucked out and Nutella was on special this week! woohoo!). I branched out a bit and tried it on granny smith apples, and discovered it's quite delicious on bananas. Biscoff is good stuff- not the healthiest snack ever, but I like to think eating it on fruit almost cancels it out- or makes a better dessert choice.
It just so happened that at the same time as the Biscoff Discovery, I was looking for a good cookie recipe. I had some self-imposed restrictions which were making the search a little tough. No chocolate, not oatmeal, I was sick of sugar cookies, I'd just made peanut butter nutella cookies and wanted something different.... well, I found a snickerdoodle recipe. Sounds good. But there was a second part...
Snickerdoodle cookie sandwiches with
Biscoff Frosting
. Oh my.
Snickerdoodles
recipe from
Two Peas and Their Pod
1 1/2 cups sugar
1 cup (2 sticks) butter, room temperature
2 eggs
2 3/4 cups flour
2t baking powder
1/2t salt
2T sugar
2t cinnamon
Cream together butter and sugar and beat til fluffy. Add eggs, one at a time. Whisk together flour, baking powder and salt, then stir into the butter mixture.
Whisk together the 2T sugar and cinnamon. Form dough into tablespoon-sized balls, roll in the cinnamon sugar, then place on a cookie sheet. Bake at 350F for 10-15 minutes (original said 8-10, I needed 15min), until they just turn golden brown.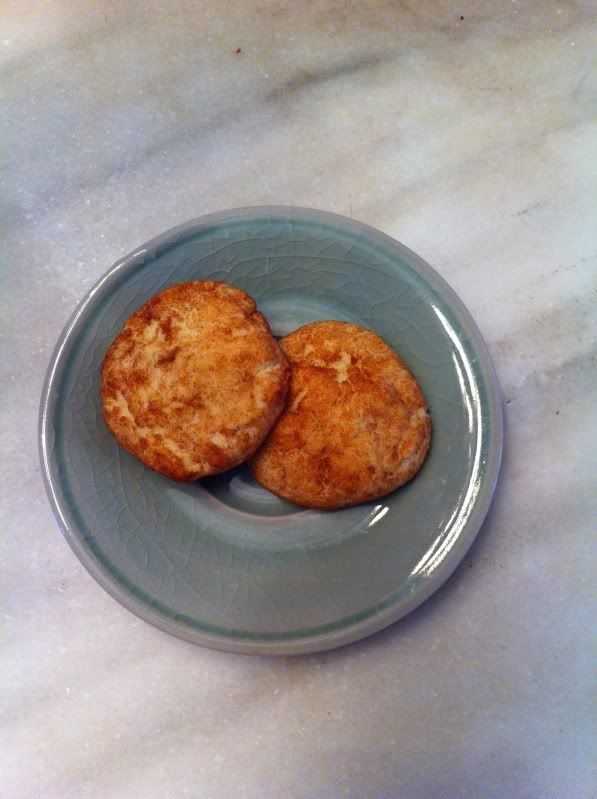 FINALLY, I have found a good snickerdoodle recipe. They have the perfect snickerdoodley, cinnamony, eggy flavor that I love, and are nice and chewy. Mr Snickerdoodle Expert over here says they're better than the last recipe I tried, but they're supposed to be flatter. Yeah whatever. I'll smoosh them down before I bake them next time. But whatever he says, I think these are absolutely great. But there is a next step...
Biscoff Frosting
3T butter, softened
1/2 cup Biscoff Spread
1 cup powdered sugar
1/2T cinnamon
2-3T milk
Beat together butter and biscoff, then beat in sugar and cinnamon. It'll get crumbly, then add in the milk, tablespoon by tablespoon, beating sufficiently after each addition, until it's fluffy. (I only needed 2T).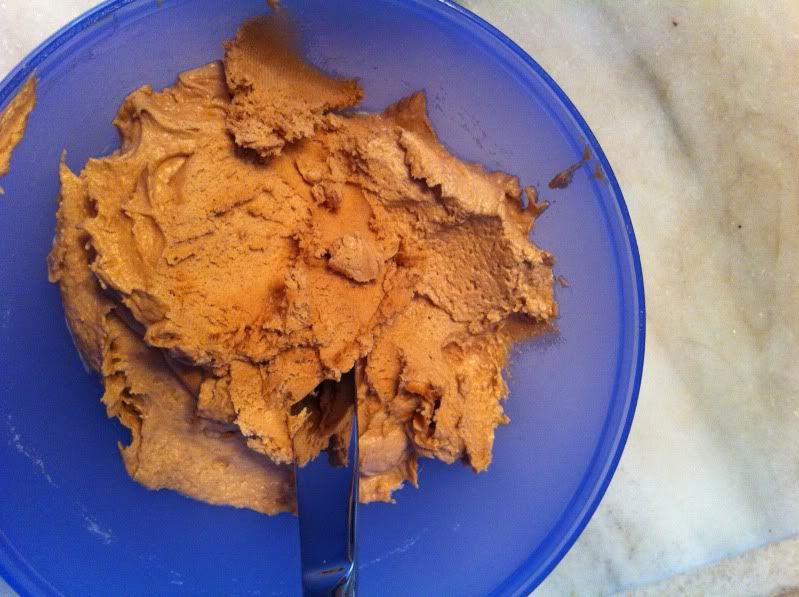 Spread the cookie spread frosting ON the cookies. Whoa! They were supposed to be cookie sandwiches, but I was trying to save on the calories and just used one cookie with frosting on top.
But then, my friends, I got a little crazy. I had to go to the grocery store for milk yesterday, and I was on the hunt for Lilly Pulitzer animal crackers (none at the Mayfield St Big Y, which I expected). I did, however, find Biscoff Cookies- the stuff the spread is made from! I had to get them. The package says "Europe's Favorite Cookie with Coffee". I haven't yet tried them with coffee, but they're pretty darn good with tea!
We're running out of snickerdoodles by now... but we still have a lot of the Biscoff frosting left. So I kind of went to town with the Biscoff.
Biscoff Frosting on Biscoff Cookies. And I ate it too quickly to photograph it, but I also put Biscoff Spread (straight from the jar) on the Biscoff Cookies.
Cookies topped with spreads made from cookies... it's the ambrosia of baked goods.