Many people say they hate bathing suit shopping. I don't. I never really have. I'm far from happy with my figure, but over the years I've been lucky to find two brands of bathing suits that always have at least one style that works on me- Lilly (duh) and J Crew. I've gotten to the point where I can even order online. It's a big relief.
But one thing that's just impossible to fit is jeans. Pants are ok, it's something about the denim or the rivets or the seaming... I don't know, but jeans are awful to shop for.
I think this is fairly common. I mean, that's why there are so many different fits of jeans. Curvy fit, straight fit, relaxed fit, boyfriend fit, skinny, slim, petite, cropped, long, flared, bootcut... oy. I've tried on all of it. I got to the point where I found a pair of jeans that fit, and I bought 3 pairs. Then I went through a phase where I bought 2 sizes. Then I saw that sometimes sizing up makes them wearable, but I might have to belt them. All of this worked for a while, but of course when they started to wear out, I went to get more, only to discover they no longer make that style, or anything close to it. Ugh!
When I try on a pair of jeans, if I get my normal pants size, the waist/butt fits perfectly, but the legs are so tight I can hardly pull them up. If I size up, the legs are perfect but the waist is huge. If I try on anything flared, that scenario is more exaggerated. If I try on skinny jeans... well, it's the opposite, sizing up makes the waist fit nicely but the legs are weird and baggy. It makes no sense!!!
Over the summer I found a pair of really cute new without tags size 12 Lilly jeans on ebay, they were misspelled so not very easy to find, but I found them, and I got them for $29.99. They have adorable pink and green stitching on the back pockets, and they were kind of a consolation for a pair of size 8 jeans I bought at Nordstrom Rack a few years ago, completely forgot about while I was that size, and then had no hope of fitting into again. Well, like I said, lately I size up in jeans, and these were that up. They arrived, they're lovely- they look completely brand new, they're that good bootcut fit that I love from the pre-skinny jeans days. They fit perfectly through the leg.... but the waist was enormous. We're talking Jenny Craig commercial enormous (ok I exaggerate, but it felt like that!) There was no way I could wear them. So sad!
So I tucked them away while I tried to decide whether or not to sell them.
A few weeks ago, I went through a big closet purge- wear it or sell it, that's my motto now. I found these jeans again, tried them on, but I just couldn't bear to list them. Legs fit and look great, but the waist is too big to actually wear them, just walking around the house makes them fall down.
Aren't they cute?
And then came my brilliant idea.
If you have a skirt that's just a tiny bit too big, how do you alter it? Take in the seams a bit. Easy peasy, just one seam on each side. Why not try that on a pair of jeans? The only obvious issue is the super thick denim.
I made a seam on each side, first about a 1/4inch in on each side, reducing the waist measurement by 1 inch (the pink seam), and then it was still too big, so I made a seam another 1/4inch in, reducing the waist measurement by 2 inches (the green seam). I stitched over the existing seam again, just to reinforce it.
The seams are kind of hard to see in these photos. This isn't a fool-proof fix, however, because pulling jeans on and off puts a lot of stress on this area and these seams, which is why I sewed again over the innermost seam. You'll probably need to resew them after a handful of wears. I had to urge my sewing machine along by turning the wheel thing with my hand, when the motor fought the foot pedal, but that's the same as when I sew something that has 6 or more layers of fabric, and other than that, sewing these seams takes just a minute and is very easy and straightforward.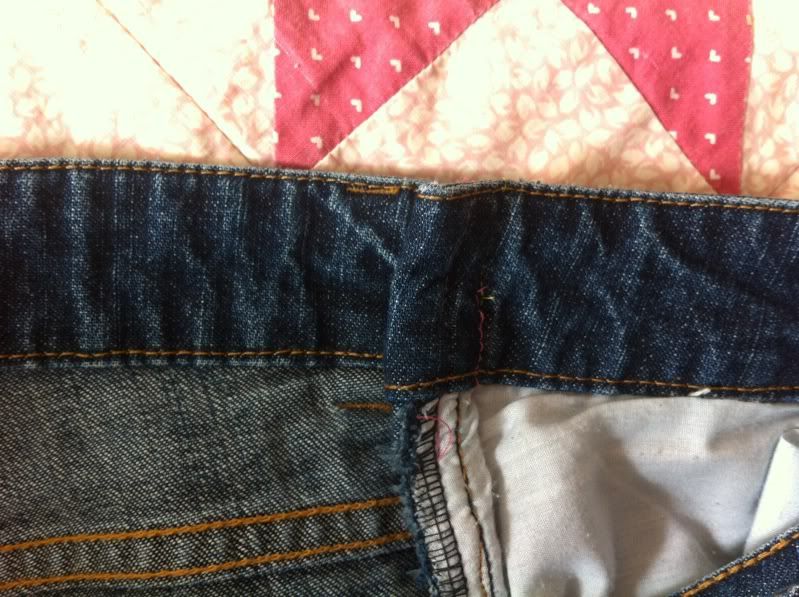 Here's how the jeans look after the seaming. You can see the little indents on each side from the added seams. Honestly, the first time I put these jeans on those indents felt a little odd, but by now, after wearing them a handful of times, I don't notice it.
Over the weekend, I was going out with the girls, and the pub we chose is fairly casual, so I wanted to wear jeans- but what jeans? I found a pair of trouser-style jeans from White House Black Market (the only item I own from there, sadly), but these were a pair I bought after I decided I needed to size up in jeans- I tried on the 12s, too big. So the 10s: roomy, but there's no way I can still be an 8, I was sure of it. So I bought the 10s, and wouldn't you know, too big. The wide legs make the legs look fine, but they were another pair I had to belt. Well, on Sunday afternoon, the light bulb went on, and I sewed these up too. I'm wearing them as I type, so I can't show you any photos at the moment. I didn't have to take these in quite as much, only about a 1/4 inch on each side, and they fit perfectly. I'm so excited, yet another pair of pants available in my closet. :)
So if you have this same problem of baggy waists in your jeans, get out your sewing machine, or go to a friend who can let you borrow it for 5 minutes. It's such a quick and easy fix, and might open up a whole other section of your wardrobe. Also, it's a great way to salvage your old pants after losing a little weight- but I wouldn't suggest trying this to reduce the waist measurement by more than 2-3 inches.