Today was a big polar opposites day.
To begin, I got up early (well not early, but quickly) to be at my computer for the 8am start time of the new Lilly Pulitzer Winter Sale! oh boy. It was thrilling, I tell you. I was giddy.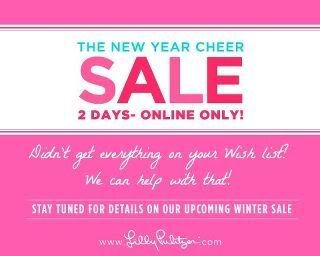 Then after that, I decided I needed to finally call up my doctor about my poor ear. I haven't been able to hear properly out of one ear for 8 days, but with dimetapp and later sudafed, it'd clear up for a bit and then be bad again the next morning. Today it was unbearable. But would you think they'd be able to help me make an appointment? No. The deal seems to be, you call up to make an appointment, and they send a note to the nurse's station that you want one, and you hang up and wait for the nurse to call. Really? Is that the best use of everyone's time? I'm sure the nurses have far more important things to do than call people. 2 hours, 5 phone calls and a conniption fit later, I finally have an appointment tonight at 7:30 (during knit night... ugh). Turns out the problem was that my particular PCP had left the practice, so even though I wasn't a new patient, I was a new patient. But they couldn't tell me that that was the problem. Whatever. And I still don't get why the nurses had to call me back to schedule.
Anyway, let's talk about the happy stuff: Lilly.
Now, everyone's hopeful that
The Dreaded Email
won't get passed around again, but you never know. But really, as long as I get the 2 things I bought within a couple minutes of the sale going live (and I think I should be able to get (knock on wood)) I'll be content.
First of all, let's talk about my list.
I have this top and love it. So obvs I need more.
I also LOVE the Blanca in Dress Rehearsal, which you may
remember
, but I never expected to actually
get
it- I'd seen it on sale for $94 but that was a little too much for today. It's on the theoretical list.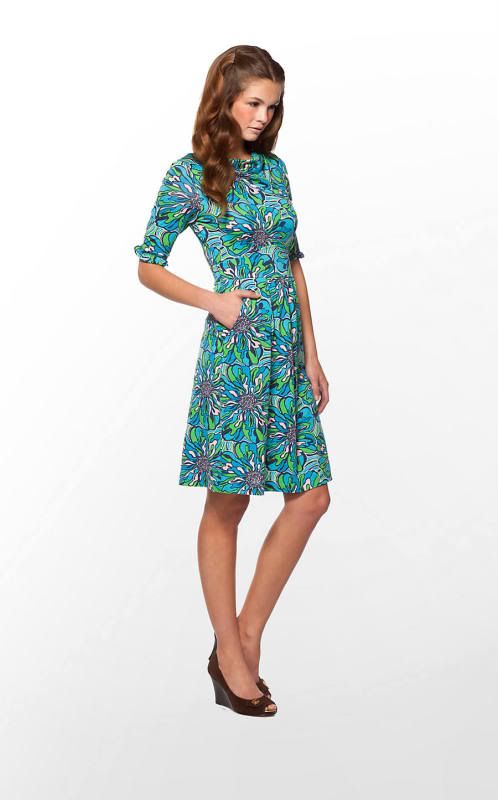 I also wanted a printed Elsa (any print!)
or a Vivi.
And I loved that Joanie and had almost bought it from Saks a couple weeks ago, but figured it'd be $80 or more.
So my realistic list yesterday was: a Cassie or two, an Elsa or Vivi if they're under $50.
Now, here's a little added drama: many of the Lilly stores started their sales at midnight last night. Oooh so the discussion of who's going to stay up til midnight (wait, you don't normally? what?) and wait for the sales to go up. Of course I did, and ooh what do I see, but a Joanie for $59 from
The Pink Door Memphis
! Oh that's doable. And free shipping? *snatch.
I poked around a bit more- found some tempting things: Rivia (you may remember from
this shopping trip
, and I actually got a navy one for Christmas that fit a lot better than this pink one), Wanda, bermuda shorts... but they weren't on my list! Ignore, ignore! I added some items to various carts from various stores, more for my own amusement of seeing what was left in the morning than any serious intentions of purchasing, and went to bed.
Now, 8am start time. summer sale 2010 it was 11am start time (when the site crashed at 11:02 or so), and last summer they didn't announce a start time but opened it up at 9. I liked 9. I liked 11 better, but 9 was fine. See, 8am isn't early, but now that I no longer set an alarm, not having any pressing issues to get me up early, 8am made me kind of anxious. Not to mention not going to bed til 2am! And then being too excited to sleep.... But of course I was so excited that I did actually get up early, and had a dream my alarm was going off 20 minutes before it was set to (that was weird!). I showered, dressed, got my contacts in and made coffee, all in time to sit down at my computer at 8:01.
And.... nothing. So there was a lot of facebook chatter.
I think it took about 15 or 20 minutes for the official sale to start. But oh, when it did, it was worth waiting for!!!
Cassies? Check. $19 each (down from $68), in Standing Ovation and Thrill of the Chaise.
Elsas? Vivis? Not so good- they only had solid Elsas (granted, for a good price!) and I don't recall seeing a Vivi. Oh well, not a big deal.
Let's check on the dresses. I'd already gotten the Joanie, so I figured I could go without another fall dress. You'll never believe it- the Blanca, originally $268 for $59. MUST HAVE. I seriously nearly spit my coffee out. A Blanca for only slightly more than I was prepared to pay for an Elsa is a very appropriate list shift. There were other good dresses, too- I would definitely have bought a Shauna or two if only they'd had my size, list or no list!
On to accessories- they had the Don't Be Koi necklace, which I recently have decided I must have. Sold out! Boo. And it was only $14. Bracelets, clutches... meh. Shoes? Good prices on the resort wedge that everyone loves, but... I can't justify shoes (ha, like I can justify clothes?). On a whim, I checked out swimwear. Who wants to buy swimwear in January?
Well, me, apparently.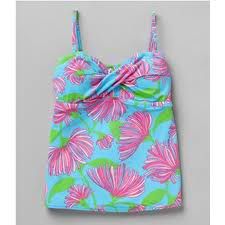 Caye tankini top, $14, and matching surf's up bottom, $9. Um, you can't pass that up. You can't even get those prices at Target! Even though I now have bought 3 swimsuits in the past 10 months.... well come on, it'd be foolish not to grab this. I'm kind of wondering if I should have bought more. I mean, I
do
spend a good 3 weeks at the beach every year. Plus, I love this print- it's too bad I have no intentions of using my matching tote as a beach bag!
Men's? Boring- swim trunks and a pastel tie.
Bottoms? meh. Tradewind capris were $19 but not in my size. I wasn't overly impressed by the $29 shorts- especially since seeing stores last night listing Bermudas for $19 and Callahans for $17. Skirts? $29 and up, and I'm making a lot of my own skirts these days. Plus, not on my list!! The all-important list.
But then I went back to dresses and decided a $198 Addie shift in On the Half Shell marked down to $39 didn't need to be on the list to be purchaseable.
Then mom got on the phone. Poor mom! She has a terrible cold, so you know the last thing she needed was to be shopping online at 8am. But we had a nice (relatively short, comapred to the summer sale, at least!) phone conversation. She picked up the Shere cashmere wrap, which she'd wanted after seeing it in December, but waited too long to go back to buy it. Happily, she got it for quiiiite a bit less than at that store. Plus her $25 credit from receiving The Dreaded Email after the summer sale (haha her canceled item was a dress for me- so I think she really lucked out on that! I was disappointed though)
Online shopping on the phone with mom is fun. She likes to go through every page or every section and comment on all the dresses. Always when we start doing this I'm like, "come on, come on, don't waste time talking about a Franco that's only available in a 2!" but really, it's kind of nice to go through leisurely- she spots stuff I overlooked. So during this time, mom said, "oh there's that tunic I bought you, but in red"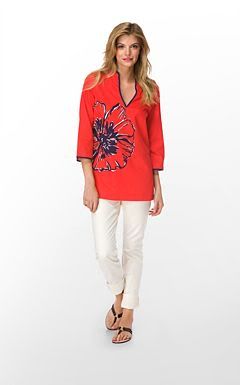 "wow, that's a good price". And hmm, mom's right, $39 is kind of insane for that. Oh, and it's left in L..... mine! This makes up for not getting an Elsa or Vivi.
And
I'm a recent convert to this whole tunic-skinny jeans-high boots thing, so I do kind of need another tunic. (although in my case it's not skinny jeans- I still refuse to wear them. Slim cut jeans, please. They're
different
.)
And now I have to mention the other incredible deals. Honestly, it's a good thing many things weren't available in my size, or I would have had a VERY hard time choosing what to get and what to remove from my cart. Ricci shifts for $39. Murfees for $29. Bowens for $29 and $39. Worth shifts for $34. I thought the prices were good in August, but not nearly as good as these prices! It was a shopaholic's dream.
So in the end, mom got Shere, and I got:
Joanie Behind the Rope (good for DAR meetings)
Cassie Standing Ovation (J and I will match)
Cassie Thrill of the Chaise (
Bird
and I will match)
Blanca Dress Rehearsal (also my favorite fall print- finally I have something in it!!)
Addie On the Half Shell
Caye Tankini top and Surf's Up Bottom in Turquoise Kissue
Ciara tunic in red Standing Ovation
it's a lot, I admit it. But you know what? Half of that expense is paid for by a recent etsy order, and the other half by Christmas money. "Dear Grandma: thank you for buying me these clothes- especially because they're clothes you will love." Grandma appreciates Lilly- anything that's colorful and modest.
Oh and I just checked my email and Lilly will apparently be on Rue La La in 2 days?! No, it's too much! I definitely can't justify any purchase there.
And what now? Well, now we sit back and wait to see if The Dreaded Email pops up in my inbox. Half of me hopes it passes me over, half of me wouldn't mind if it did pop up- but not on those Cassies!!!