Fashion show! Everything fits, yay! I expected this because I bought things I'd already tried on... but sometimes you never know!
Here are some pretty bad mirror photos... but you can see the clothes, and that's what matters. This is the only mirror in our house that gets enough light in the evening.
Ciara in red Standing Ovation.
I ordered a Large. People say she runs small, especially in the shoulders, but I actually found her true to size or even a hair large- and I do have broad shoulders. Maybe I'm just more used to things being tight in the shoulders? Well anyway, love, especially this shade of red, which is very tomato-y. Normally I stick to bright red or cranberry, so this is a fun change. Not quite sure how I'll wear this one yet- the Chorus Girl tunic I've been wearing with slim jeans and boots, but I don't know if I should try to mix it up a bit. $138 on sale for $39 :-D
Cassie slub top in Standing Ovation
and in Thrill of the Chaise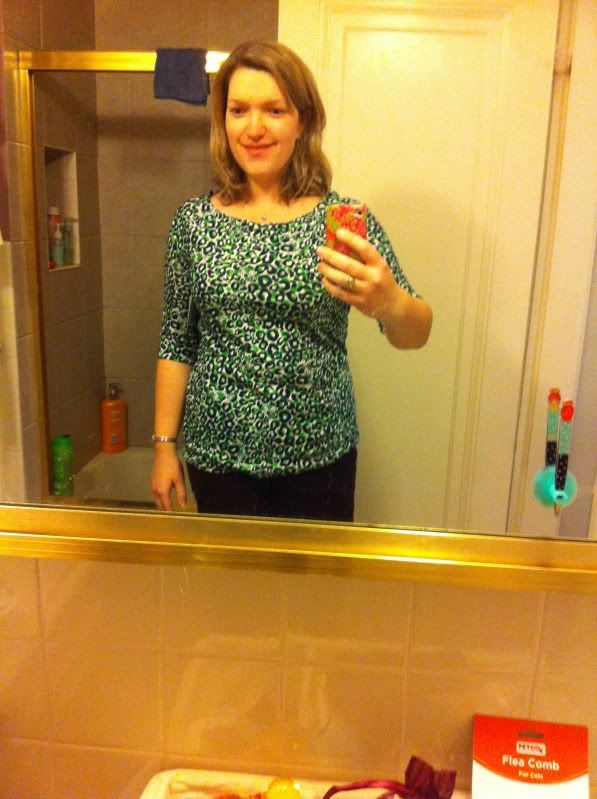 These were a hair smaller than the resort slub Cassie I have... unexpected. I'll have to be careful not to put these in the dryer EVER! But I love this top- I love the boatneck and the length- longer, but not too long. Unfortunately, they're not very warm for winter, so...
I tried pairing the standing ovation Cassie with the standing ovation Paley cardigan. I polled fellow Lilly lovers, and the general consensus was too much Standing
Ovation, although a couple people liked it! I like it, but I've been accused of being too matchy-matchy before. So... I wore this at home and next time I wear this Cassie and go out in public, I'll probably wear my 3/4 sleeve navy Paley or my long sleeve green Pierre. Of course, once it's spring the cardigan will be unnecessary.
The Addie, an impulse buy. $198 on sale for $39, of course I had to, right?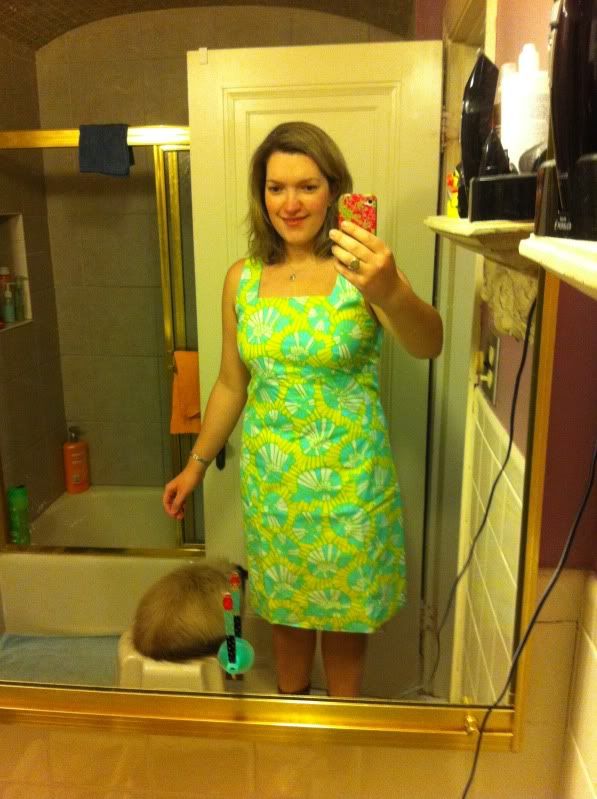 The print is On the Half Shell, which I like far better in person than on the website! It was very limey online and in person the turquoise is just as prominent. Addie runs small... I was surprised. I ordered a size up compared to other spring items, and it was small. The straps are also very long, but I often have that problem and it's an easy fix. So hopefully this'll be a little more flattering once I take care of those straps! I really like the empire waist construction, and hope to use this shift to inspire some of my own creations.
Blanca! The never-thought-I'd-get-that purchase! $268 on sale for $59
Blanca is very comfy. She's a silk jersey and fits TTS. She has a higher waist, kind of empire but not quite, which I was actually a little worried about, but it works. And pockets, hooray! The only issue is the cute little ruffle on the sleeves keeps flipping up... not a big deal, but it
is
kind of annoying to have to keep fixing it.
Joanie also arrived, and I planned to wear her to a meeting tonight, but I've had some health problems in the last couple weeks and the new meds are getting to me... sigh. So I skipped my meeting, and stayed in sweats.
And my Caye tankini and Surf's Up bottom also came and fit great! $78 on sale for $13 and $68 on sale for $9. But that photo's not going online. Everyone said size up, and I was an M in last year's swimsuit so I got L... and both were roomy. Not *too* roomy, but... a little roomy. I really liked the Caye top, it's a bit longer than most tankini tops, and kind of tunic-y and flared, so it is THE ideal swimsuit for a fat day. Seriously. Or for any legit weight gain. It's not pretty, but it's reality!