You know how when you go to a buffet at a restaurant, you pile up your plate with everything? It all looks so good, you just have to try each dish. And then you can't possibly eat it all, even half of it. That's what fall catalogs are like for me.
A few weeks ago, I went to E.A.Davis in Wellesley, MA. I was on my way to practice carillon at Wellesley College, my alma mater, and I just had to stop at one of my old favorite stores. As luck would have it, they were in the process of unpacking the new fall Lilly! Oh so exciting. I took armfuls of clothing into the dressing room. I tried them all on, and then I took armfuls more. And then I did it all again. I was in there so long, enjoying all the fun new prints and styles, that I completely forgot to feed the parking meter and got a ticket. oops! Luckily Wellesley's parking tickets are surprisingly low in price so it wasn't a huge deal, I mostly just felt stupid and irresponsible.
I tried on a number of dresses, but since I wasn't doing it for blogging purposes and solely for my own enjoyment, I can't remember each style I tried. Don't worry though, I'll go back again and keep better records!
Also, I didn't buy anything (well, anything of the fall line... I did buy a beautiful Shauna Embroidered, a dress I've been literally lusting after since it came out last spring, but I'm now regretting my purchase and am trying to sell it. Let me know if you're interested in a size 10 for $225!). This visit to the new fall styles was strictly for research purposes!
My absolute favorite for Fall 2011 is the
Bianca
($268) (also called the Blanca on the same page, so I'm not sure which it really is).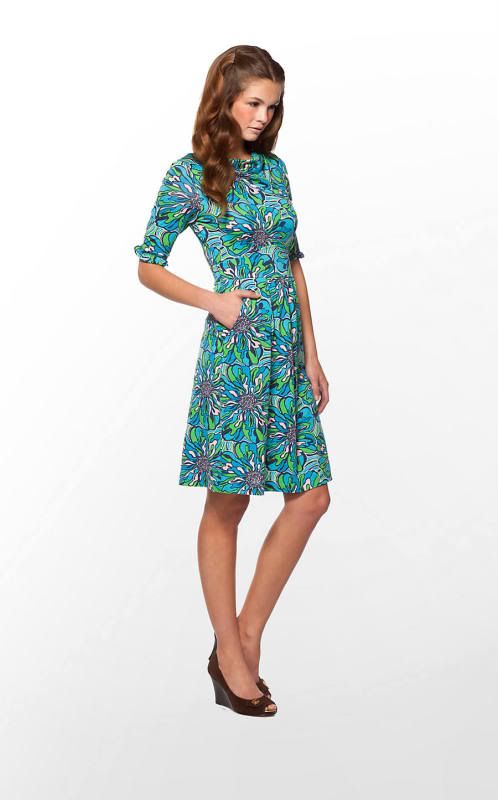 This is a silk jersey, drapey necked, elbow-length sleeve dress with pockets. Pockets! Side note on pockets: when I was choosing bridesmaids' dresses for my wedding, the one we ended up with was an Ann Taylor dress (which I also bought for myself, haha). My girls were happy with it, and when they arrived, my friend M exclaimed over the pockets rather gleefully. And I thought to myself, oh M, seriously? But she's totally right. Pockets on a dress are so handy.
I've tried on the True Navy Dress Rehearsal print in this dress, and I declare that I'll buy it this season. Ideally I'll get it on sale, or when Lilly has a great GWP, but we'll see. It may depend on whether I get a job.
Now, dressing room photos are tricky. Most of the time, a dressing room is simply too small for a full-length photo, you just can't back up far enough. This time, having a big table in there (great for throwing clothes on, however) was the issue.
You can see some of the other goodies I pulled into the room. The Evie dress in pink tomato standing ovation is another lovely dress. ($188)
This version is woven cotton, but they also had a knit version in ring pop. ($188)
For whatever reason, I preferred the fit of the ring pop over standing ovation. Ring pop comes in SML and Standing Ovation in number sizes, and I found I was between sizes in standing ovation, but perfect in ring pop. How odd! Normally I'm between M and L and perfect in a number size. Ring pop will probably be more versatile for my wardrobe requirements, though, I need a lot of day dresses for DAR meetings.
I tried on a variety of knit tops, too. I unfortunately didn't love any of them. The
Lexie
($40) is a very standard t shirt, a nice wardrobe staple with a good cut, if you're looking for that. I wasn't.
I love the
boatneck
t ($48) on the models, but I'm between sizes. Watch out for that! The woman helping me at the store says it's supposed to be a fitted shirt, but the M was extremely tight compared to the picture of the model, and the L was swimming on me. Bummer! I almost though the M was mislabeled as a S, or the L was really an XL.
And did I mention all these new fall styles were fresh out of the box? I was the first person to ever try them on- how often does that happen! It would have been so nice to buy one, like when you buy a new car that has 10 miles on it.
Also pictured on the dressing room table is a really interesting dress from spring (or summer? I can't keep it all straight!). I pulled it off the 40% off rack on a whim, thinking I'd hate it.
Other popular dresses others are pointing me toward include:
The
Adalie
wrap dress, $158
The
Cassie
, $98
(but I'd think I'd prefer the
Cassie top
)
and the
Claire
, $258, which isn't new for 2011 but is still great for early fall.
I'm also on the hunt for a Blayney in Let's Get Gingky, although if I can't find one, I'll settle for one of the Fall 2011 prints!
I've found in at TJMaxx for $79.99 and recently on clearance for $59, but never in my size! Now that it's on clearance, I'm tempted to buy the wrong size and let my seamstress work her magic on it. It's a silk/cotton jersey, a fabric I'm afraid to work with myself.
Stay tuned for details from my next visit to the Lilly Buffet!