You've probably noticed that wamozart12 isn't cooking very much these days. It's strange, but I'm just not. I'm not inspired like I used to be- but then, I used to have these ridiculous chunks of down-time at work when I'd browse tastespotting and get inspired, and now that I'm not working, I'm actually doing things instead of killing time until the instrument's free or the shipment arrives or my boss gives me 5 minutes to discuss those confusing results.
Also, I'm sick of photography. Some people love it, they love photographing things and checking out different angles and building lightboxes. I hate that. I don't have the patience to set up a home-made or ridiculously expensive storebought lightbox to photograph a dish, and my poor husband was getting tired of eating food that'd already grown cold and congealed because of how long it takes to get a good picture. And don't even start with me on camera tripods. Seriously? A food blog is about food, not photography. But I know good pictures are what it takes to make a good food blog (and I definitely tend towards the ones with pretty pictures...), and so I say I'm happy with blogging for my own personal benefit- this blog is better than a box of recipe cards.
So while I'm not cooking, I've been doing other things. I'm going to share more about my crafting (knitting and sewing), and because it's been my big obsession this summer, fashion.
Not just any fashion, no, no. I am not a stylish girl, I mostly dress for comfort. But I'm also not one to wear all black because it's "slimming" (it may be slimming, but I'll look like a zombie), or jeans all the time, and may the lord above strike me down if I ever go out in public in pajama pants (I mean come on, we're not in college!). So what do I wear?
I wear Lilly.
I've been introduced to a number of blogs by Lilly fans. Some girls like to gush about their newest purchases. Some wear Lilly for a special occasion and like to share pictures. Some try to incorporate as much Lillyness into their lives as they possibly can. Some even strive to wear Lilly every single day and make a huge deal of it.
.... to which I say, honey, I've been doing that for years.
So I decided to tell you about it. My goal is to do a wamozart12 wears lilly update once a week, and I'll tell you what I wore and why I like it. I'll warn you, though: I am a normal person, which means I sometimes wear the same outfit twice. Horror of horrors! I know. But bear with me.
Let's start with today. Today I went tag saling. This is a favorite hobby of mine, but I don't often do it because it requires getting up, showered, dressed, with makeup applied and coffee made, to get out of the house around 9am on a Saturday. That just isn't likely to happen regularly. But today I needed to mail a package, and the post office of course is only open until noon, so I was very pleased to be able to add in some tag sales after errands.
Tag saling is very casual, so you don't need to think about what to wear. It was pretty warm (mid-80s by the time I left), so shorts were a must. I chose my relatively new Resort Bermuda shorts in grean bean, which are probably my favorite bottoms this summer. But they're such a bright green, sometimes I'm not sure what to pair on top. Generally I go with a pink top (despite possibly looking like a watermelon, Lilly has made pink and green such a classic couple that of course it'll work), so today I went with my Michelle ruffled polo. As usual, I paired my rose gold McKims and my sunglasses (style name unknown!). I suppose to complete the outfit, I should have carried my Lilly tote, but I've been using my Coach signature daisy bag all summer, and I'm generally loathe to switch handbags more than once a month (that's how you lose things!).
Now, I won't always photograph myself in my outfits. To be honest, sometimes I just look a mess, and I don't want that all over the internet! I'd rather show you stock photos of items than show you a lousy photo of me wearing it, just for the sake of showing a photo of myself (right, M?). Today's photo.... isn't great, but I need to tell you about what I'm standing next to! And I didn't think quickly enough to get the photo before we brought it in.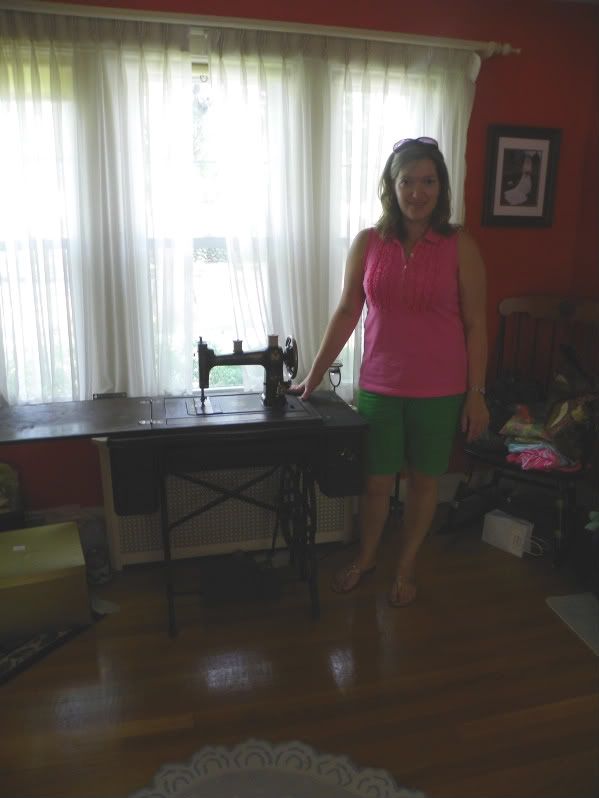 See my awesome new antique sewing table?!??!?! Oh LOVE. I've been trying to hunt one of these down for the longest time! I even found a couple in Windsor in June, but they were in lousy condition and a little more than I wanted to spend, so I passed them by. I got this one for only $40 (thanks to my superior haggling skillz- ok honestly, the guy said he'd take $50, so I paused a few moments and said, how about $40? And he said, yeah sure.) In case you don't know, back in the day, foot-pedaled sewing machines (before electric sewing machines existed, so yes, this is
old
), were built into a table that had a big foot pedal on the bottom, and the foot pedal was attached to a wheel that had a belt that ran up to the wheel on the sewing machine itself. And when not in use the sewing machine would tuck down into the table, and that flap on the left would fold over the machine in its hole so you could do something else on the table surface. My mom has had a sewing table like this for many, many years. She put a big wooden cutting board over the sewing machine hole so the flap on the left can stay folded out as more working surface. I'm not happy with my sewing table (a bar-height small table from when Ames was going out of business), so I'm thrilled to have this. My 1951 sewing machine will fit in pretty nicely with the vintage- of course this table is older than 1951, but it'll go better than say a 1969 table, right?
The sewing machine itself looks like it's in decent condition. There's no belt, but the machine itself is beautiful. I'll have to get a nice close-up. It's all etched and filigreed and prettified. I may have my sewing machine guy take a look at it sometime and see if it'd be fixable. It'd be cool to work on a human-powered sewing machine!
My thoughts on my outfit:
I love the bermudas. I don't do short shorts, my figure just doesn't look right in them. I'm SO glad bermudas have come back in style, because there really were a few years when I wore capris and long pants all summer. I bought a pair of patterned Resort Bermudas in May when Lilly had a great GWP (gift with purchase) deal and my mom went in on an order with me, and when I found these 40% off from a
The Pink Door Memphis' website
, of course I had to get them! I'll buy more if I can (I'd really love the Daffies print)

I'm not thrilled with this polo. It's cut very large, so I ended up going down a size and it's still comfortably loose, but I'm still not sold on the ruffles. And I have issues with collared shirts, they're just not comfortable. You're probably wondering why I bought it: it was $15 on clearance at TJMaxx. How could I not?! Plus I definitely love this shade of pink.
I bought the McKim flipflops from Rue La La in June, as a birthday present to myself. What really happened is I went to the high school graduation of my mom's friend's daughter (who happens to have gone to my high school), and this school is a very Lilly-lovin' school. Lilly Pulitzer (nee McKim) went there, class of '49. Mom's friend was wearing these shoes, and I decided right then they'd be great for summer. They can go casual, or they can go a little dressy, and what an easy way to dress down a sundress, for picnics and things. So when that sale went live, I rushed right to those and snatched them up! Good thing I did too, because they didn't last.
The sunglasses are a few years old now, another TJM purchase. My mom's friend (the one I just mentioned) found them and offered them to me before her own daughter. Awesome! I love the shape (you'll probably see them on my face instead of my head later), although they're not quite dark enough. They also don't stay on my head as well as my Coach sunglasses do, which means they don't make a good headband. Well, they're sunglasses, they're not supposed to be a headband.
I have one other outfit I want to share. I wore it a couple days ago, and with summer nearing its end I'm not sure how many more opportunities I'll have to wear it!
On Thursday, my shopping day, I wore:
My Jarvey Skort
in fresh picked patch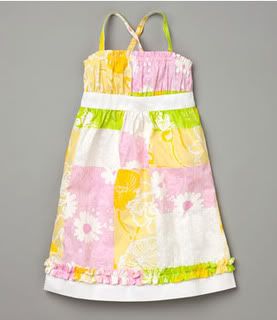 with a simple scoop neck, short sleeved pink Lilly shirt.
The shirt was an ebay purchase that ended up being a little more than I wanted to spend (around $15) but I've worn it so much that I'm glad I got it.
The skort was an interesting purchase.
I recently learned that I live 20 miles from the TJMaxx HQ. The stores within 40miles of HQ are known to receive better merchandise than other stores... and once I learned this, it explained
so much
. My local TJM is a gold mine of Lilly. It's incredible! One day I started finding Vineyard Vines as well as Lilly, and so I of course had to text one of my Lilly/VV-lovin' friends about all the amazing stuff, and I began to hunt for her size and my size. In one of my hunts, I found a Jarvey in my size stuck in with the size 2s. !!! I thought at first it was shorts, but then noticed it was a skort. Ew, a skort? Skorts are for old ladies. They're like the mom jeans of summer. Once I tried it on, though, I realized I might be wrong, skorts might be ok. I got it for $29.99 and I can't tell you how many times I've worn it. My opinion of skorts is totally reversed, I love them! So I'm very glad I found this one. I'd also never wear such a short skirt, but if it's a skort it's totally fine!
Fresh picked patch was a pattern in a Lilly Loves Green series Lilly put out in 2010, along with cream fraiche, add lemon and fresh catch toile. I don't know about the commonness of hard-to-find-ness of any of these prints, but I'm kind of dying to get my hands on some of the cream fraiche. I actually pulled over (a little recklessly, oops) at a vintage shop once because I saw a very similar strawberry print dress displayed outside the store. It ended up being a Vested Gentress vintage sundress, not Lilly (and I totally would have bought it if it had more a more reasonable price), so I'm still looking for strawberries.
I have many, many more exciting Lilly adventures to tell about. Many of them involve me going to TJMaxx because frankly, what else is there for an unemployed girl to do with her time? I spend all morning checking email, job openings, talking to my recruiter, and the afternoon is left for knitting and netflix. And frankly, Sliders is getting weird. I need a new show. To me, Lilly implies happiness, cheerfulness, and pretty things. And those are all things everyone needs more of in their life.