Our August What's Baking? theme was chosen by Jade from
The Mess Pot
. Celebrate Summer is baking with things that remind you of summer, or that are in season. So of course I had to choose one of my favorite summer fruits, peaches.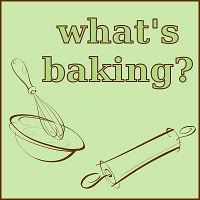 I went to Tougas Farm on Thursday to pick peaches, and I was surprised by how crowded it was! Especially on a Thursday! But perhaps part of it was everyone hurrying to do it before the hurricane comes and destroys what's left. I planned to pick a peck of peaches, because I'm not so thrilled about canning this summer (no reason), but when I got there I picked a half bushel.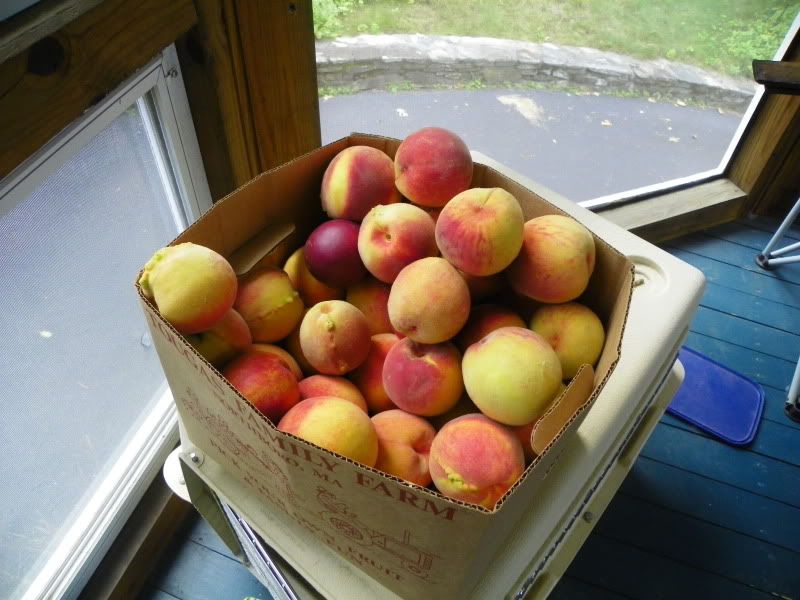 I felt I needed to bake something for the hurricane (i.e. something to eat if we lose power), and Clint's not a huge peach fan but I wanted something he might eat, too. Normally it'd be a no-brainer to bake a peach pie (YUM) or cobbler (also YUM), but I just didn't feel like it. So I looked around, and found a recipe for peach upside-down cake. I'd never think to use peaches in this, but they take really well to this recipe. I was also very clever and cooked up more peaches before adding the cake batter so that I had to eat them (well ok, that wasn't so much planning ahead as the pan just happening to be too crowded), and I honestly think I'd do step 1 as a quick dessert over pound cake or ice cream some day. The caramel sauce from the peaches also soaks into the cake nicely and gives it a delicious flavor.
Peach and Cornmeal Upside-down Cake
For the peach topping:
3 peaches, cut into wedges (12 wedges per peach) (I left the skin on)
3T butter
1/4 cup sugar
For the cake:
1/2 cup butter, softened
3/4 cup sugar
3 eggs
1t vanilla
1/2 cup cream (I used fat free 1/2&1/2)
3/4 cup flour
1 cup cornmeal
1t baking powder
3/4t salt
1t lavender (I skipped, couldn't find my lavender! I know I have some)
Step 1, for the peach topping:
in a 10in cast iron skillet (I used my Le Creuset braiser), melt the butter over medium heat. Sprinkle the sugar over, and stir around a bit and cook for 3min, until it starts to caramelize. Add the peaches and arrange in circles. I actually just dumped the peaches in, it was too hard with the spattering caramel when the cold peaches hit to arrange them, so I dumped them all in and then arranged them with the wooden spoon. Cook until they're soft, about 15min. Remove from heat.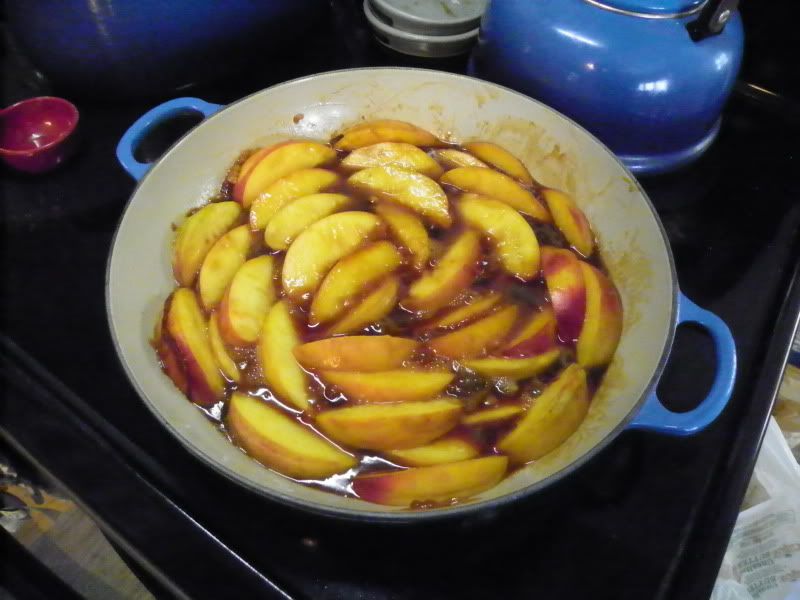 Step 2, for the cake:
Cream together butter and sugar, for about 3 min, til fluffy. Then add eggs, one at a time. Stir in the vanilla and cream. Whisk together remaining dry ingredients in a separate bowl, then add in 2 batches to the cake batter.
Step 3, for assembly:
Drop spoonfuls of the cake batter over the peaches, then spread around with a spatula. Bake at 350F for... well, the original recipe said 20-22min. It took me about 40. Set the timer for 20 and keep checking.
Let the cake rest about 10 min, then run a knife along the edge, and invert on a serving plate.
Yum!