It's very easy to explain. Up until last week, I hated fish tacos. At first, I thought fish tacos were like normal tacos, with fish (i.e. a can of tuna) cooked up with the regular taco spices and cheese and tomatoes and lettuce. Can you blame me for thinking that's gross? Then I saw them on the food network once or twice, and saw that the add-ins were different, with lots of lime and cilantro. Well that's yummy, but then I thought the fish was like fish and chips fish, with a thick beer-battered breading. Still unappetizing.
Well, this past weekend my girls and I went to Maine for a long weekend, and at
The Front Porch
(warning: their website plays music) on Shore Rd in Ogunquit, I saw fish tacos. I was debating getting a lobster roll, or the caprese stack (although honestly, when in Maine, one must get seafood), and then I saw the fish tacos. When the waiter came, I ordered them. I don't know what made me do that; it might have been the sangria. Anyway, they came and they were ridiculous. The fish was perfectly cooked with a very, very light and thin crust of cornmeal and deliciousness (probably just the perfect ratio of salt:pepper:cornmeal) and the slaw was super limey with just enough cilantro, and there was this crazy chipotle aioli, the kind of thing that makes your eyes water and your nose run from the spice, but is still SO GOOD you can't stop smearing it all over the taco. All at once I couldn't believe I'd EVER hated fish tacos. Seriously? What was wrong with me?!
Side note: everything we had at the Front Porch was crazy good, especially the drinks. Going to Ogunquit? Stop in there for dinner. Many thanks to my cousin Rich for recommending it!
So I came home, I got the urge to cook, and the first thing I had the urge for was fish tacos. Mine weren't as good as at the Front Porch, but I'm still ready to make them again tonight!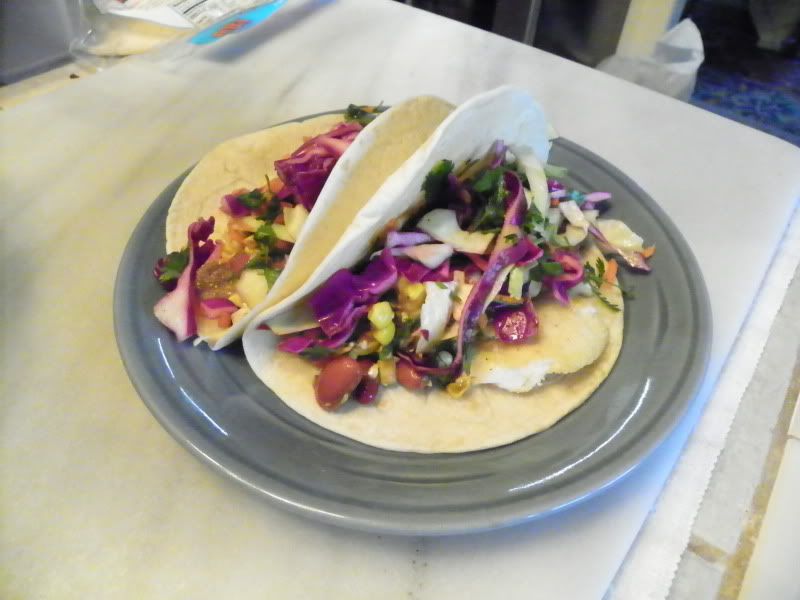 Fish Tacos
serves 4-6
composed of:
fried fish
lime cilantro slaw
corn and bean salad
tortillas
Fried Fish
no recipe, I made it up as I went
1lb of tilapia (3 filets)
1/4 cup cornmeal
salt
1/4t cumin
1/4t chipotle powder
oil, for frying
Whisk together the cornmeal, salt and spices. Pat the fish mostly dry, cut into strips (I got 4 per filet) then dredge in the cornmeal mixture. Heat the oil in a large frying pan over medium heat, and fry 1-2 min on each side, until the cornmeal crust is crispy and the fish is opaque and flaky. Remove from pan and place on a paper towel-lined plate to soak up the excess oil.
Lime Cilantro Slaw
adapted from
Cory Anthony's recipe
1/2 head purple
cabbage
, sliced as thinly as possible
1/2 head white cabbage, sliced as thinly as possible
1 carrot, grated
2T chopped cilantro
1-2T lime juice
dash of salt
1/2t chipotle powder
Mix all that together. Voila!
Corn and Bean Salsa
adapted from
My Baking Addiction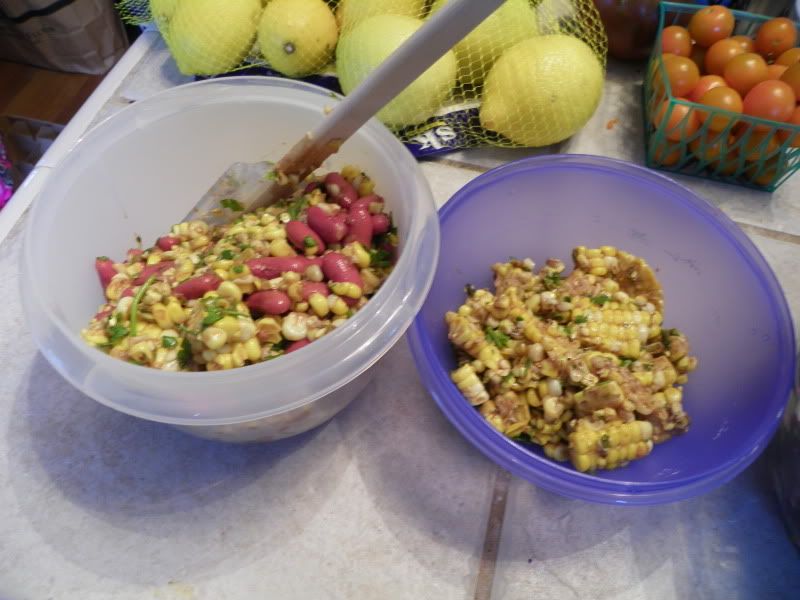 3T balsamic vinegar
2t olive oil
1/2t salt
1/2t sugar
1/2t ground black pepper
1/2t cumin
1/2t chipotle powder
1/2t thyme
1/2t oregano
2T chopped fresh cilantro
1 (15 ounce) can black beans, rinsed and drained (I used kidney)
2 cups corn kernels
1 jalapeno, seeded and diced (I actually used 2t dried chopped jalapeno)
Whisk together the first ingredients through the oregano in a small bowl. Add the rest of the ingredients to a larger bowl, stir/toss to combine, and then add in the liquids and stir/toss to coat evenly.
I made two versions, I made this without the beans, and then took half of it and added back the beans.
Someone
in our house doesn't like beans.
To assemble the fish tacos, place 2 pieces of fish in the middle of a tortilla, top with the corn salsa and the slaw, and enjoy. As you can see from my picture, I seriously overstuff my tacos.
Next time, I think I'll make some sort of chipotle mayo/aioli. I'm on the hunt for a good recipe.
ps. all the produce except the carrot was brought to you by my local farmer's market!