I can't remember what number we're on. I've also drifted away from the weekly bread trend, but this recipe definitely makes me want to get back to that (especially because it only makes one loaf, i.e. 2 little loaves, one of which I gave away, so I ran out of the first of this batch in only 3 days, and gave away all the rest of the second). This bread is quite good, it's a little sweet but still hearty, and has a nice light rye flavor, from the rye flour and caraway seeds.
Cranberry Pecan Bread, from Martha Stewart's Baking Handbook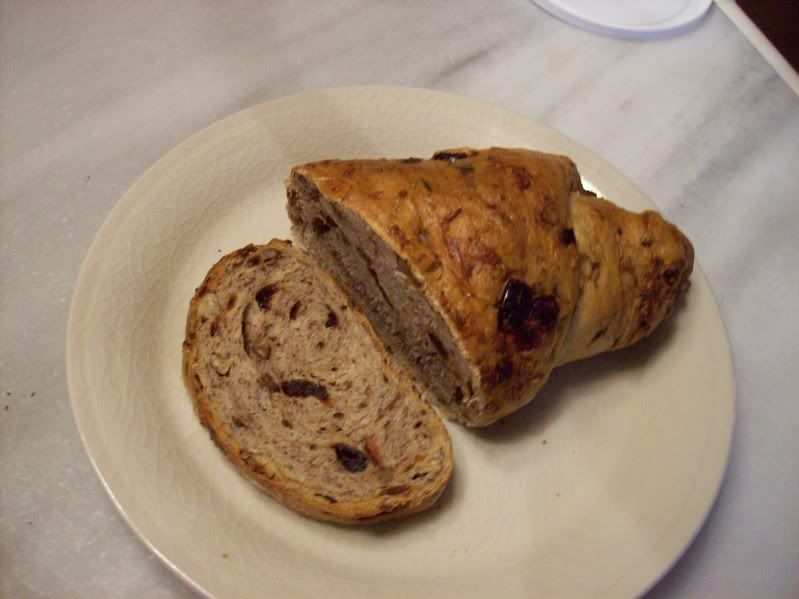 Stir (in a large bowl, or the bowl of your mixer) 1T dry active yeast into 1.25cups warm water, let sit about 10 min. Meanwhile, toast 1cup of pecan pieces (chop or smoosh some whole pecans if you don't have pieces) for 10 min at 350F, then set aside to cool completely.
Add 1cup rye flour and 2 cups bread flour to the yeast, along with 2.5t (1t is still good enough) salt, 1T sugar and 1.5T caraway seeds. If the dough is too dry, add water, 1T at a time, until it's kneadable (I needed to add 1T water the first time, and none the second time I made this recipe).
Knead with the dough hook for 5 minutes (or by hand for a bit longer), until it's smooth, elastic, and a little bit sticky. Knead in 3/4cup dried cranberries and the 1cup of toasted pecans (this takes some work to get them all in), and knead for a minute or two.
Transfer dough to oiled bowl and cover, let rise for about an hour (or 2 or 10, whatever). Punch down the dough, form it into a big (about 13x10 in) rectangle, and roll the dough into a tight log. Brush the seam with an egg wash (1egg beaten with 1T water) to make it stay closed. Let rise, covered, for about 45 min, until the dough is puffed up and holds a dimple when you poke it with your finger.
Brush the entire top of the log with the egg wash, and bake at 350F for 35-40 min.
You may remember
another bread recipe
from this book that I tried and had little success with. That recipe used whole wheat flour, wheat germ, and bread flour. I wondered if using bread flour instead of all purpose was the culprit (I couldn't knead the dough at all, nor could my mixer). In this recipe, the bread flour:total flour ratio was the same, and this dough was easy to knead. Conclusion: bread flour is not the cause of unkneadable, rock hard bread.