The culprit: cinnamon.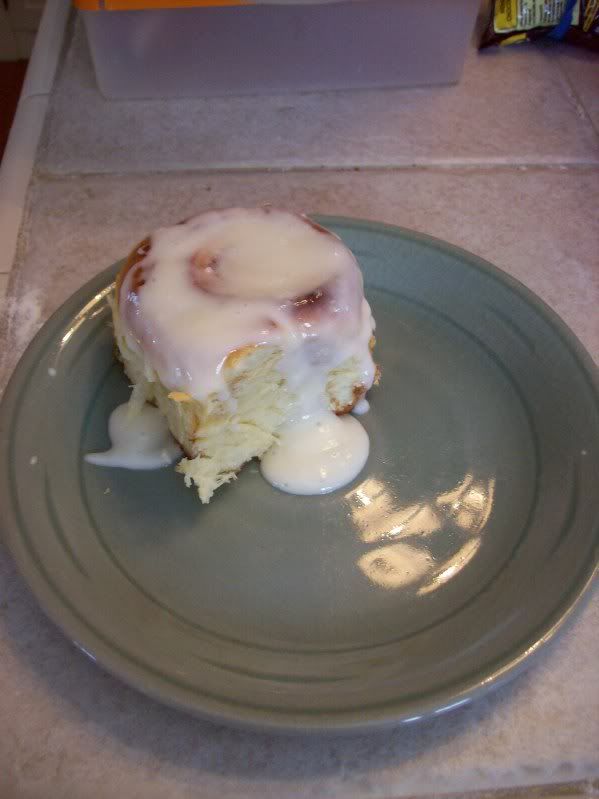 I made
Alton Brown's Overnight Cinnamon Buns
, which everyone says is a good recipe, and this is very true. The only possible issue is you really have to plan ahead.
Early Saturday afternoon, I started the dough.
I combined 3oz warm milk with 1T yeast (note: I used active dry and not instant yeast, which Alton uses, so I had to modify a bit to include a waking-up step). Let that sit 10 min in a warm spot.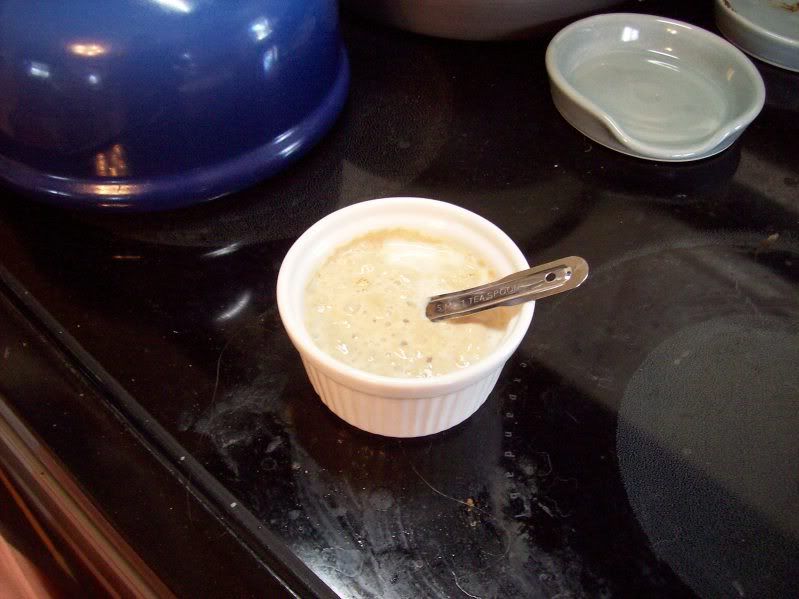 Separate 4 eggs.
Do you know how to do this? It's really not hard. I have two methods I use.
The let-the-white-drip-through-your-fingers (i.e. super messy) method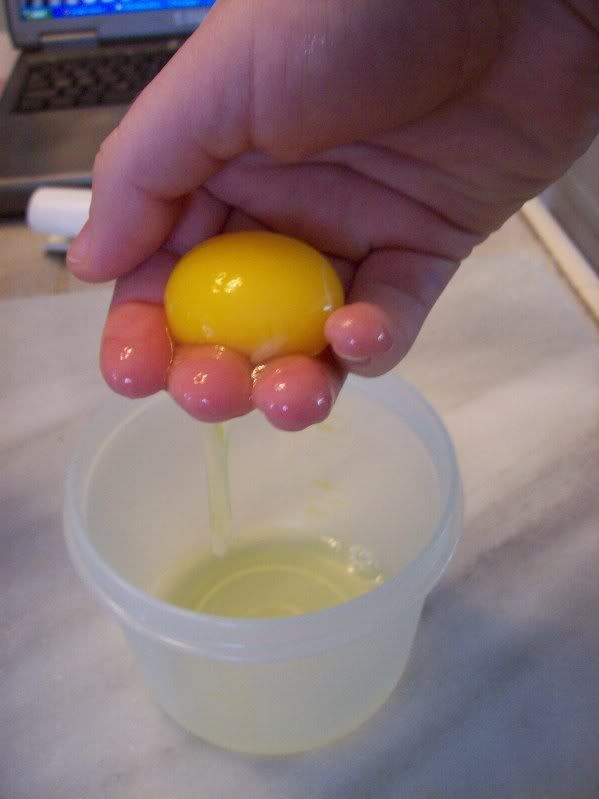 or the transfer the yolk back and forth between the two halves of the shell while the white drips down method (preferred- less messy)
The key here is to have a separate bowl to collect the whites that you're separating the eggs
over
, and put the yolks in a bowl off to the side.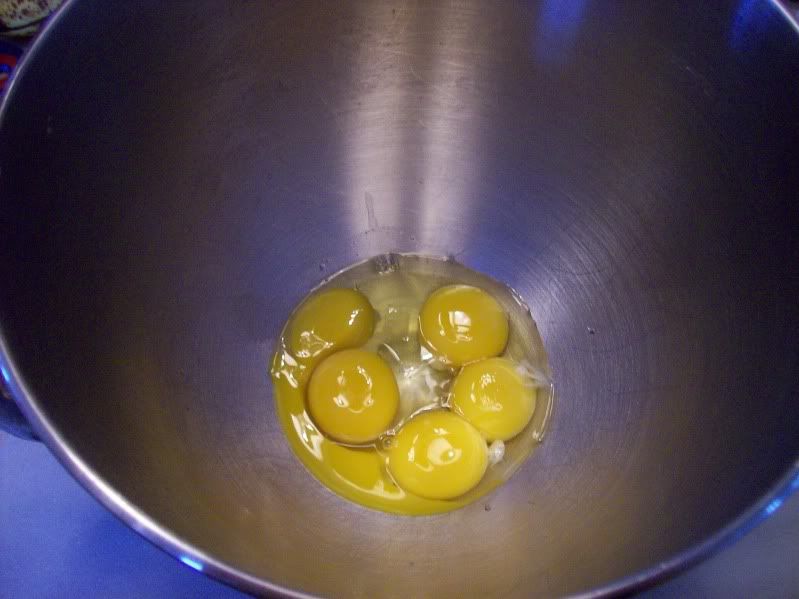 So, 4 yolks, 1 whole egg, 3oz buttermilk (buttermilk=1cup milk +1T vinegar, sitting for a few minutes), 5T melted butter. Whisk that together. Add the yeast mixture, stir.
Add 2cups of all purpose flour and 1t salt to the batter, mix until combined.
Add 1 cup flour more, then add up to 1 final cup, until the dough is soft and moist, but not sticky.
Knead it for 5 minutes in the mixer and a minute by hand, or for 8-10 minutes by hand.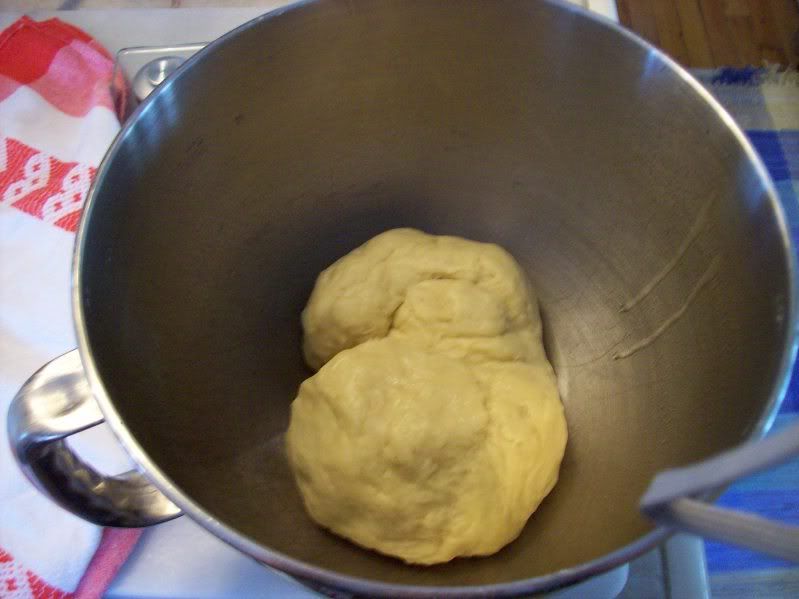 Let rise, covered, in an oiled bowl until doubled (a couple hours).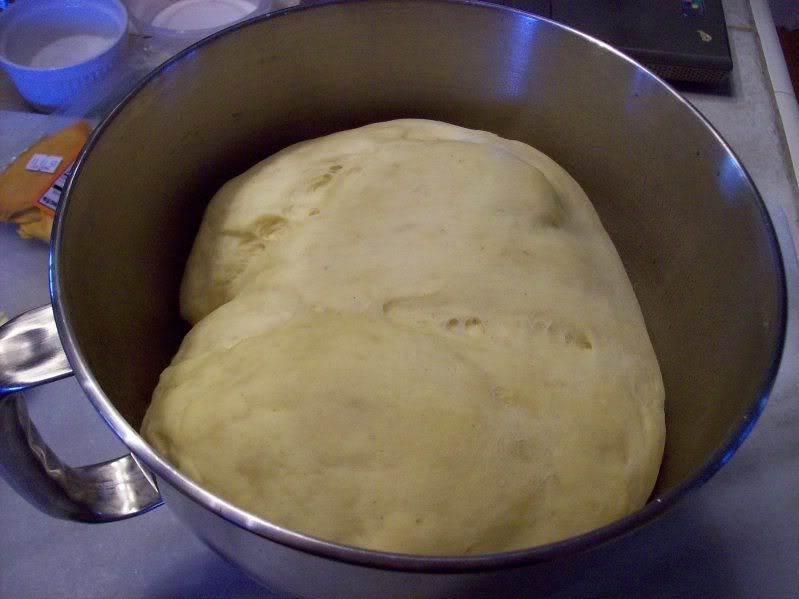 I did all that after lunch. Before we left to go out to dinner, I did the next part.
Roll out the dough to a large rectangle, about 12x18 inches with a long side nearest you.
Melt 1.5T butter and brush the butter over the dough, leaving a 1/2 inch unbuttered border on the other long side.
Mix the filling: 1cup brown sugar, 1/4t salt, 1T cinnamon, 1t cardamom.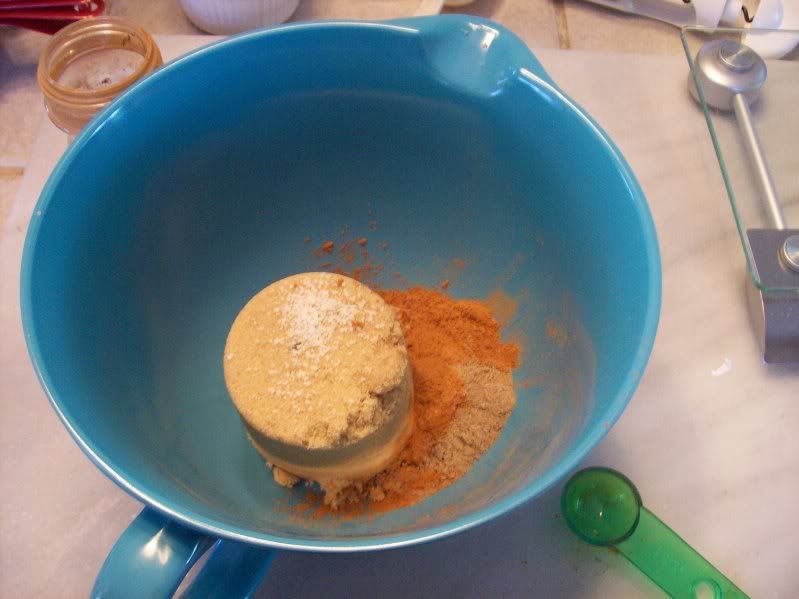 Sprinkle the filling over the buttered dough.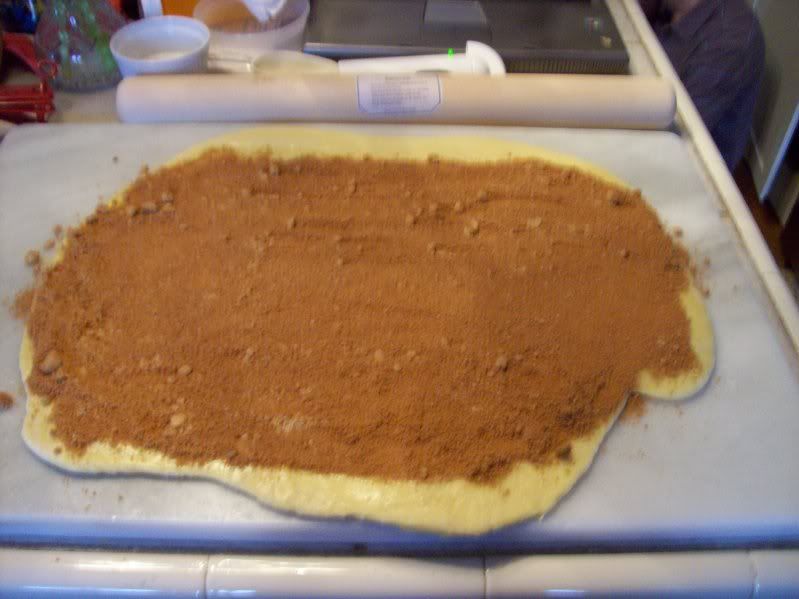 Then roll the dough into a tight log. I found it helpful to kind of pull the dough as I rolled it- away from me, towards the unbuttered edge. The ends will be a little messy, even if you're far more careful than I am and make a perfectly even rectangle, the ends will still be messy. It's unavoidable.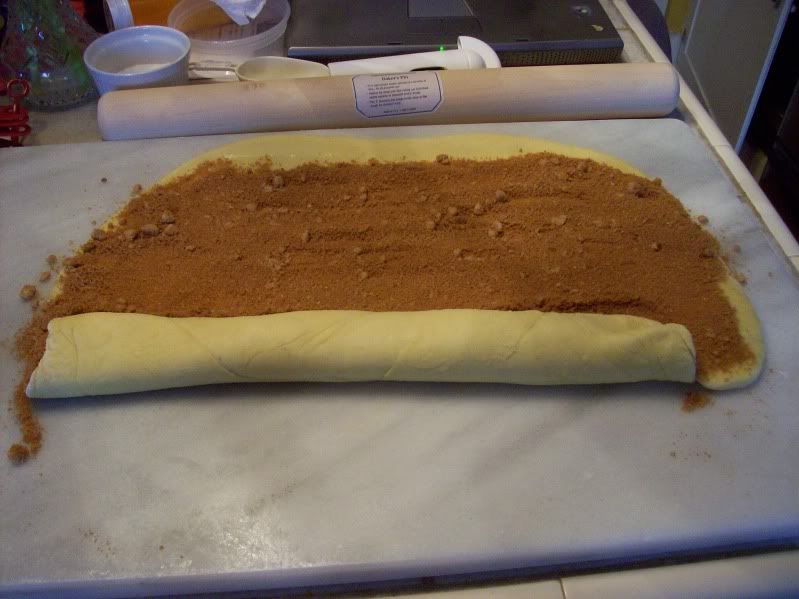 With a serrated knife, cut the log into 1.5in wide slices,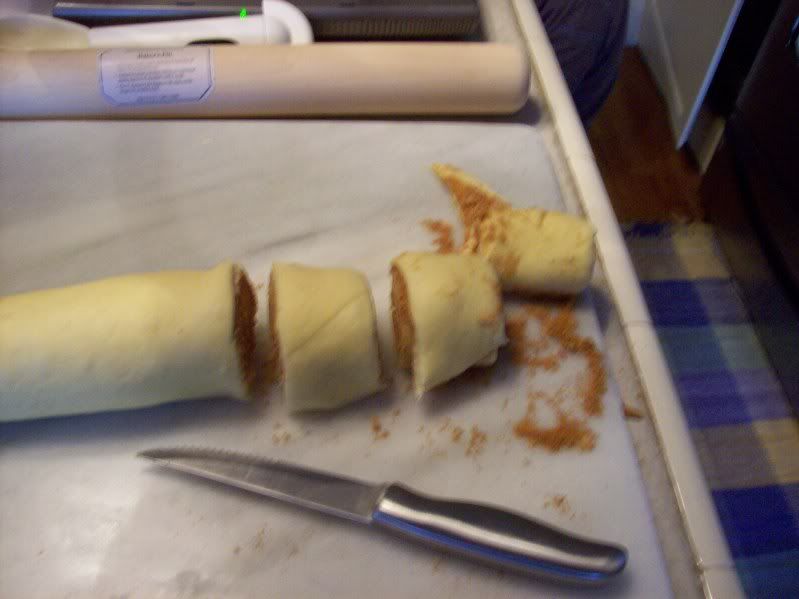 and arrange in a greased 9x13 baking dish. Cover with plastic wrap, and stick in the fridge overnight. (about 13hours for me)
Go away. Do things. The buns will wait for you. And they do actually rise in the fridge.
The next morning, place a large shallow dish 2/3full of water on the bottom rack of a cold oven, and place the baking dish of cinnamon rolls on a higher rack.
Leave that for 30 minutes.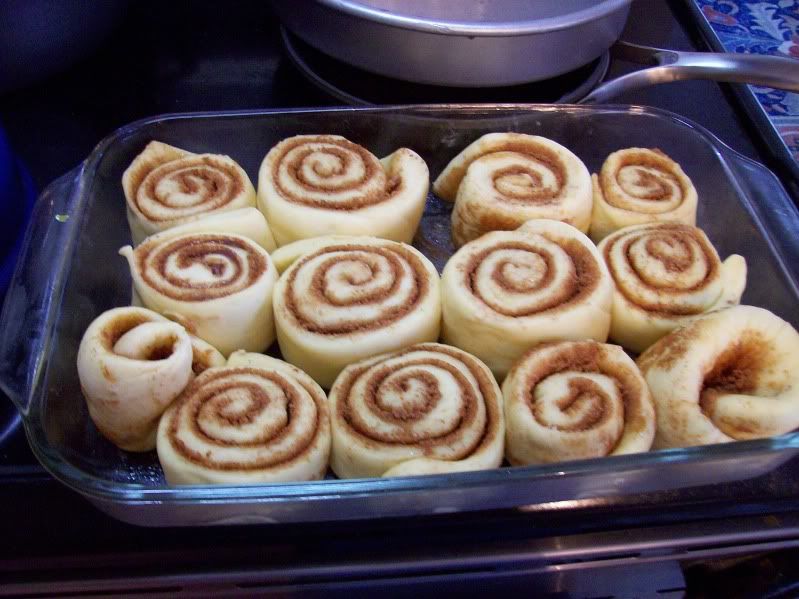 Remove both from oven, turn on the oven to 350F, and when it's ready, bake the rolls in the oven for about 30 minutes.
And, voila!
When the rolls are just slightly warm, drizzle each with a glaze (1/4cup cream cheese, 3T milk and enough powdered sugar to make it drizzleable (about 1.5cups)),
and serve.
Makes about 1 dozen rolls.
Next time I make these, I'm adding raisins to the brown sugar/cinnamon filling.
Edit: the second time I made these, I did indeed add raisins. After brushing the rolled-out dough with butter and sprinkling with brown sugar/cinnamon, I sprinkled with about 1/2cup raisins. Delish!
I also added some whole wheat flour: 1cup whole wheat flour and a total 2 and 2/3 cup of all purpose flour. I prefer the WW/AP version over the AP-only rolls.