Well, it's been a while. I haven't been cooking as much, and what great recipes I have tried I just haven't had time to even download the photos from my camera. Life has been a little intense lately, and on top of that, work has been even more intense.
But anyway, Battle Ham.
Every year for Easter, my family has a ham. We're not big lamb eaters (except for Clint and me), we have turkey for Thanksgiving only, and chicken isn't really a holiday food. So, ham. And like most family gatherings, we end up with many, many, many leftovers, especially this year, with all the salt-free eaters. I took one for the team and took about half the ham home with us (twist my arm, why don't ya!).
Battle ham has had a slower start than I first anticipated; I truly envisioned a week of a different ham dish each night. It's been a full week now, and I've made a total of 2 ham dishes (and have one planned for tomorrow). However, quality, not quantity.
Ham Dish #1: ham and asiago polenta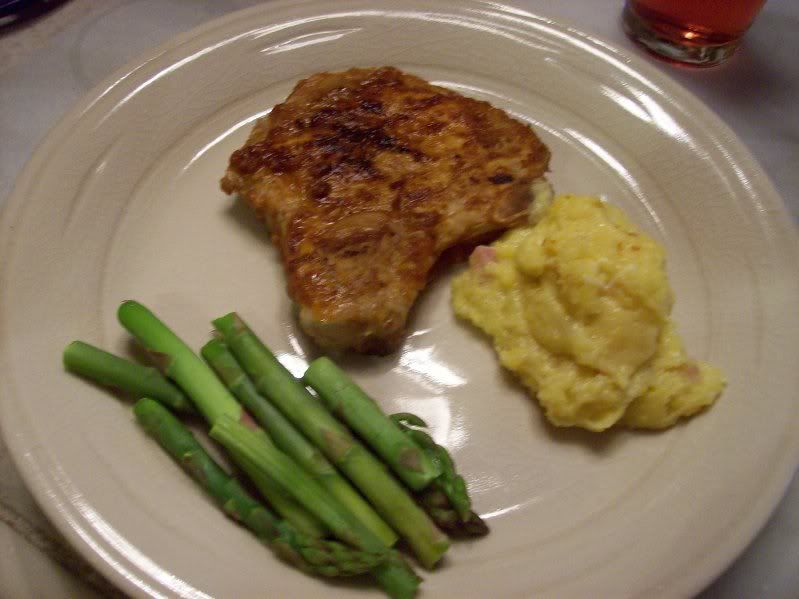 Boil 2cups of water with a dash of salt. Slowly sprinkle in 1/2cup of cornmeal (or polenta, I find cornmeal more versatile and therefore, more worth giving up cabinet space to), whisking constantly. Cook over medium heat, whisking every few minutes, for about 25min total, until thick. Stir in 1/2cup of asiago, herbs/spices of choice (I added 1/2t nutmeg and 1/4t cloves, which was a little blah- I wish I'd tried marjoram and savory, like I used in Ham Dish #2, below), and 1/4-1/2c diced ham. Serve as a side or as a light meal.
Ingredients:
2cups water
dash salt
1/2cup cornmeal
1/2c asiago
1/2t nutmeg
1/4t cloves
1/2c diced ham
(I served my polenta as a side for grilled bbq pork chops and asparagus, and I need to give the bbq pork chops their own post. And yes, that's ham as a side for pork. I would have added bacon if I'd had any)
Ham Dish #2: Ham, asiago and aspargus risotto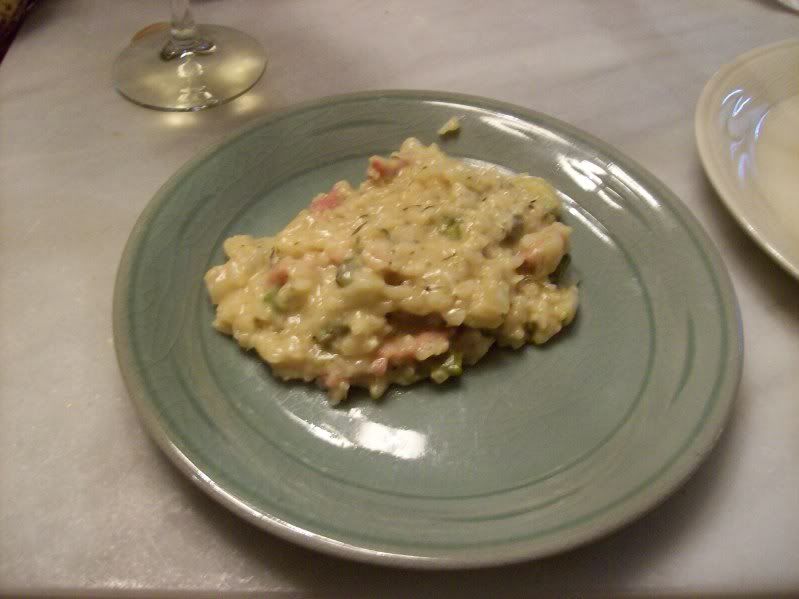 AKA: Ham and other contents of my fridge.
I haven't made risotto in a while. I'm not big on rice (except for sushi rice and rice pudding) except as a way to soak up delicious sauces, but I do really like risotto. I think because it's like savory rice pudding. And I thought it might do well as a dish to use up some ham.
I am a little disappointed that so far I can only think of things to stick ham in, not an actual dish that shows off the ham. Maybe next time.
I based this on a
Martha
recipe.
I chopped 2 small yellow onions and 1 shallot, and sauteed them for a few minutes in 1T olive oil, with a dash of salt and pepper. Meanwhile, I heated 7 cups of the last of my latest batch of homemade chicken stock in a saucepan over medium-high heat until it started to boil, and then turned the heat to simmer, just to keep it warm.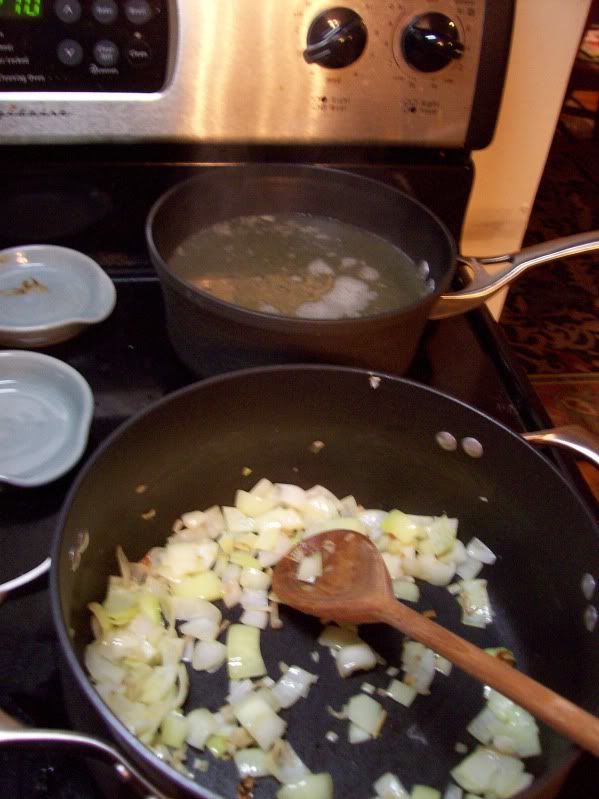 I added 1cup of arborio rice and stirred, and cooked this (still stirring) for 3 min.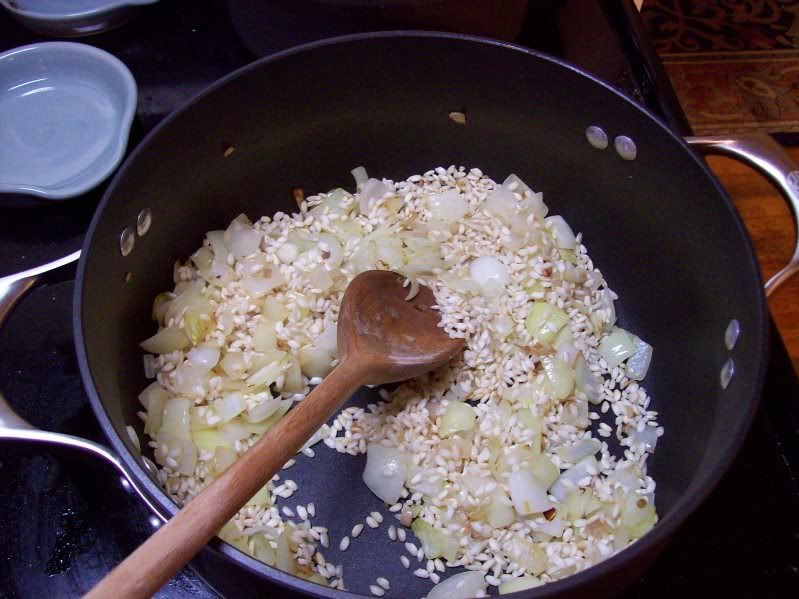 And then I added 1/2cup of white wine (chardonnay, usually I'd prefer pinot grigio or sauvignon blanc) and stirred to coat the rice.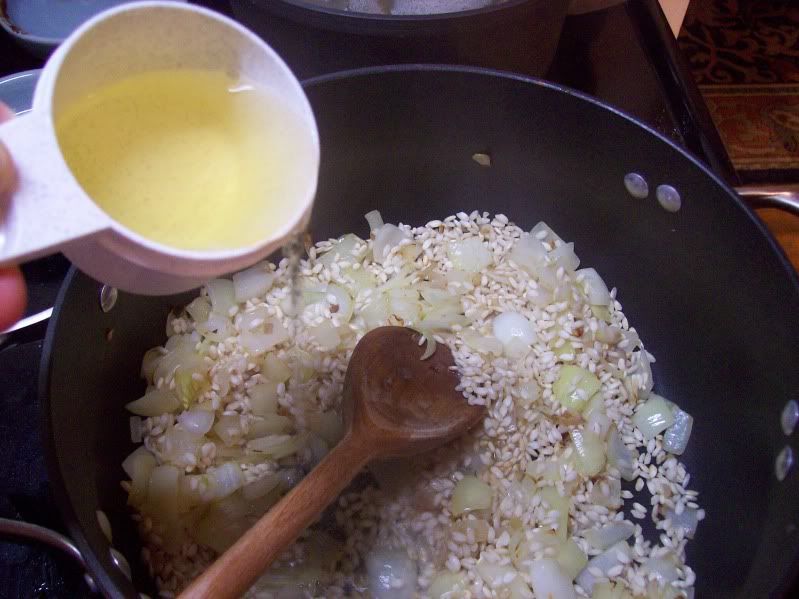 Then I began to add the chicken stock. For risotto, the stock needs to be added just a little (1/2-3/4cup) at a time, so that the rice doesn't overcook. This means that you have to stay with your risotto as you cook it, because you'll need to add more stock every few minutes. However, you don't need to stand over it constantly, so it's a good way to clean the kitchen in 1-2 minute bursts.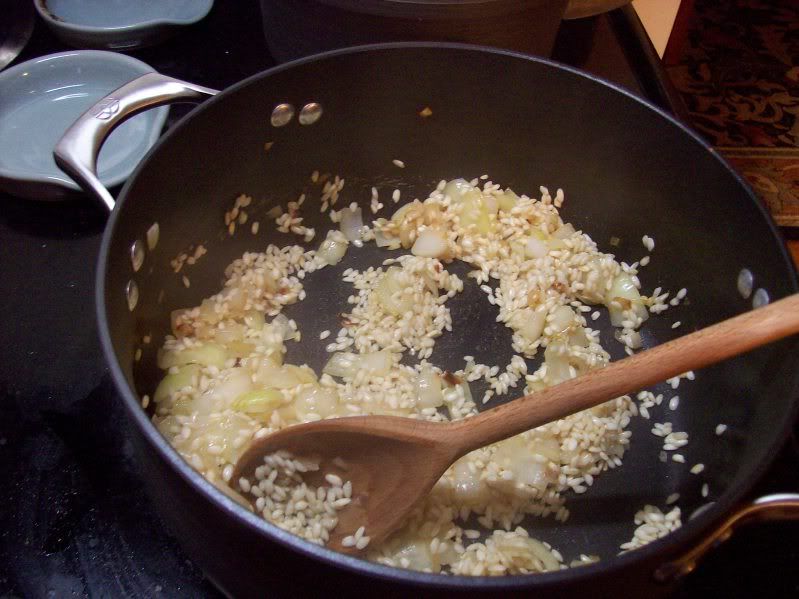 After the first stock addition.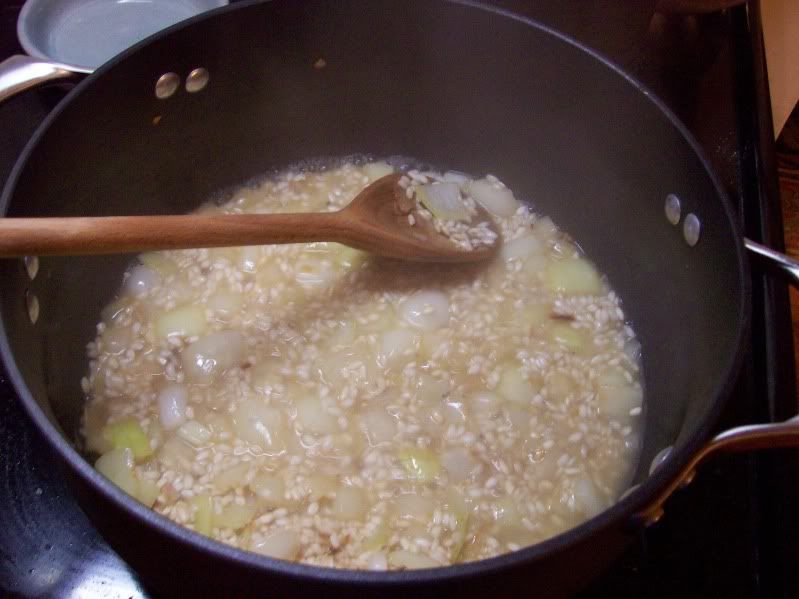 After a couple more additions.
Halfway through the stock additions (i.e., when I'd gone through half of the warmed stock), I chopped up some ham and asparagus.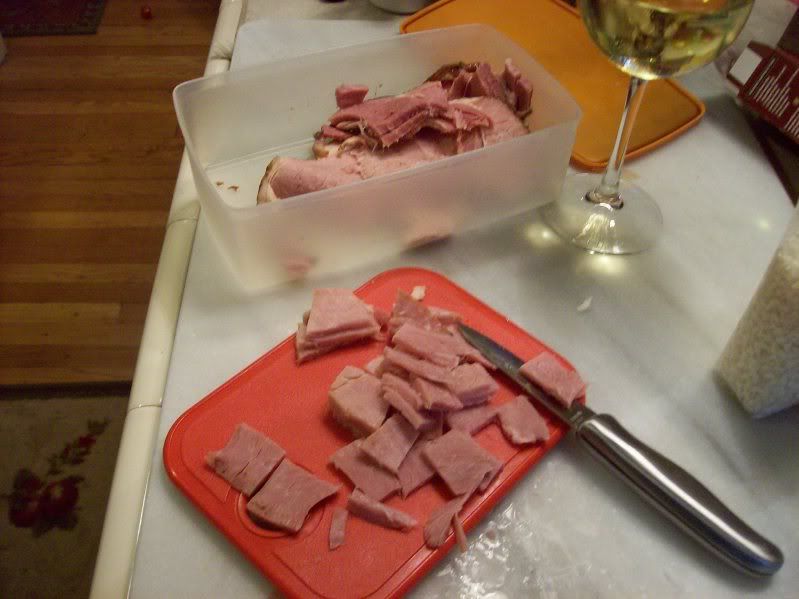 I used 8 stalks of asparagus (ends snapped off, cut into bite-sized pieces, not cooked at all- they'll cook enough in the risotto) and 5 slices of spiral cut ham. And yes, I do practice the "one for the pot, one for me" rule when cooking with wine.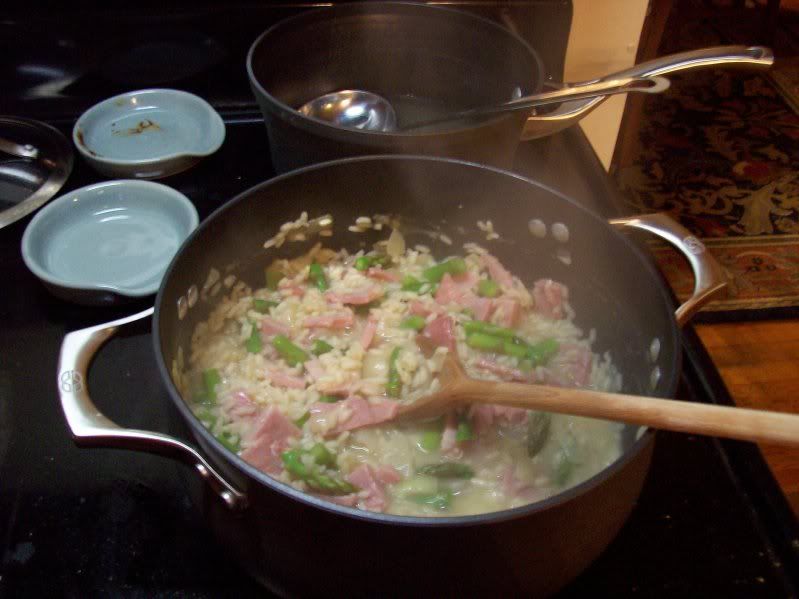 Near the end of the stock additions,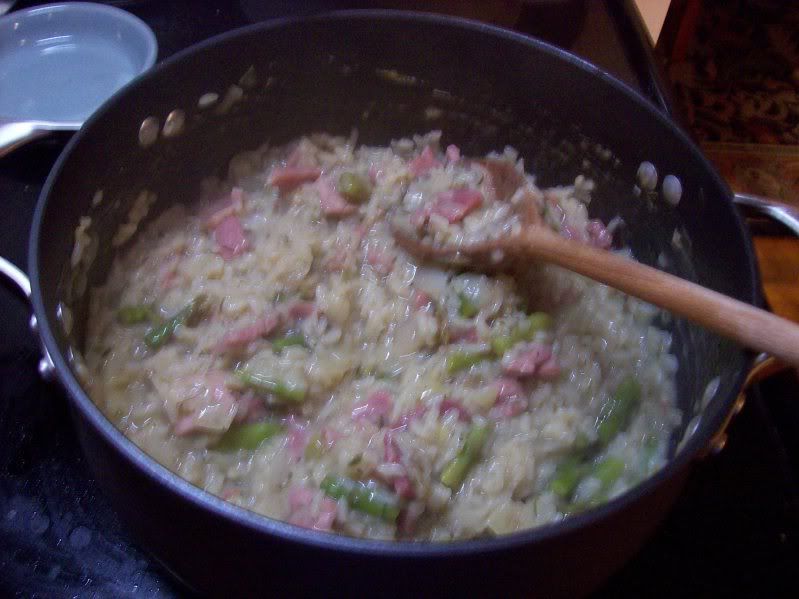 I tossed in some herbs. About 1T each of marjoram and savory.
I stirred and continued to cook until that last bit of stock was absorbed, and then added the cheese.
I used 1/2cup sharp (orange) cheddar and 1/2cup asiago. Even though this is the same amount Martha suggests, I do admit it's a little cheesey. (Clint declared it
too
cheesey, but I say that nothing can ever be
too
cheesey) Anyway, whatever your cheese preferences are, I think you could go as low as 1/2cup. Well really, you could omit the cheese altogether, it doesn't do that much for the creaminess of the risotto, because it's already creamy before the cheese addition. It's up to you.
Stir, and that's it. You've made risotto.
Now go eat it. (note: I really like the pairing of marjoram and savory with ham.)
Ingredients:
2 small/1 medium onion, chopped
1 shallot, finely chopped
1T olive oil
salt, pepper to taste
6-8c chicken (or veggie) stock
1cup arborio rice
1/2cup dry white wine
1/2bunch asparagus
3/4-1cup diced ham
1T marjoram
1T savory
1 cup grated cheese, any combination of asiago, cheddar, gruyere, parmesean