You may remember this bbq sauce from such blog entries as
easing into BBQ season
, and... oh, I guess just that one.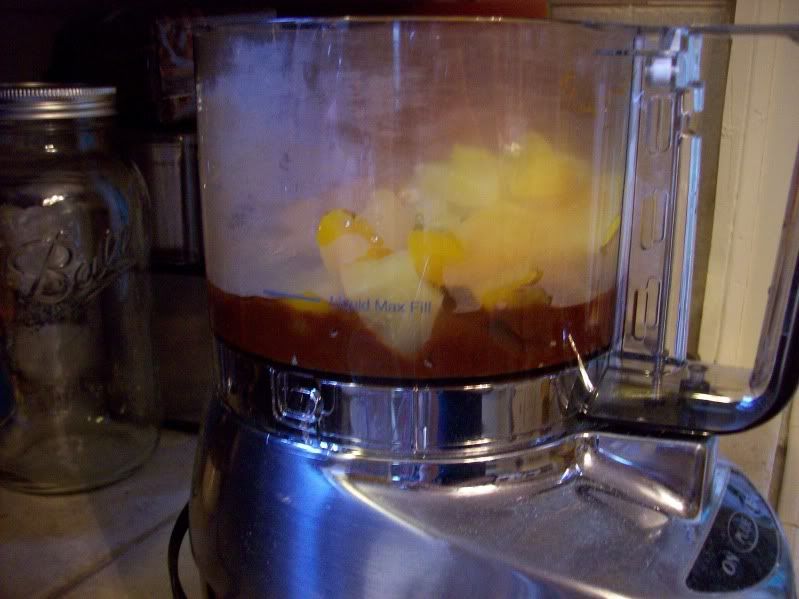 But here's a second!
When I made the bbq marinaded pork chops, I used about a cup of the 2.5cups of bbq sauce I made. I planned to use the rest on pulled pork, which has been sitting in the back of my mind ever since I came across a recipe for crock pot pulled pork a month ago.
Pulled pork: this has always been a bbq joint treat for me. I haven't liked it that long, but I always thought it required a fancy secret recipe for the sauce (completely unreplicable by a northerner such as myself) and a big meat smoker thing, a la Gina Neeley's awesome pink one (I'm not a huge Neeley fan, but any woman with a pink smoker gets a gold star from me). Therefore, I thought I'd never make it myself.
Until I find you can make it with a bottle of bbq sauce and a crock pot. Score!
I based mine on
this recipe
from Good Housekeeping.
I took 1.5cups of my bbq sauce
Ingredients of that were:
1 onion
2 cloves garlic
1/2 cup tomato paste
1/2 cup pineapple juice
2T red wine vinegar
1T worcestershire sauce
1T molasses
1t ginger
1t allspice
2T lime juice
1.5 cups canned pineapple/peaches
all blended together, after cooking.
To 1.5cups of that, I added
2T brown sugar
2T cider vinegar
1t paprika
1/2t chipotle powder
1t turmeric
1t stone ground mustard
and 1 chopped onion.
(I added these things to copy the Good Housekeeping recipe a bit more closely, and because I thought the pulled pork should have more of a punch than the bbq pork chops. And note: the sauce recipe in the Good Housekeeping article is very easy, and I expect it to be very tasty, based on the ingredients. It's just a little tiny bit more work than opening a bottle of readymade bbq sauce, so I suggest trying the recipe- unless you have some spectacular bottle you're just itching to try)
I dumped all that in the crock pot and stirred.
I had a 2.5lb pork loin with fat trimmed off. I cut it in half and added the two halves to the crock pot. I moved the meat around to cover in sauce.
And I cooked on low for 7hrs (recommended was 6-8). I stirred it around every hour or so so the meat remained coated in the sauce.
I removed the meat, turned the crock pot to high so that the sauce would reduce a bit, and began to pull apart the meat. This was far easier than I thought, I really just pinched with my tongs (planning to hold it while I pulled the meat with a fork) and it fell apart.
After about 30 min (of cooling the meat and then pulling it), I added the pork back to the sauce and stirred it around, to coat it well and to warm it up again. After about 10 min (I would say warm it longer, 20-30 min), we made very simple sandwiches with some snowflake rolls.
And also had some roasted sweet potatoes and roasted beets with garlic oregano chevre.