Happy Thanksgiving!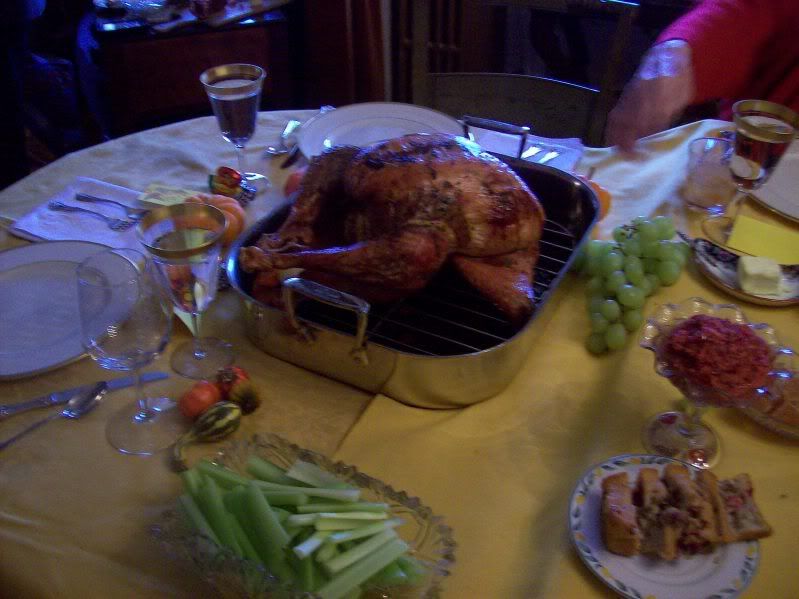 I hope you all had tasty Thanksgiving dinners. I actually had two: on Thanksgiving Day, we all went to my grandma's house for the traditional dinner, but my parents had bought a turkey, so we had TG part 2 the next day with just the four of us.
I photographed part 1, but when I went to photograph the different dishes we had at part 2, I found this...
!!!
This morning when I got out of bed, I knocked Clint's iphone off the table and it fell on top of my purse. On the very top of my open purse was my camera, so I believe the corner of the iphone landed on the lcd screen. The camera still works, but obviously you can't use the lcd screen anymore... I've hijacked my parents' old camera, and it looks like I'll put a new camera on my Christmas list. But seriously, a food blogger without a camera? Disaster. The loaner camera is only 4 megapixels, as opposed to 6 (not great, but still). Sigh. However, I did splatter peach jam all over my camera this summer, so the lens cover doesn't always completely close, so I did actually need a new one.
Anyway, Thanksgiving.
In my family, we're pretty standard. Turkey, not cooked in any special way (the deep fried turkey year, while not quite a disaster, was not anything to remember), mashed turnip, mashed butternut squash, mashed potato, boiled onions, two types of stuffing, cranberry walnut bread, and everyone's favorite, chicken pie. Back in the day, grandma's house was a working farm (originally tobacco, I'm not sure what they grew in her day) with a fully-stocked chicken coop. They'd expect at least 40 people for Thanksgiving, so they'd get a single turkey and gather up the chickens to bake into a chicken pie. Each person got a small piece of turkey and a healthy helping of chicken pie, and the pie is rather delicious. My uncle makes it now, and I really need to get his recipe.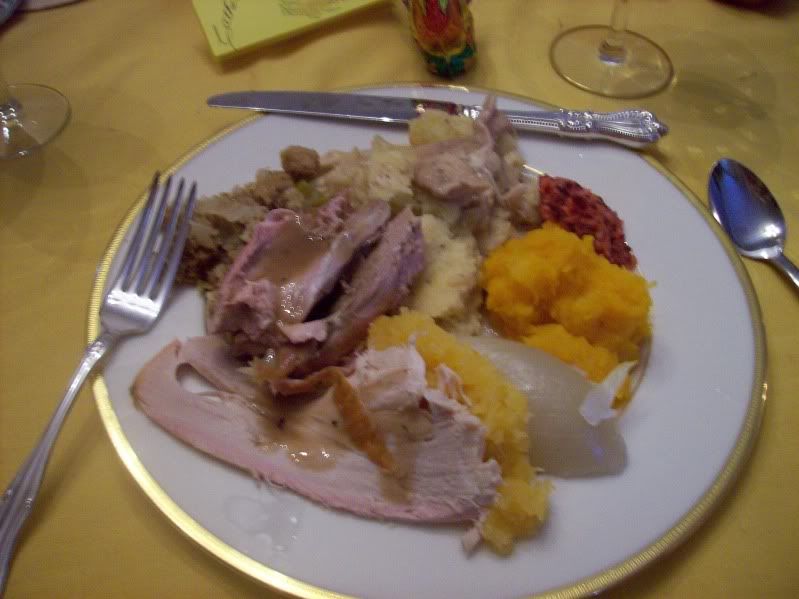 But we obviously specialize in desserts.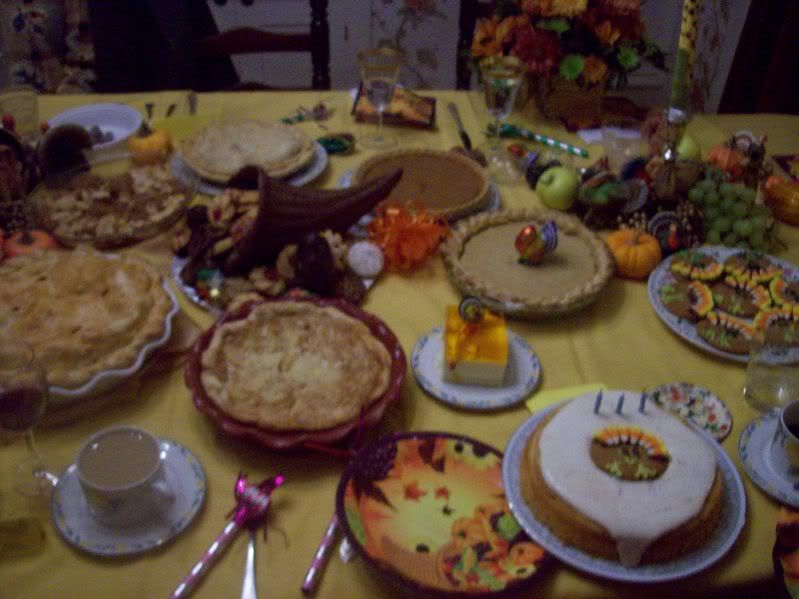 Clockwise from the right: apple crisp, apple pie, pumpkin pie, hubbard squash pie, maple pumpkin pie, Turkey ginger cookies, Roly Poly (or perhaps that's just the name of the bakery- a layered cake of vanilla cake, vanilla custard, fruit and orange jello), vanilla sponge cake with coffee cream glaze, Marlborough pudding pie, apple cranberry ginger pie.
I can tell you more about the maple pumpkin pie, Marlborough pudding pie, and the apple cranberry ginger pie.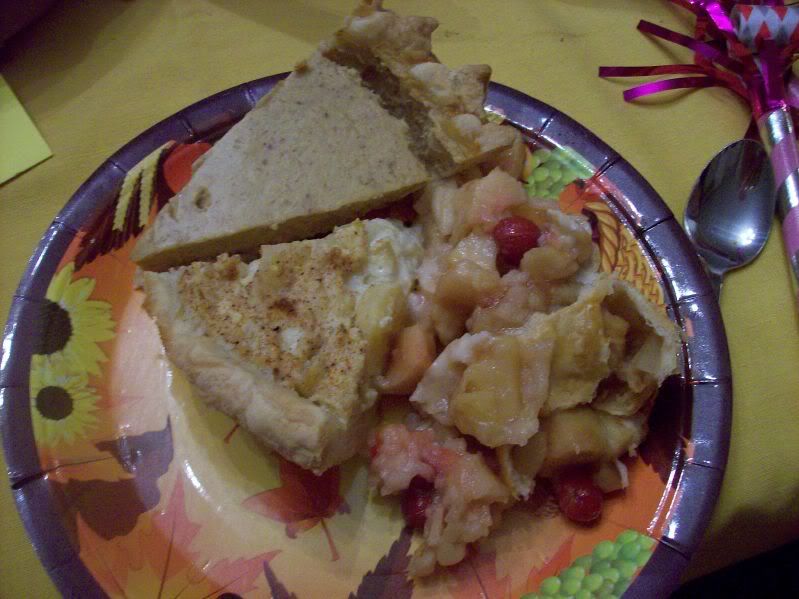 Marlborough Pudding Pie was this year's new addition from my kitchen.
There was an article in my parents' newspaper the week before Thanksgiving, and my mom was so intrigued she sent me the recipe. I was equally intrigued, so I made it. It's basically an apple sauce and custard pie, and I like the idea. Unfortunately, my take on it, while well-received by everyone else, was not to my liking. I did an alcohol substitution that made it incredibly strong- and if you like bourbon (like everyone else in my family), it's great.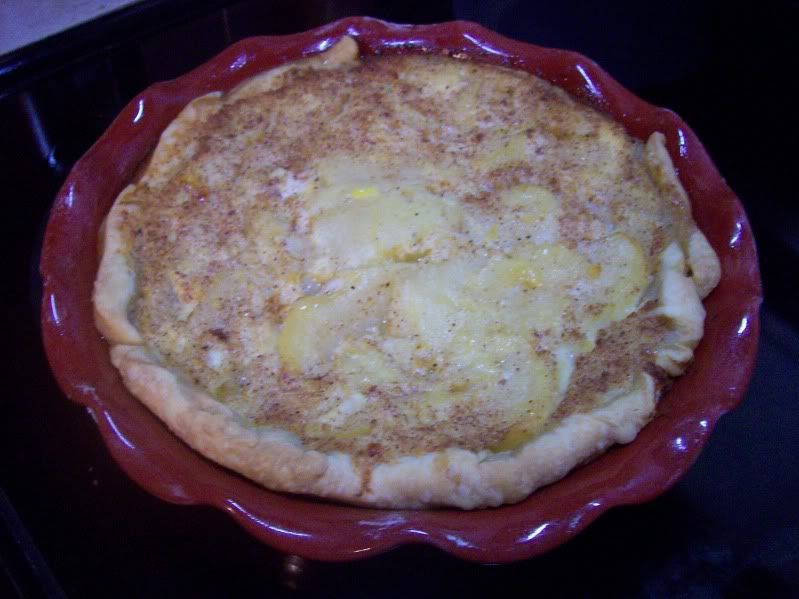 Marlborough Pudding Pie
from the Hartford Courant, recipe originally from the Publick House, Sturbridge, MA (incidentally, one of my favorite restaurants)
1 apple, peeled and cut into thin wedges and 1-2T apple cider (or water) (or use 3/4 cup of applesauce as a shortcut)
1/2 cup whole milk or cream
3/4 cup cooking sherry or white port (**here was my error- I used 1/4 cup Maker's Mark bourbon and 1/2 cup ginger brandy)
6T butter, melted (I think this is too much- it all separates out of the custard, anyway. I will do 3-4T next time)
4 eggs
1/2t salt
1/4t nutmeg
1 pie crust
First, stew the apples (or just use applesauce). Dump the apple wedges in a medium saucepan with a good splash of apple cider (or water) and cook on low for 15 minutes, flipping the apples occasionally. They'll get really soft, so be careful. You can puree them, but I like the effect of whole apple wedges.
Preheat your oven to 400F. Line a pie dish with the pie crust.
In a medium bowl, stir together the milk, sugar and alcohol. Stir in the apples or applesauce, then beat the eggs separately and add them. Stir in the spices and salt. Pour apple custard mixture into the pie crust, and bake at 15min at 400F, then turn to 350F and bake for 45 min more, or until the custard is just set (it'll still be wobbly). Serve at any temperature you like.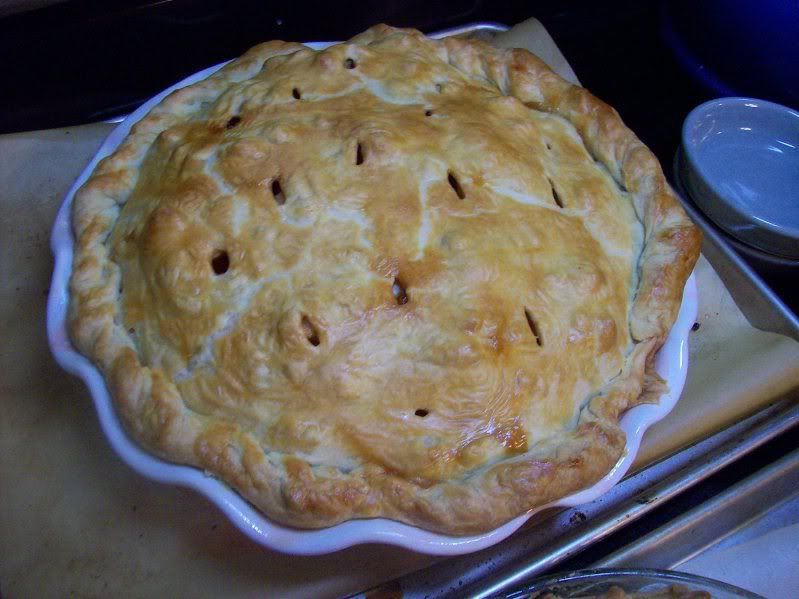 Our old favorite is apple ginger cranberry pie. I first found this recipe in 2001, my senior year of college, and I've made it every year since. It's just a simple apple pie, but with cranberries and minced crystallized ginger added, and it's really delicious.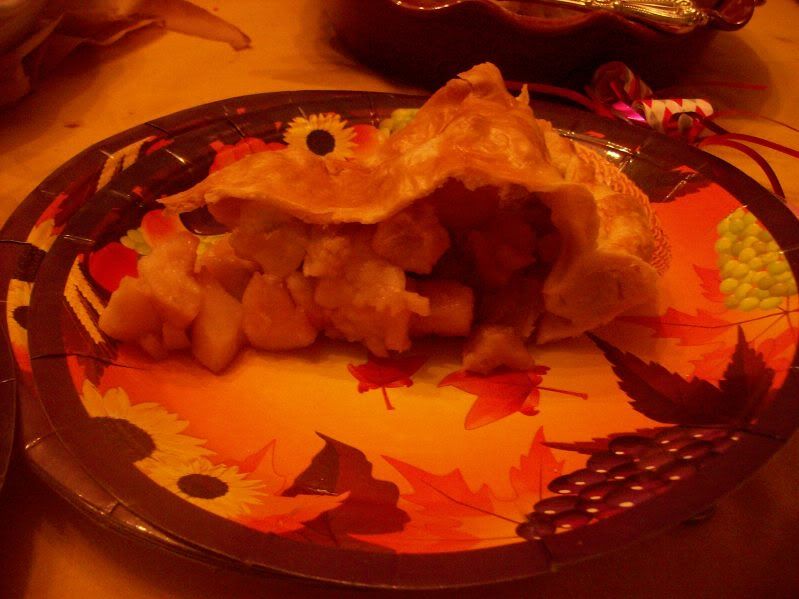 Apple Cranberry Ginger pie
from Williams Sonoma
2 pie crusts
4-5lbs apples (I like a mix, this time I used cortlands, macs and some random eating apples (braeburn and honeycrisp) we had lying around)
1/2 cup sugar (or more or less as you prefer)
1/2 cup minced crystallized ginger
1.5 cups fresh or frozen cranberries
Peel and cut the apples (chunks or wedges). Toss with sugar, ginger and cranberries. Line a pie dish with one crust, dump the apple mixture in, and add the top crust. Bake at 400F for 20 min, then turn temp down to 375 and bake for about 45-50 min more, until the crust is nicely browned. Optional, but pretty: brush top crust with an egg, egg white or milk/cream to make it shiny.
Pumpkin maple pie: a new addition this year! Normally I make Martha's standard pumpkin pie, but I came across this one and liked the sound of it. It uses maple syrup instead of sugar, which goes great with pumpkin and the standard pumpkin pie spices.

Pumpkin Maple Pie
from
Fake Ginger
2 cups pumpkin (or 1 15oz can- I used a mixture of orange and white pumpkins that I roasted, pureed and drained myself)
1/2 cup whole milk
1/2 cup fat free 1/2&1/2 (or really, use 1 cup of whatever dairy you like)
1/2 cup maple syrup (the real stuff!)
2 eggs
3/4t cinnamon
1/4t ginger
pinch of cloves
pinch of salt
1 pie crust
Beat the eggs and pumpkin together, add the dairy, maple syrup and spices. Line a pie dish with the crust, then pour the pumpkin mixture into the dish. Bake for 20 min at 400F, then turn the temp down to 375 and bake for another 50-60 minutes, until the custard is just set.
Note: for all these pies, I used Martha Stewart's standard
pate brisee
, it's what I almost always use (unless I make a cornmeal crust or pate sucree). This year I made the crust 2 days ahead and kept them wrapped, all in disks that made 1 pie crust, in plastic wrap in the fridge.
Overall, I think the Marlborough pie was the most liked, but that was because no one had ever heard of it (except those that'd also read the article in the paper). I loved the apple cranberry ginger just as much as ever, but I've now found a new favorite pumpkin pie recipe. Also, I plan to try the Marlborough again, with the proper alcohol... or maybe I'll use apple cider or something.