I'm only 3 weeks behind on posting.
You may have guessed, but yes, stuff is going on in real life. Stuff interferes with blogging, with baking, even with exercising (sigh!). Hopefully stuff will improve soon, but in the meantime, we all have to eat, and I have plenty of recipes saved up to try (I know, that doesn't help you at all).
Back to the
pumpkin party
. November, and even December, is still pumpkin season, so these are still good for making now.
At the pumpkin party, I served pumpkin chili with pumpkin cornbread, as well as pumpkin gnocchi, pumpkin pizza, and my favorite, pumpkin, spinach and leek quiche.
Let's quickly start with the gnocchi.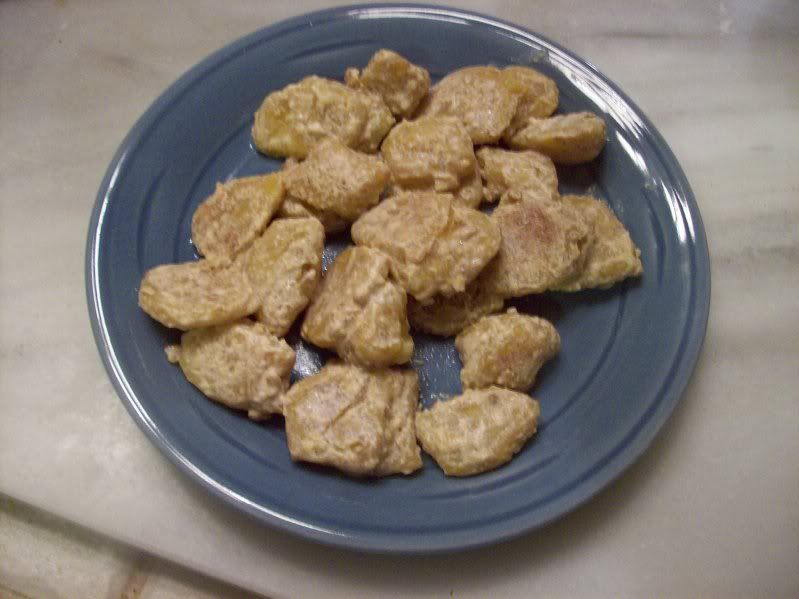 Oh, man. This was my first time making gnocchi- even my first time
eating
gnocchi. So I didn't quite know what I was doing. I followed
this recipe
, which I found on taste spotting and chose because the blogger is Italian, and of course, an Italian would undoubtedly know how to make gnocchi. I think the Italian knew more than I did and either lost info in translation, or makes assumptions I don't know about, but this was a huge recipe fail. I wish I'd used Lidia Bastianich's recipe from a recent issues (October 2010, perhaps) of Bon Appetit- next time.
However, we do have a silver lining: the cinnamon walnut cream sauce (inspired by the suggestions of a Nestie) was delicious and almost saved the dish. The cream sauce was made by making a roux of 1T butter and 1T flour (melt the butter in a saucepan, then whisk in the flour and cook a couple minutes), then slowly adding about 3/4 cup of fat free 1/2&1/2, cooking til thickened (a few minutes- I really wasn't paying full attention) and then sprinkling in about 1/2t cinnamon and 1/4 cup crushed toasted walnuts.
Moving on.
The pumpkin chili was a huge success in comparison. It was like a standard chili of ground turkey and beans and the standard spices (lots of cumin, oregano, cilantro and chili or chipotle powder), but had a nice subtle pumpkin undertone. Love, love, love.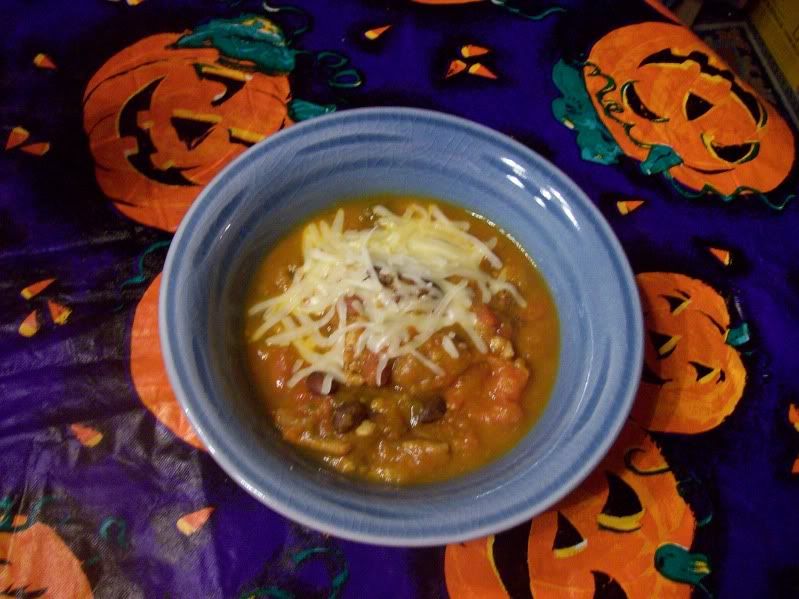 Pumpkin Chili
,
adapted from
The Family Kitchen
1-1.5 lb ground turkey
2 15oz cans beans- I used red kidney and black beans
4 cups pumpkin puree (canned or fresh, I used 2 15oz cans)
56oz tomatoes (the original recipe calls for 2 large cans of diced tomatoes, but I used 1 14oz can and 48oz peeled tomatoes that I'd frozen over the summer)
4 cups chicken broth (if using canned, choose low sodium- you know I used my homemade stock)
1 large onion, diced
2 cloves garlic, minced
1T cumin
1t chipotle powder
1t salt
1t black pepper
small handful of fresh cilantro, or 2t dried
2t dried oregano
In a large pan/pot, brown the meat. When it's about half cooked, add the diced onion. Transfer to your crock pot (or, alternatively, you can leave everything in the large pot and cook on the stove top). Add in all the rest of the ingredients. Cook on low for 6-7 hours, or high for 4 hours. (or on the stove top, bring to a boil, reduce to a simmer and cook 2 hours).
Serve! Garnish with cheese and sour cream, and whatever else you like on your chili.
To pair with your chili, make some pumpkin cornbread. Now, I have to admit, this wasn't as huge a success as the chili itself- mostly because the cornbread was simply too sweet. It was more like cornmeal cake for dessert than something to have with chili, so next time I will reduce the brown sugar by half or more.
Pumpkin Cornbread
,
taken from Recipe Girl
1/2 cup all-purpose flour
1/2 cup whole wheat flour
1T baking powder
1t salt
1/2t ground cinnamon
1/4t ground nutmeg
1 cup cornmeal
2 eggs
1 cup pumpkin puree
2/3 cup brown sugar (I'd go 1/3 cup or less, maybe even just 2-3T)
¼ cup canola oil
1T molasses
Combine dry ingredients (flours, baking powder, salt, spices, cornmeal). In a separate bowl, beat the eggs, then add the pumpkin, brown sugar, oil and molasses, whisk together and then add to the dry ingredients- stir just until combined, don't overmix. Pour batter into a greased 8x8 pan, and bake for 30-35 min at 400F.