Part the second of our pumpkin party main dishes! This post will tell about the popular main dishes, both were found browsing tastespotting.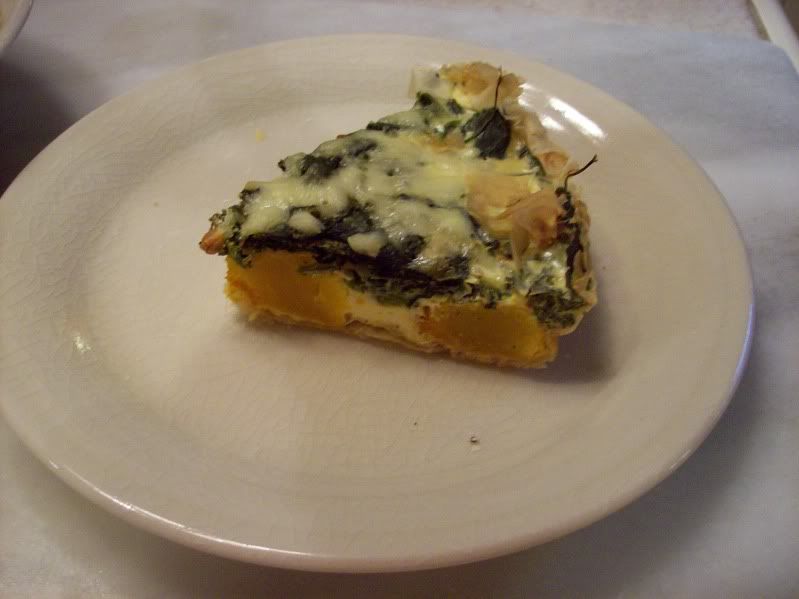 Pumpkin, Spinach and Leek Quiche
adapted from
The Little Teochow
, originally from Homestyle Vegetarian by Murdoch Books
1/2 small pumpkin pie (sugar) pumpkin
2 leeks
olive oil
2 cloves garlic, crushed but otherwise left whole
4 eggs, beaten
2/3 cup fat free 1/2&1/2
2/3 cup milk
1T parsley
1T cilantro
1t wholegrain mustard
6-9 sheets filo pastry, depending on how big your pie dish is
2 cups fresh spinach, blanched and drained
freshly grated parmesean cheese
Turn your oven to 350F. Slice the pumpkin into 1 inch thick slices (leave the skin on for now), and arrange on a baking sheet, along with the leeks (each leek cut into 3 or 4 pieces) and garlic. Roast for 1 hour. When they're all cool, mince (or press) the garlic, chop the leeks into small pieces, and peel the skin off the pumpkin.
Meanwhile, brush each piece of filo with olive oil, then arrange them in a greased pie dish- do the sheets one at a time (brush with oil, then lay in dish, then get the next sheet out). Arrange them so they're 6 layers deep, I had a few layers with more than one sheet in the layer, just to fit the pie dish.
Arrange the pumpkin in the pie dish, like so.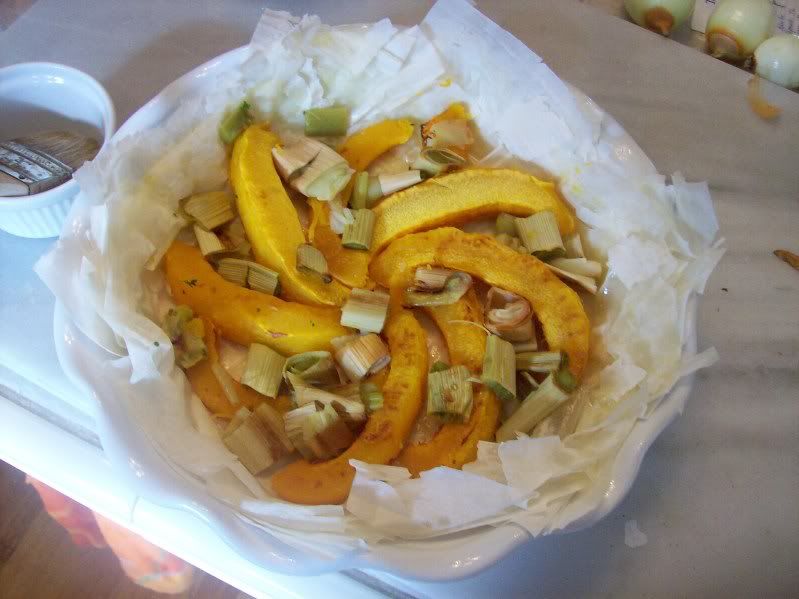 Arrange the spinach on top.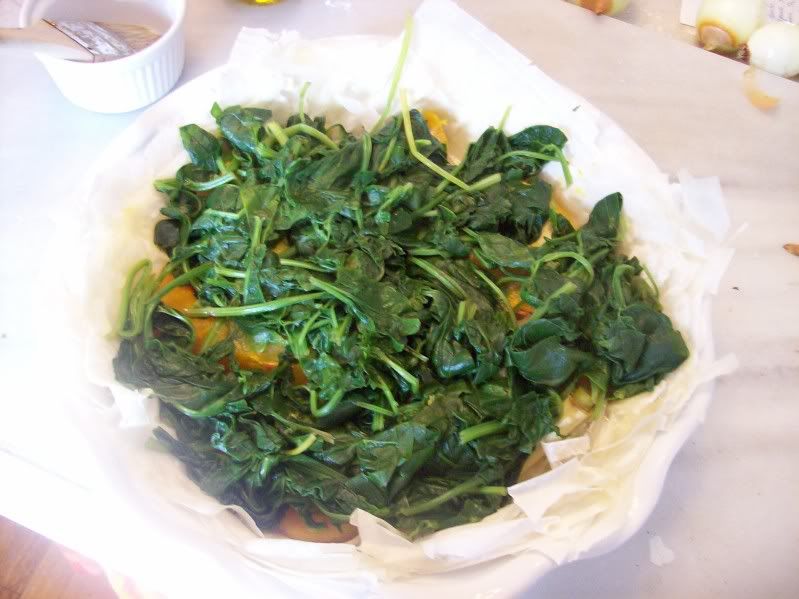 Beat the eggs, milk, 1/2&1/2, mustard and herbs together, and pour over the veggies, pressing the spinach in to get everything coated in the custard. Top with the grated parmesean, and bake at 357F for 40-45 min.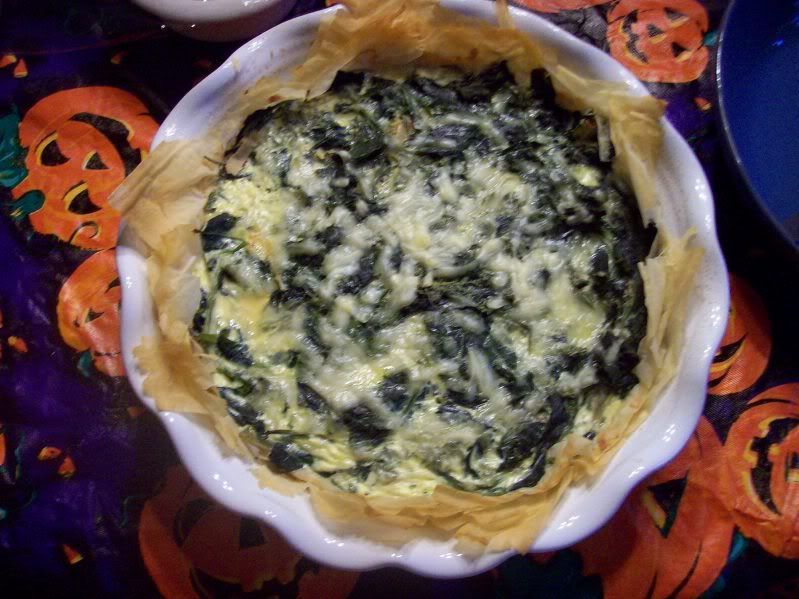 Ok, now the pizza! This pizza is really easy, and we've made it several times since the party. It's full of good, simple fall flavors, and it just tastes fresh and not heavy at all, like some pizzas can be.
Pumpkin, Apple and Ricotta Pizza
from
Straight from the Farm
(picture soon, I forgot to take it off my camera)
pizza dough (your choice, I used my favorite
pumpkin pizza dough
, to increase the pumpkin usage for the party, and because I have a ton of it in the freezer, ready to go at a moment's notice!)
1/2-2/3 cup ricotta cheese
1/2 of a small pumpkin pie (sugar) pumpkin, peeled and sliced thinly (as thin as you can, slicing a pumpkin isn't easy)
1 apple, peeled and sliced into 1/4 inch thick pieces
1T fresh sage, chopped
small handful of freshly grated parmesean
Roll out the pizza dough. Spread with ricotta cheese. Arrange apple and pumpkin slices, sprinkle with safe and parmesean. Bake at 450F for about 15-20 minutes (depending on the thickness of the dough). I sprinkled with a little kosher salt before serving.