Is salad really an appetizer, though? At a sit-down dinner, often, but not really at a buffet. Oh well.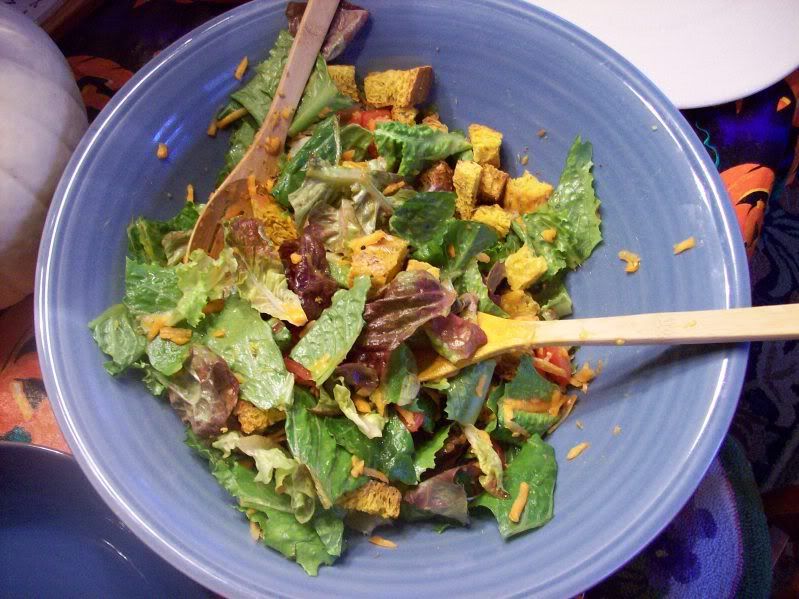 I'm excited about all aspects of this salad. The salad itself was pretty standard: CSA lettuce, grated CSA carrots and tomatoes. I wish I'd tossed in some freshly grated parmasean, but I didn't think of that til later.
The rest of the salad is what I love so much.
Pumpkin Vinaigrette
taken from
The Heart of New England
I'd recommended quadrupling this recipe, you'll want to use it again and again, and even though it says to make it fresh each time, it's fine a few days old, although the oil separates out a bit, so you'll just need to stir it up a bit for the next time.
2 cloves garlic, minced (or pressed in a garlic press)
2t maple syrup (or honey)
1/2t salt
1/4t freshly ground black pepper
1/4 cup
pumpkin puree

1/4 cup rice vinegar (or a mix of white and cider vinegar is good)
1/4-1/2 extra-virgin olive oil
(you know I always skimp on the olive oil, use the larger amount if you don't skimp)

Mix everything but the olive oil together. I mixed by hand, you can do it in a food processor if that's easier for you. Then drizzle in the olive oil until it reaches a good consistency. Toss in your salad.

Pumpkin Croutons
my own "recipe"
about 8 slices of bread, cubed- I used my pumpkin challah, that I'll tell you about soon)
some olive oil (maybe 1/4 cup?)
salt, to taste (I used about 3/4 t)
dried thyme (I used about 1t), or other herbs you like
Toss the ingredients together to coat the bread well. Dump on a foil or parchment-lined baking sheet (totally not necessary, but makes for easier clean up) and bake at 350 for about 20 minutes. Let cool, and toss in salad. Store leftovers in tupperware or a ziploc bag at room temp.
Ok, now, I'd like to share a recipe that I didn't serve at the pumpkin party- but I definitely wish I had. This was one of those dishes I expected to be ok, but was actually incredibly tasty. I only wish I'd discovered it back when we were inundated with CSA kale!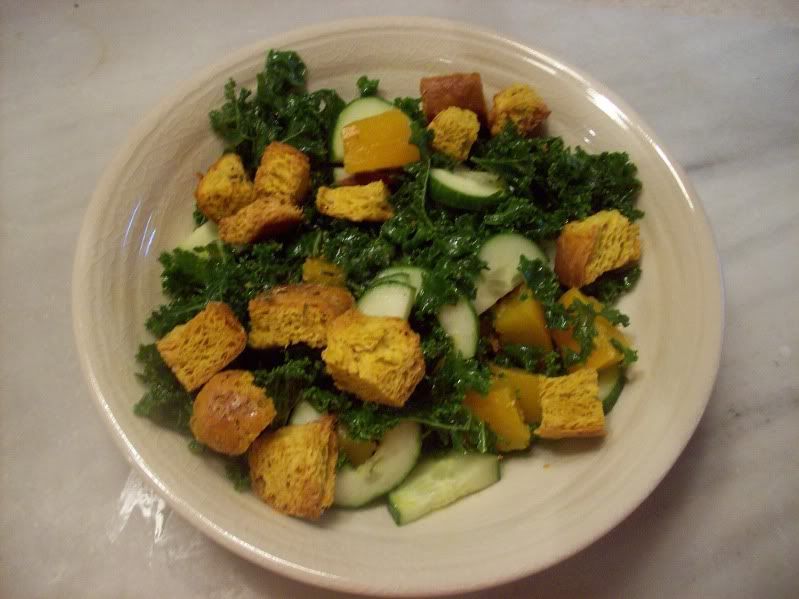 Massaged Kale Salad
adapted from
Aarti Sequeira
I used her procedure but not her vinaigrette, since I still had pumpkin vinaigrette left. I actually used only half a bunch of kale, because I was the only one eating this salad. 1/2 bunch of kale really would make enough for 2 people.
1 bunch kale, washed, stems removed and chopped into small pieces
2T olive oil
2T lemon juice
Pumpkin Vinaigrette
other veggies as desired (grated carrot, cucumber, tomato)
freshly grated parmesean
croutons
Combine the kale in a large bowl with olive oil and lemon juice, and with your hands, massage for about 3 minutes. This softens the kale.
Toss the kale with vinagrette, other veggies, parmesean, and croutons.