As with the previous CSA batches, we've been overrun with lettuce. I'm pleased to say, however, that for the first time ever, we've actually eaten all the lettuce. The reason? Two:

maple vinaigrette

and Thai lettuce wraps.

I love the thai lettuce wraps at the Cheesecake Factory. So, I used google to try to find that recipe (mostly for the dipping sauces), and ended up with

this batch

, which calls itself a copycat recipe. I can tell you they're good, because we've had them twice already. But they're not copycat recipes, not even close.

For one, the thai lettuce wraps chicken from Cheesecake Factory has a yellow marinade, not brown, and doesn't taste like soy. This cashew tamarind dipping sauce tastes nothing like any of the Cheesecake Factory sauces. The cucumbers are very close, however, and even though I haven't yet made the coconut rice noodles, they look like a promising reproduction.

Even so, these recipes are delicious, the lettuce wraps are filling, high in veggies, reasonably healthy (not that I've calculated any nutrional info, but I think only the coconut noodles and dipping sauces have a significant amount of fat and calories), and best of all, make a serious dent in your 5 heads of CSA lettuce. (and the chicken is great over a salad!)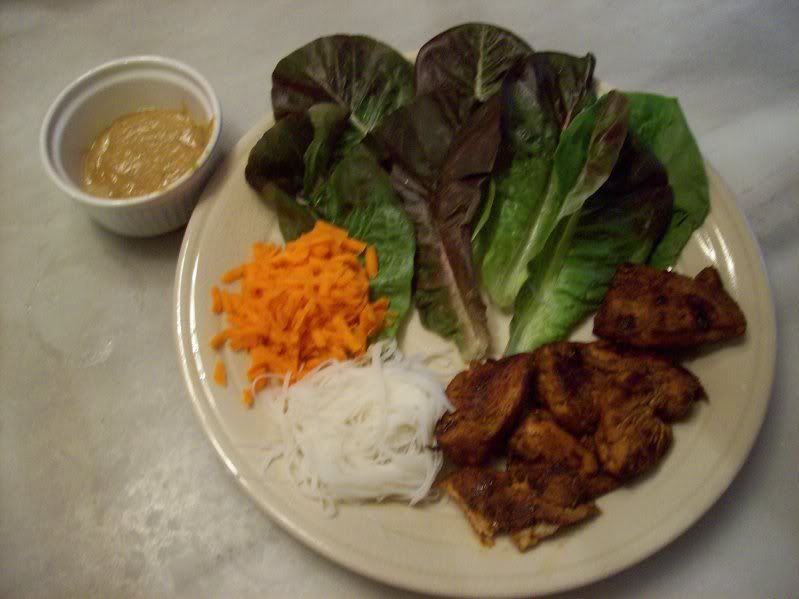 Soy lime chicken, serves 6 (or 2 for 3 meals)
3lbs boneless skinless chicken breasts
1/2 cup soy sauce
1/4 cup fresh lime juice
2 cloves garlic, minced
1T grated fresh ginger
1/4 cup water

Combine soy sauce, lime juice, garlic, ginger and water in a
shallow dish, stir to combine. Cut chicken crosswise into
3/4-inch-wide strips and add to dish. Marinate for 30 minutes
(up to 2 hours), stirring mixture occasionally. Cook chicken-
grill on bamboo skewers (pre-soaked in water) (recommended
method) or stir fry (what we did) with 1T oil.

Marinated Cucumbers (not pictured, oops)

1/4 cup rice vinegar
2T sugar
2T cup water
dash salt
1/2 large cucumber, peeled and sliced into 1/8in thick
quarter slices

Combine vinegar, sugar, water and salt, cook over medium
heat til sugar dissolves liquid starts to boil. Remove
from heat, cool to room temperature. Place cucumber slices
in a bowl, pour vinegar solution over. Let marinate 30 minutes.

Tamarind-Cashew Dipping Sauce

1/4 cup cashews
1/3 cup cilantro
2 cloves garlic, quartered
2 green onions, chopped
1T sugar
1/2t black pepper
1t cumin
1/2 cup honey
4t white vinegar
1t tamarind pulp*
2T olive oil

In a food processor, combine cashews, cilantro, garlic, scallions, sugar, pepper and cumin. Pulse a few times. Set aside.
In a small saucepan, combine honey, vinegar and tamarind pulp. Cook over medium heat for 3-4 minutes, try to dissolve tamarind pulp (I couldn't get it to dissolve, but it's going in the food processor anyway). Remove from heat, let cool. When it's cool, add the liquid to the food processor and blend briefly. Drizzle in olive oil and blend until a nince sauce forms.

We also had rice noodles (cooked according to the package directions, not
flavored at all), shredded carrots, and, of course, the lettuce.

* tamarind pulp: I'm not entirely sure I did this right, but
here's what I did. I took one of my tamarind pods (purchased
at Whole Foods a while ago)
peeled away the brittle outer shell,
peeled away the veins, and scraped the sticky pulp stuck to the seeds.
And the pulp from one pod yield about 1t, just what I needed for
the cashew tamarind sauce.