Well, here we are, coming up on CSA #6, and I still haven't told you about CSA #3. (Unfortunately, CSAs #4 and 5 happened when we were away, so my dear cousin got all the goods).
Clint went alone to pick up CSA #3- I had to work too late for the 6pm pickup deadline. He'd already left for bridge club by the time I got home, so he spread everything out on the counter for me to see.
Week 3 was our first week of flowers!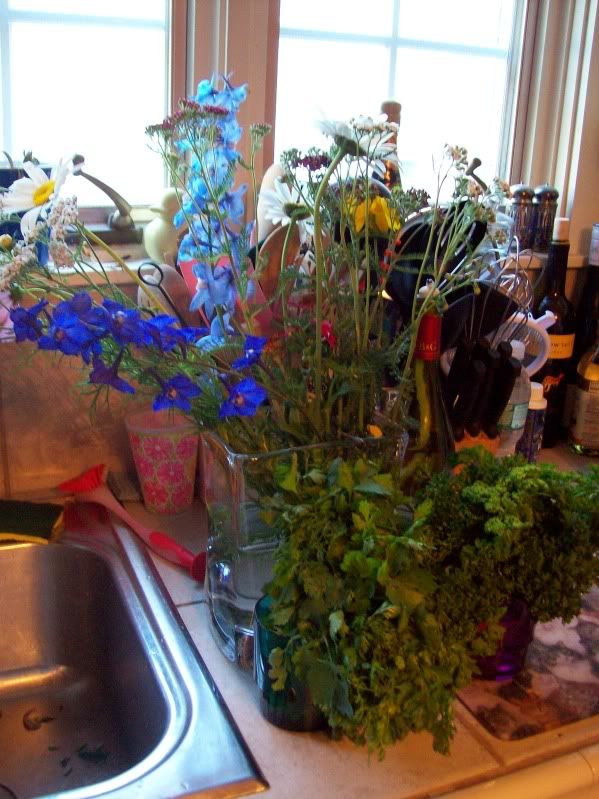 And more herbs: curly parsley and cilantro.
We also received beautiful black raspberries, about a pint,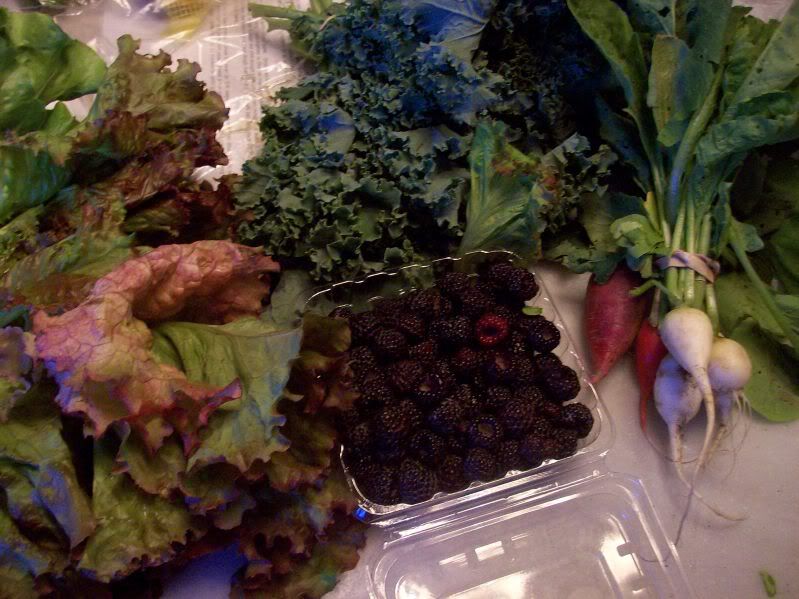 which I turned into whole wheat black raspberry streusel muffins (we both decided we weren't huge fans of them- something I'm a little ashamed of, because what sane person declares they don't care to eat such a beautiful fresh berry? But really, they taste great but are a little dry. We loved them as muffin-berries, so I'm very pleased with how I used them.)
We also got lots more greens: kale, beets, little white beets (or radishes?) and more lettuce (also a bag of mixed greens not shown).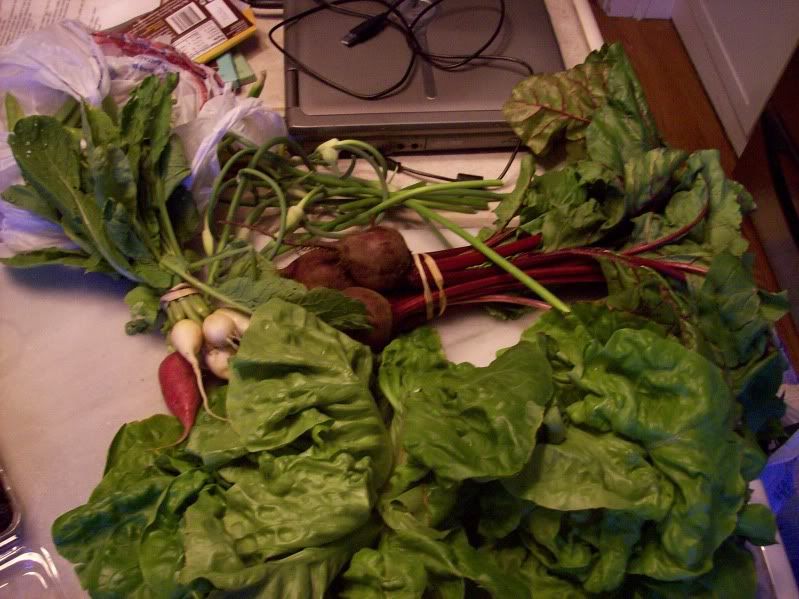 Peas, as well as snap peas (not pictured), which I gave to my aunt.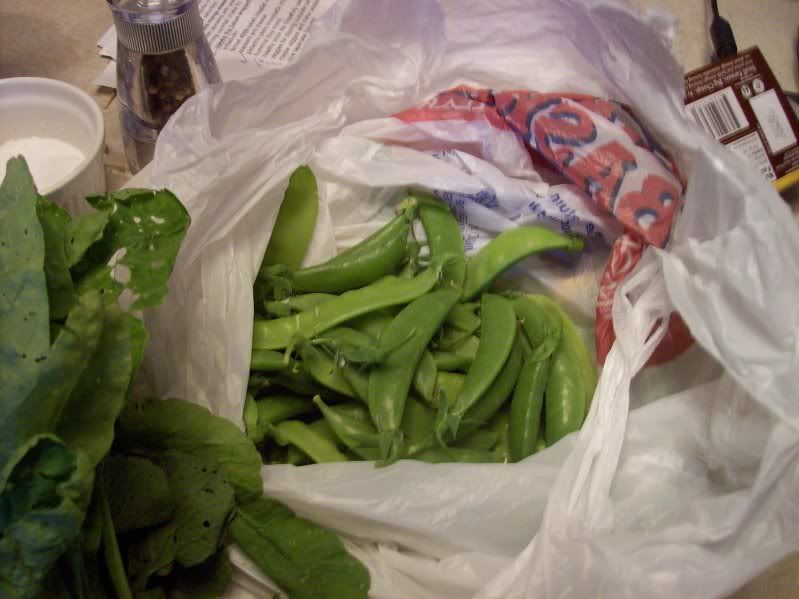 And more garlic scapes! I love these, but I still don't quite know how to use them.
So it was exciting.
The only problem was.... how do you use lettuce? There's really nothing good besides salad. And how can you make salad good?
Maple balsamic dressing, that's how!
I think we both had 2 servings of salad for dinner, and we happily ate salad until we left for Washington, DC 4 days later.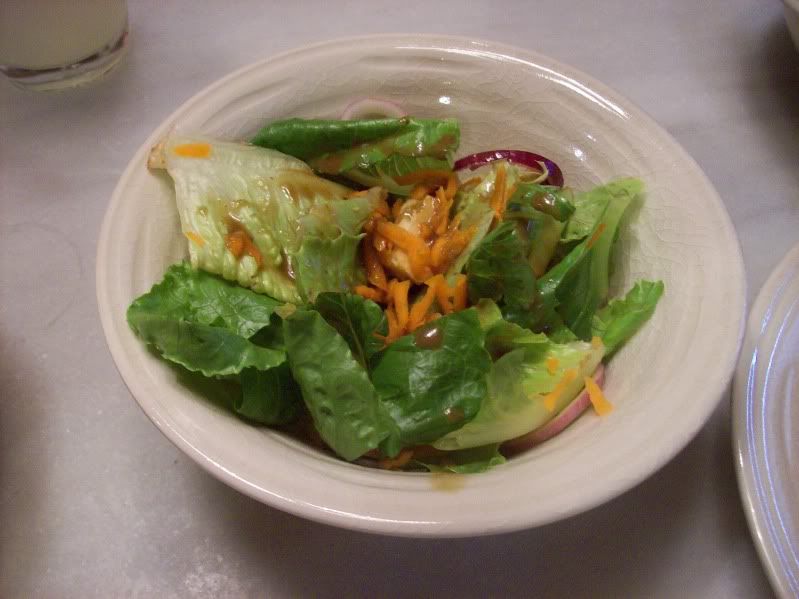 (unfortunately, the only veggies we had to put on the salad aside from 25 heads of lettuce were some carrots and red onion, and the last of the croutons I'd made a while ago- but I have more frozen bread cubes to try to make more croutons- note: croutons are a good way to use up bread that you've cubed for any reason (such as a fondue party).)
Maple Balsamic Dressing
adapted from
The Maple Syrup Cookbook
, a wonderful cookbook, and so incredibly useful when your friend's parents own a farm in northern Vermont and make it really easy to acquire reasonably-priced gallons of maple syrup.
Have I mentioned how easy salad dressings are?
In a food processor or blender (I think I actually used a blender this time), combine
2T maple syrup
3T balsamic vinegar
1T fresh cilantro
1 clove garlic
1/2t whole grain mustard
juice of 1 lime (about 1T)
and blend/process briefly.
Then slowly drizzle in
1/4 cup olive oil
(the recipe says 1 cup, but I really hate oily/greasy dressings) until it forms a nice emulsion.
And voila! Pour over your lettuce.
I thought that basil dressing from CSA #1 was my absolute favorite dressing, but this one is now. (note: it was kind of inspired by the delicious maple vinaigrette from the
Publick House
in Sturbridge, where we met my parents for dinner two nights before, to do a little cell phone transfer after one of us left their cell phone at my parents' house on Sunday)
Black Raspberry Whole Wheat Streusel Muffins
adapted from
Sugar Baking
, who got it from
Great Coffee Cakes, Sticky Buns, Muffins, & More
(note: I didn't do this even though the recipe says to, but you really should: make the streusel topping first. Also, I found that I needed far less streusel than the recipe said)
Streusel Topping
4T butter
2/3 cup flour
3T sugar
1/4t cinnamon
pinch of nutmeg
pinch of baking powder
pinch of salt
Melt the butter in a saucepan, remove from heat and stir in the other ingredients until combined. Knead a little with your fingers, and set aside while you make the muffin batter, for at least 15 minutes.
Muffins
1 cup whole wheat flour
3/4 cup all purpose flour
1/2 t baking powder
1/2 t salt
1/4 t baking soda
Whisk that together, set aside.
1/2 cup buttermilk
(1/2 cup milk + 1.5t white or cider vinegar, or lemon juice, let sit for 5 min, and that's buttermilk)
Set buttermilk aside.
1 and 1/3 sticks (2/3 cup) unsalted butter, halfway between cold and room temperature
zest of 1 lemon
3/4 cup turbinado sugar (or white, if you don't have turbinado)
1 egg
1t vanilla

Cut the butter into chunks and beat with a mixer. Beat in lemon zest, and then add sugar in a steady stream and cream for 1-2 minutes. Beat in egg and vanilla.
Now add flour mixture alternately with buttermilk, starting and ending with flour (add 1/3 of flour, beat a little, add 1/2 of buttermilk, beat a little, 1/3 of flour, beat, rest of buttermilk, beat, rest of flour. This confuses even some experienced cooks, who think "alternately" means dump in all the flour, then dump in all the buttermilk, so I want to be clear (honestly, to which I say, I know you watch Martha every day, aren't you paying attention?!)).
1 and 1/2 cup black raspberries
(or whatever berry you feel like)
Gently fold in
1/2
of the berries. Leave the rest aside for now.
Now, take a well-greased or muffin wrapper-lined muffin tin, and fill each well 2/3 full with batter. (I ended up with 16 muffins). Place some of the set aside berries on top of the batter, and push them in slightly. Top with about 1T of the streusel topping, press that in slightly so it doesn't fall or blow off the muffin.
Bake for 30 or so minutes in a preheated 375F oven.
This is my new favorite muffin recipe.