Hello, my lovelies! Sorry for the terrible lack of posts- I'm on the second-to-last night of a rather long road trip. I'm finally back in the eastern time zone after hanging out with family, family friends, and Old Faithful. I have some food tales from my trip to share, but today, we were watching
Julie and Julia
in the car (I know, finally!) and one scene reminded me that I never shared this story, from the end of May- where Julie make some sort of raspberry thing for dinner where the guest never shows, decides to bring it to work, and the bag gives way on her way to work and the dessert ends up all over the sidewalk.
I made my mom a birthday cake, as I tend to do. I make everyone a birthday cake, to be honest. Birthdays are a valid excuse to bake fancy things.
Mom said she would like something with Aunt Gertie's chocolate frosting (a fudgy chocolate buttercream, with my favorite instruction: "beat like hell"). Since I'd recently discovered dulce de leche and figured out how I could make it all by myself, I used a batch of that as the filling. The cake itself was my great grandma Anna's vanilla cake recipe (the same cake as our wedding cake). And it was lovely. I made the mistake of watching the season finale of Grey's Anatomy (you remember, where everyone got shot) while making the cake and neglected to sufficiently spray the parchment-lined cake tins, so the layers had some issues coming out of the tins, but I got everything to stick. And it frosted beautifully.
See how nice?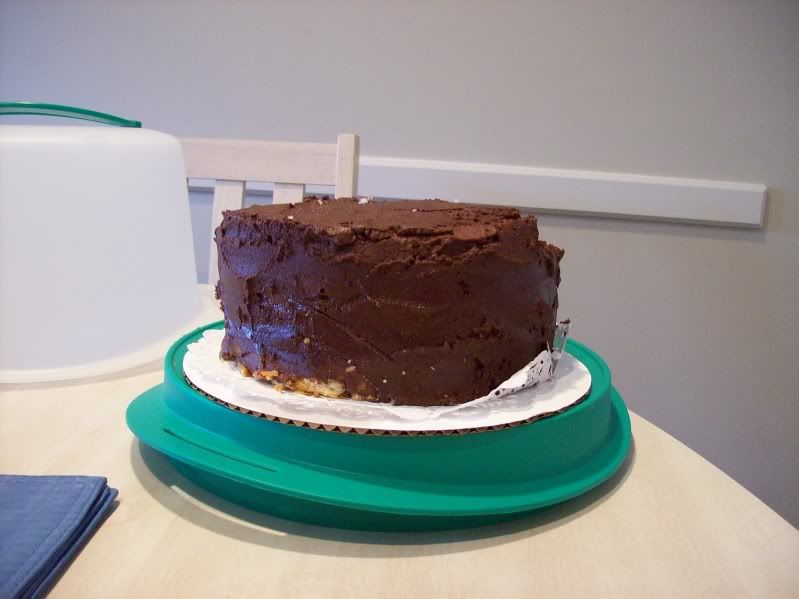 Then we drove it from Worcester, MA to Westbrook, CT, a 90 or so minute trip on essentially 2 highways and one country road. We got a great parking space, right at the end of the walkway towards my parents' timeshare condo, and since we were only staying with them one night, were able to bring everything in in one trip. Only...
my caketaker is apparently worthless. The bottom clips on to the top, and the handle is on the top. With 3 other bags to carry, I couldn't support the caketaker from the bottom as I would prefer to do, and one of the two clips came undone, possibly from being jostled as I walked.
Fortunately, I'd stuck 3 bamboo skewers in the cake to prevent the layers from slipping (dulce de leche is pretty runny, and I've had many problems of transporting cakes filled with something other than frosting in the car), so the cake held together after landing, the only problem was that half of it was on the sidewalk. So I picked it up, got the still-clean half, and 6 of us celebrating mom's birthday enjoyed that for dessert.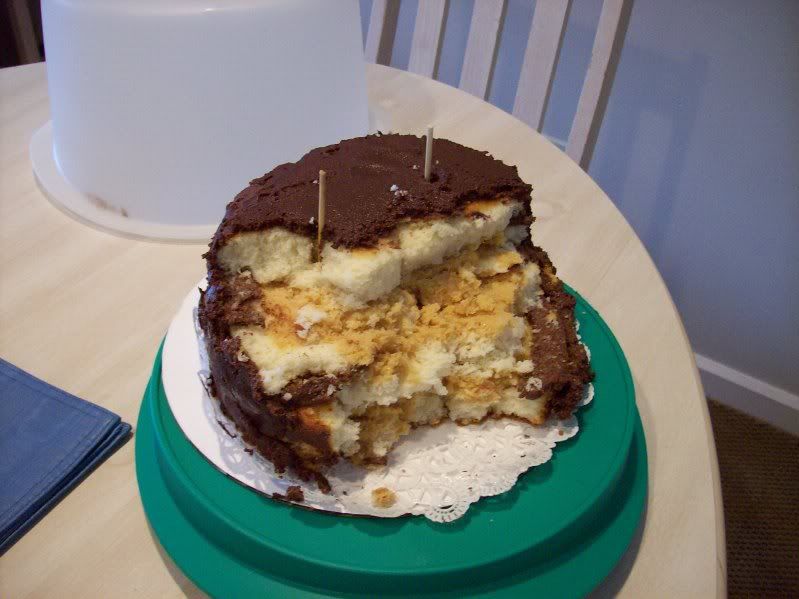 The cake was good, and 2 months later, we're still laughing about this food horror story.