yay it's time for CSA #6!
CSA #6 had an exciting start- lots of lightening as I drove home to pick up Clint (neither one of us would steal the veggie excitement from the other, so we pick up our share together, unless one person can't), pouring rain as we left the house to get back in the car, a power outage 4 blocks from our house, hail, and no power when we got home. Wow!
Therefore, I had to spread out our veggies on the porch table to photograph, the only place with any real light.
We had:
fresh oregano! (Clint votes to use it for pizza sauce, I want to throw it in bread. Hopefully we can do both) Blueberries (I will not cook these, we will eat them plain. They're too good for cooking.), assorted beans, beautiful, artistic-looking heads of lettuce (the red is a bit bitter, interesting)
little tiny broccoli!!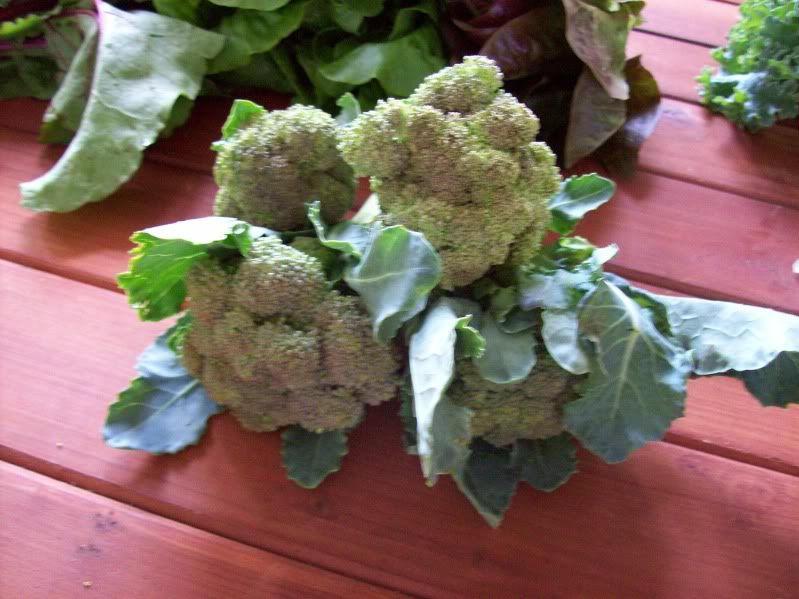 summer squash, zucchini and a lone pickling-style cucumber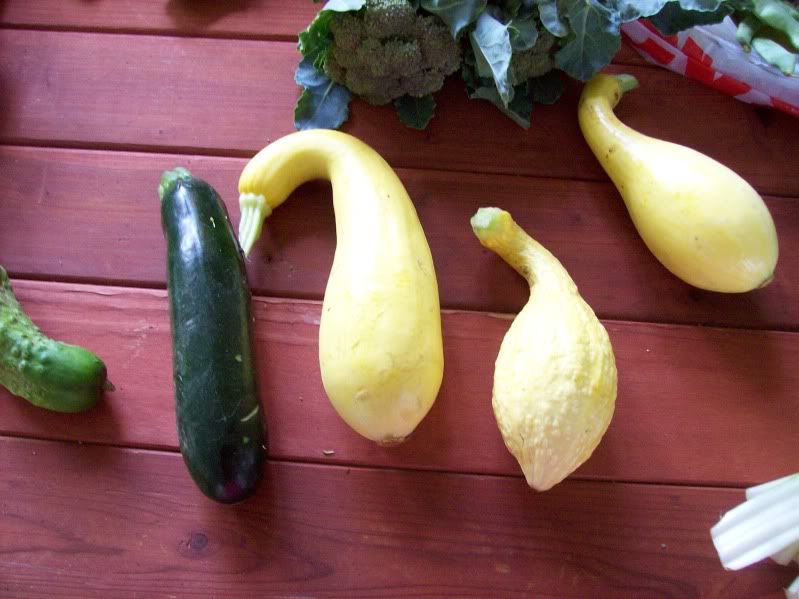 unidentified greens! (regular chard? not sure) and kale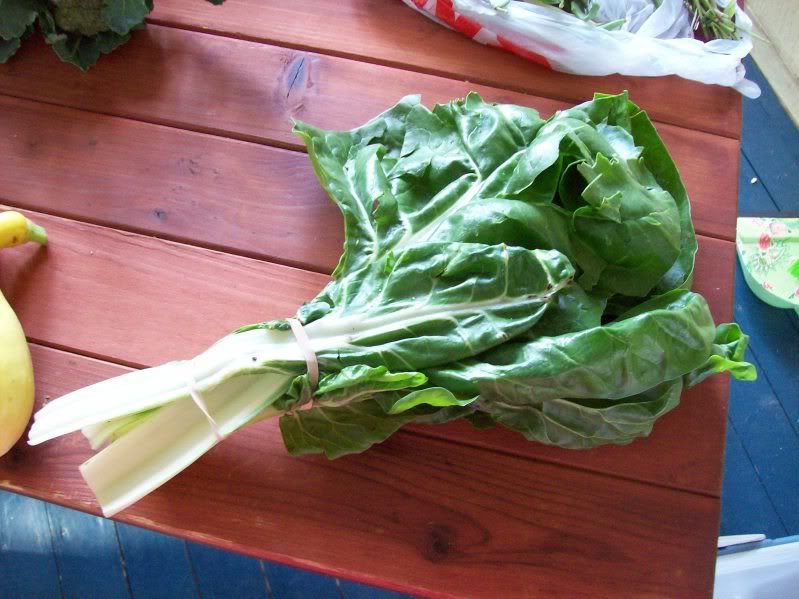 Not pictured: a small assorted bouquet of wildflowers.
It was exciting.
And like I said, we had no power. I thought, oh fine, I can do with cooking anything! I'll just have a salad. Let me make some dressing I can just whisk it. Only.. whisking won't do much for a whole garlic clove or cilantro. Ok, fine. I'll make that garlic scape pesto a friend emailed me. Oh, I can't food process (which lead me to ponder, how in the world did people make pesto before food processors? I'm sure they must have. Was everything ground with a mortar and pestle?) So I settled down on the porch with some peaches and the newest Cooking Light. And wouldn't you know, just as I got comfy, the power came back. Ah, whatever.
So I did make my
maple vinaigrette
, this time, a double batch but with the 1x amount of garlic, and a total of 3/4cup of olive oil (instead of the 2 cups the recipe would have recommended for the double version). I had it over the new lettuce, the lone cucumber, a shredded carrot and 2/3 of a tomato (the leftovers of Clint's sandwich tomato). It was good.
I also had a helper, who stayed by my side through all of this cooking.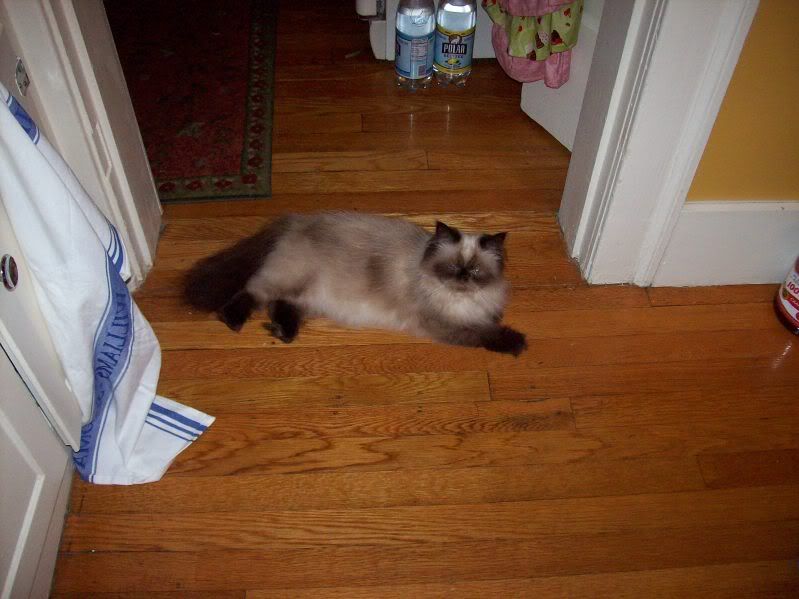 I made that garlic scape pesto I was emailed, and
wow!


Garlic Scape Pesto
adapted from
Dorie Greenspan
aka the "oh, I have
just
enough!" recipe- because I had just enough for one batch.
10 garlic scapes (I had exactly 10!)
1/3 cup slivered almonds (I had 1/2 cup!)
1/2 cup romano (she says parmesean) cheese (again, just enough!)
1/2 cup olive oil (I used more like 4-5T)
1T lemon juice (my addition)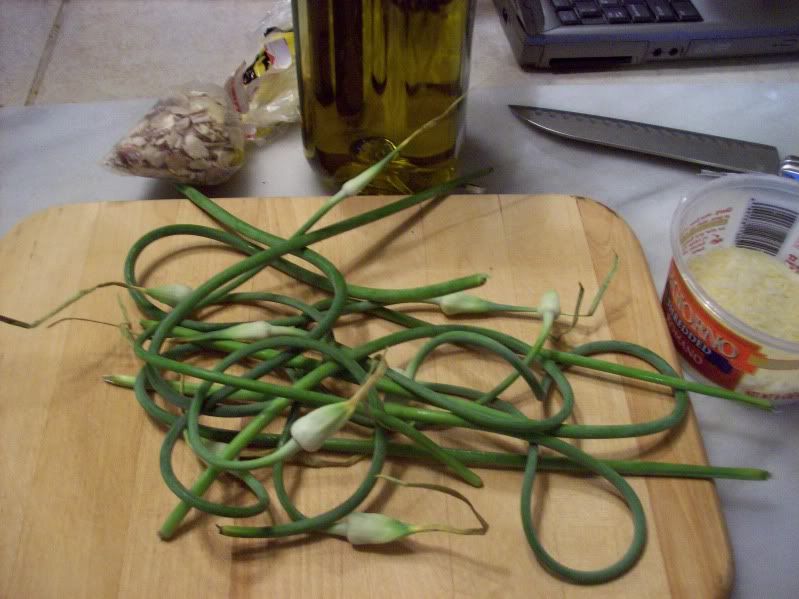 Finely chop garlic scapes (heh, "finely". Whatever, it's going in the food processor anyway.)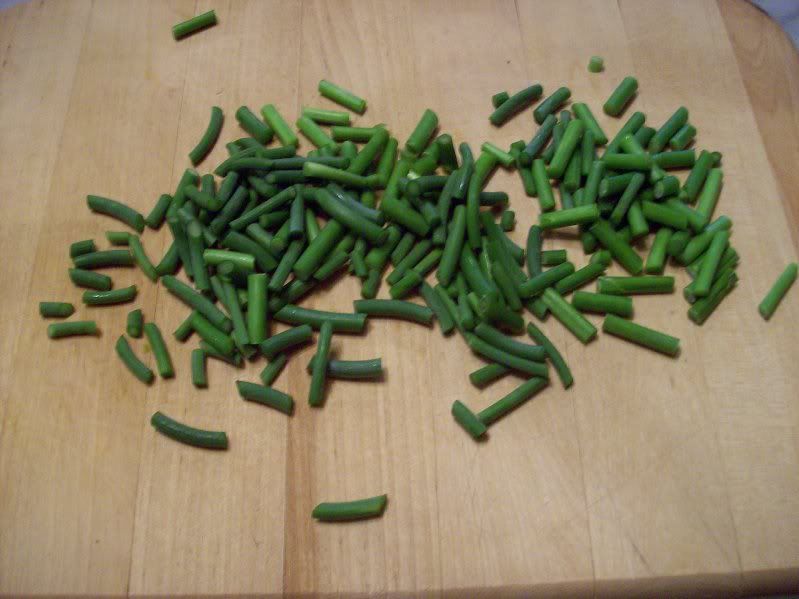 Add scapes, almonds, cheese, pinch of salt, lemon juice and half the olive oil to the food processor,
and whiz until it's all minced together. Drizzle in more olive oil, 1T at a time, until it's the consistency you want. Then eat, so far I love it on bread (dinner rolls bought at the end of the day from the Crown Bakery, 50 cents per dozen- I should always go to bakeries 10 minutes before closing).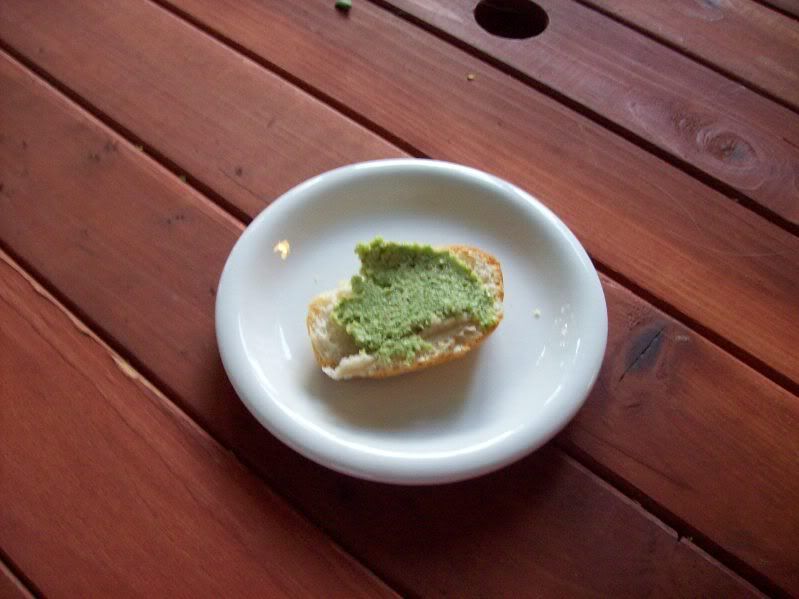 Now, to be honest, I wasn't going to tell you about this recipe yet. The pesto is a beautiful light green color, and it smells heavenly (assuming you like garlic). But it's got a huge bite to it. I dumped it on half a roll and ate it, and was very surprised at how strong the flavor it. It was... a little
too
strong, really. So I thought I'd like to try mixing it 1:1 or 1:2 with cream cheese or hummus, and use it to flavor a spread. That might cut down the bite a little. But when it came down to it... I just can't stop eating these pesto. I put a very thin layer on a cracker or roll, and I like that. I do intend to mix it with cream cheese (we're out of hummus currently), and I'll tell you about it, assuming I don't eat the pesto all up before the cream cheese softens.