And the first new recipe of 2010 is sage-covered pork roast with dried fruit compote.
PSA to southern New Englanders: Big Y is having a special on pork roasts this week, buy 1 get *2* free! My mom emailed me about this, so of course I high-tailed it to the grocery store last night. I got 3 2.4ish lb boneless pork roasts for $14.50, and I cooked one. Sadly, I have no pictures, but next time I do this (there
will
be a next time), I'll photograph it. (ETA: and 5 days later, there
was
a next time)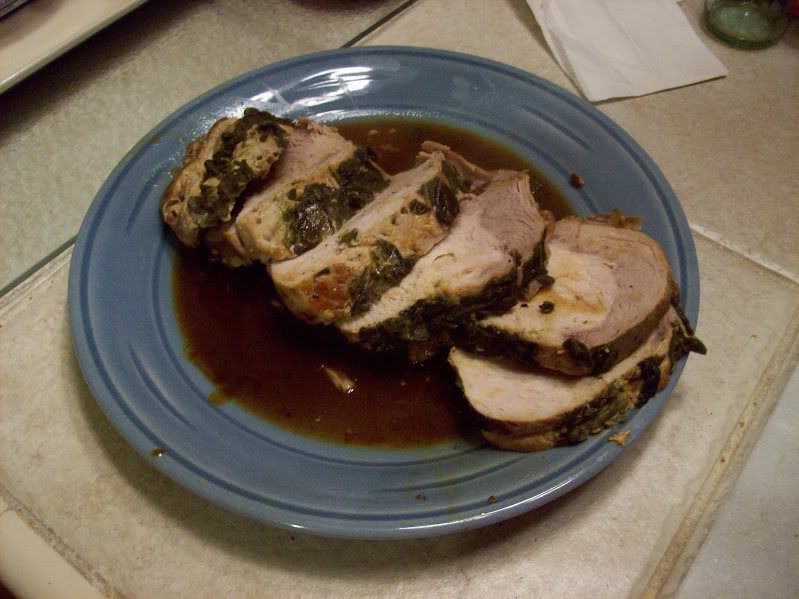 Pork roast:
trim off fat, rub with kosher salt and freshly ground pepper. Lay some sage leaves covering the top, arrange in rows, and tie on with kitchen twine. In a oven/stove cooking vessel (I used my Le Creuset braiser for the first time! love it), brown the pork on all sides- about 10-12 min total. Wrap in parchement paper, and bake for 50 min in a 375oF oven, until it reaches 170-175oF (the recipe I found said 160, but mine got up to 175 and was just barely done enough). Remove roast, let rest for 10 min on a platter, then unwrap from the parchment and pour the juices back into the cooking vessel. Add 1/3cup each of chicken stock/broth and apple cider. Cook til reduced, add 1t (recipe said 1T, but we're trying to be healthy) butter and cook til reduced to 1/3cup total. Pour over the meat.
Dried fruit compote (to serve on the side):
while the pork is in the oven, combine
3cups apple cider
3/4cup raisins
3/4cup dried cranberries (cherries would have also been good)
1/2-3/4cup roughly chopped dried apples
16 dried apricots, cut in quarters
1 cinnamon stick
zest of 1 orange (and juice, if you want- the zest adds enough orangey flavor)
1inch piece of peeled fresh ginger (or some large pieces of crystallized ginger)
dash of pepper
in a medium-large saucepan over medium-high heat, cook, stirring occasionally, for 20-30 minutes, until thick and gooey and delicious-smelling. Remove ginger and cinnamon, and serve warm.
These two items were delicious. We also had roasted sweet potatoes (toss sweet potatoes cut into finger-like pieces with some apple cider, salt, pepper and chopped sage, spread on a foil-lined cookie sheet (spray the foil) and bake in the oven for as long as the meat is in it- 40-50 min at 375), garden salad, and boiled wax beans (broccoli the 2nd time around).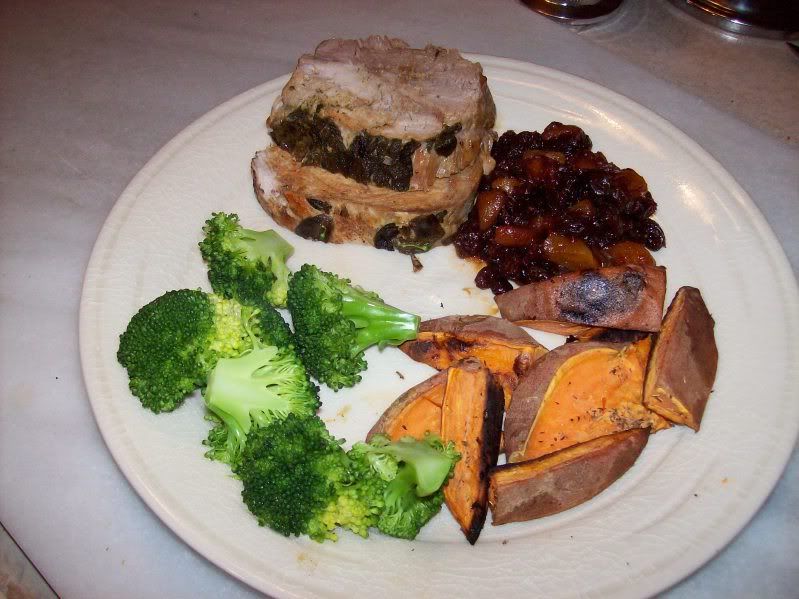 Then I was lucky enough to have the same thing today for lunch :-D
Craft update:
I'm knitting
Girl Friday
in KnitPicks Swish Worsted in Truffle (a chocolately brown). So far, so good. In 3 days I finished the back. In 4 more days, I finished the panels for the front (it's a cardigan). Now I've been on the sleeves for 3 days, but am only halfway to the elbow. However, this progress, after I told someone there was no way I'd ever finish it in time to wear this winter, but maybe on chilly spring evenings, is impressive. And after knitting all those adorable, yet full of ends to sew in, korknisse, a large thing like a sweater is a joy to knit.
Next up: socks for Clint, using a pattern from my new sock knitting book, and knee socks for me- possibly in the reverse order, Clint's socks are my ravelympics project (start a project during the Olympics opening ceremonies, and finish it by the end of the closing ceremonies, and for me, probably only knit it while
watching
the Olympics, preferrably curling) and I'll most likely finish the sweater well before the Olympics start.