I've accidentally started a little tradition/trend for our little household- I do something in the kitchen first thing on Sunday "morning" (because we lately we're sleeping in on Sundays, so this is more like, noon-ish) so make the kitchen smell ridiculously good.
Last week it was whole wheat pancakes, this week I decided to try my hand at waffles.
I've traditionally had a hard time with breakfast foods, with the exception of french toast, which my husband doesn't really like (it's my favorite, so I've gotten good at it- especially at making french toast for one). I burn pancakes, and my waffles stick to the iron and fall apart.
Example.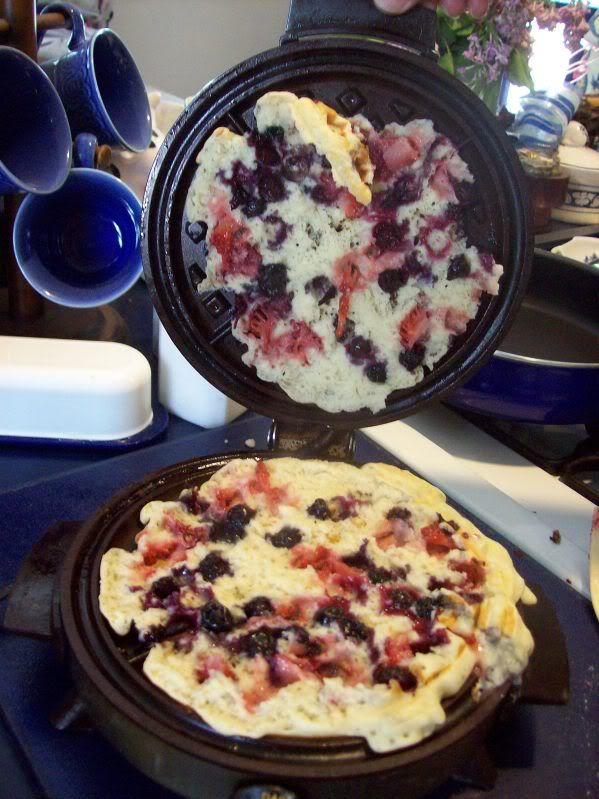 This was a batch of waffles I made with some fresh blueberries and strawberries this summer. I sprayed and sprayed and sprayed the iron before each ladleful of batter went on, yet they still stuck. My waffles almost always looked like this. We think the problem may have been that the batter was too runny.
But, since I'm always up for attempting to learn from and correct my mistakes, I tried again on Sunday. I used:
- a brand-new waffle iron (bridal shower gift)
- a brand-new waffle recipe
- lots of non-stick spray
And the result: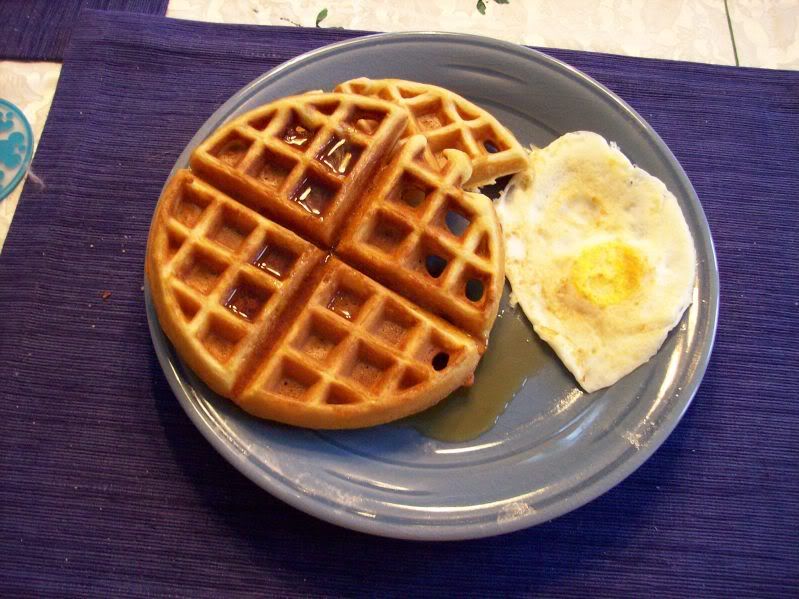 crisp, fluffy waffles that tasted and smelled delicious. And maple syrup really brought out the cardamom in the waffles (very unexpected).
The recipe came from a French breakfast cookbook I bought at La Madeleine a few years ago. It uses browned butter, which adds so much to the flavor of anything it's in. I also added cardamom. This process was by no means quick, and I wouldn't recommend this if you have a household of hungry people, but for us (me with a full pot of coffee, and Clint, who'd decided to tackle cleaning out and rearranging our spice drawer), it was great.
Melt 12T (1.5 sticks) unsalted butter in a saucepan over medium-high heat. Co
ok til it bubbles, and then watch it carefully as it browns- you want a caramel-color and for it to smell nutty. I usually take it off the burner when it's a light caramel, because it'll cook a bit more by itself, and you don't want to burn it.
Combine 2.25 cups flour, 2T sugar, 1t baking soda, 2t baking powder, and 1/2t salt in a bowl (I also added about 1-1.5t cardamom, and I was going to add orange zest, but forgot to). Whisk in 1.5cups milk and 1t vanilla. Beat in 3 eggs, one at a time. Add browned butter, and beat til just combined. (Edit: Before I said 2T baking powder, I meant 2t)

The batter was thicker than previous waffle recipes I've used (which, ok, is only the Bisquick box recipe, but in my defense, my mother will only use bisquick for pancakes, waffles, biscuits and muffins, and I only ever make waffles at her house (except once I made some yogurt waffles for myself- they were only ok)), which boded well.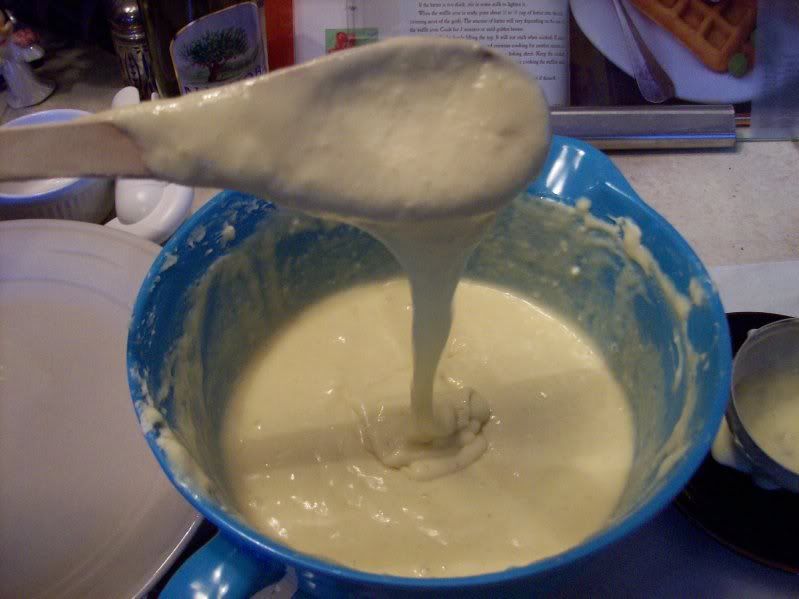 Drop 1/2-3/4cup batter on waffle iron, and cook according to your iron's instructions. We got 7 waffles out of this batch, and because each took about 5min to cook, I placed all the waffles in a 200oF oven to keep warm and crisp.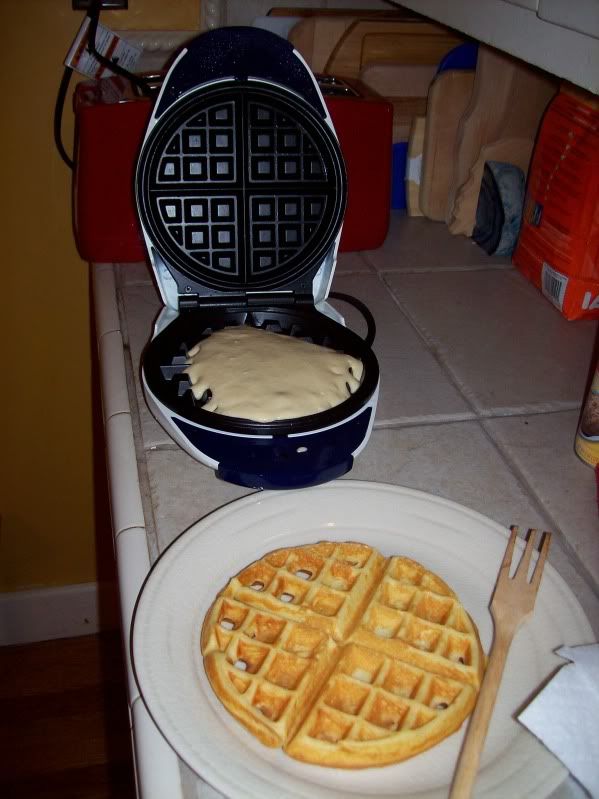 The waffles tasted good- a little nutty from the brown butter, and just a little sweet, good for pouring maple syrup over. The kitchen smelled delicious. We munched on the first waffle, just plain, while we waited, and it was great. When we added the maple syrup, however, the cardamom flavor really popped.
So that was tasty.
In crafting news, Girl Friday is nearing completion, but she needs some serious blocking- horizontal ribbing always needs some coaxing. I had some fun with glitter last night, though.
I decided that Valentine's Day is a crafter's last hurrah- you get all crazy with Christmas crafting, it's suddenly over, but Valentine's Day is like a chance to do all the crafting you didn't get to do before- and if it's red, it works (well, unless it's red reindeer or something).
So as I ran some errands yesterday, I stopped at Michael's to add to my glitter supply. I had red and silver and white (and green and some Halloween colors) at home, so I just bought pink tinsel glitter (and brownstone tinsel glitter that was on clearance) and some more glitter glue.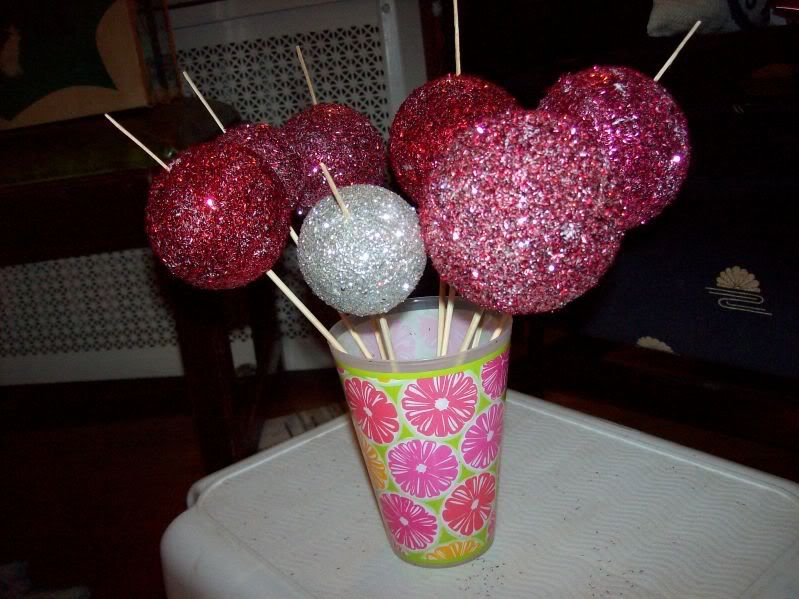 I cut corners a bit on this garland- I simply coated styrofoam balls (in 3 sizes) in watered-down glitter glue and coated in glitter- either tourmaline or garnet tinsel glitter, silver regular glitter, or a mix. at first I stuck toothpicks in them to be able to hold them, but then I switched to bamboo skewers, so that I could also stand them up as they dried. Tonight I'll string them on a length of red funfur (cheaper than Martha's tinsel idea, and now all my stupid funfur finally has some use!)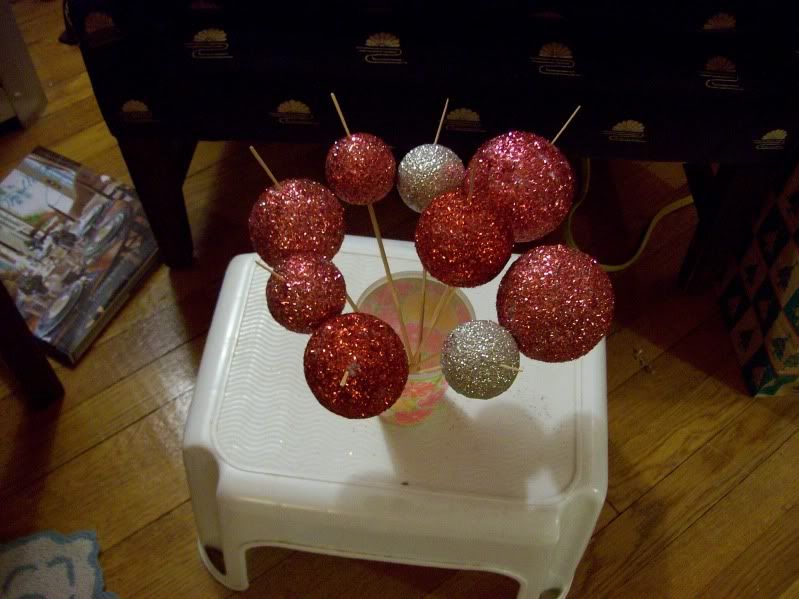 I also made candied grapefruit and orange peel last night. They still need to be sugared, and then I'll tell you about them, as well as another fun way to use your leftover citrus rinds.