Apparently, I have a thing for dumplings.
On Monday, I made molasses-maple glazed pork with black pepper and thyme dumplings.
Monday was the only evening all week I'd planned to be home, so I wanted to take advantage of my evening and cook a big dinner to give us leftovers. I'd planned to do a marinated pork roast recipe I found online, but unfortunately failed to note that the pork should marinate 24 hrs in the fridge. So I found a
Bobby Flay recipe
and played with it.
In my non-stick-sprayed Le Creuset braiser (love this item), I heated 1T olive oil over high heat and trimmed the fat off a 2.5lb boneless pork roast, and rubbed it with salt, pepper and thyme. I then seared the pork on all sides (about 10 min total). Then I transferred it to a 350oF oven for 45-60 min, until it reached 125oF.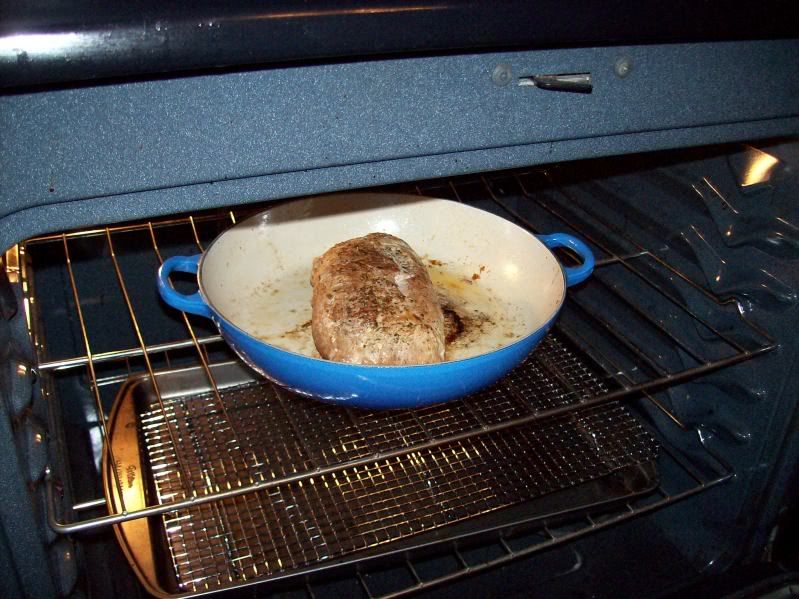 Meanwhile, I made a maple molasses glaze: 1/2cup molasses, 1/2cup maple syrup, 2 heaping teaspoons of whole grain mustard.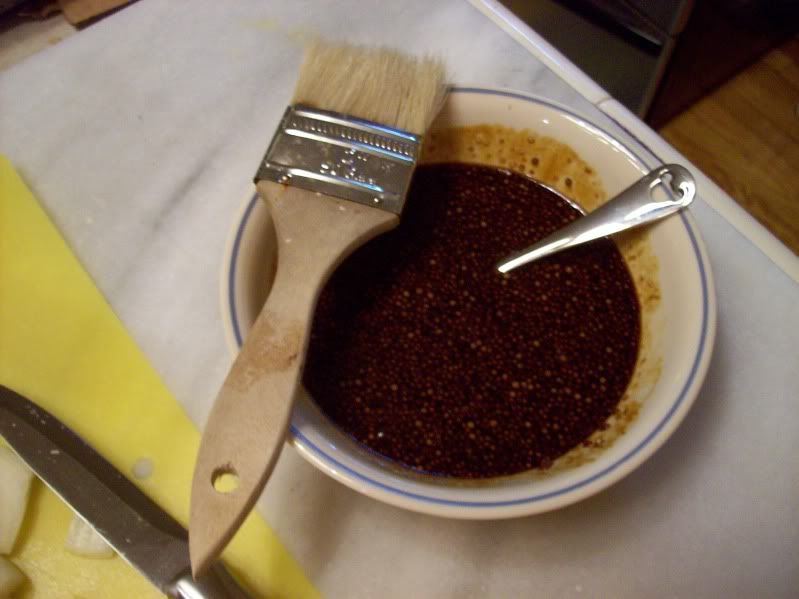 Then I chopped 2 carrots, 2 celery stalks, 1 large onion, and 2 cloves of garlic.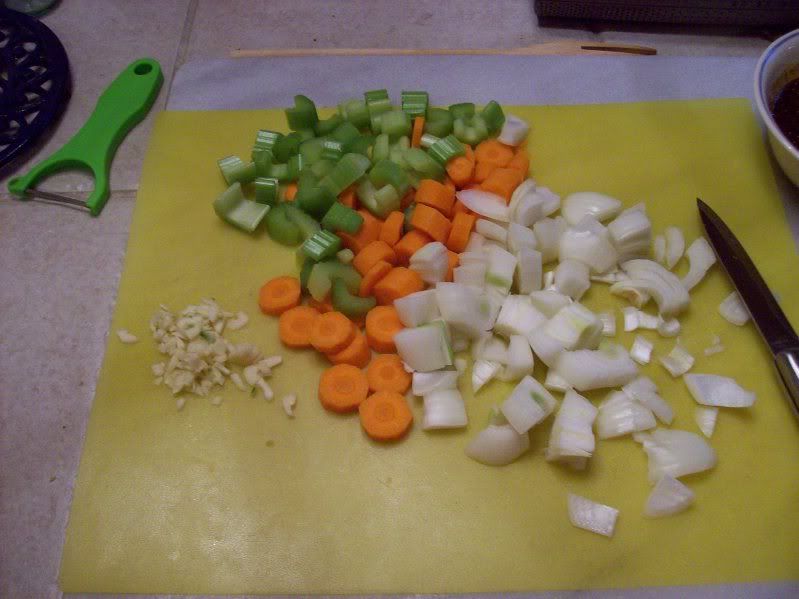 Once the pork reached 125oF (about 45 min), I pulled it out and brushed it liberally with the maple-molasses glaze. I did this about every 7 minutes until it reached 145oF (maybe 20 min total more, glazing 3 times). Then I pulled the pork out of the pan to rest on a plate (and later put it back in the still-warm, but turned-off oven to keep warm).
I placed the braiser on the burner and added my veggies (Bobby Flay says to remove most of the fat, but since I hardly added any oil, and trimmed the fat from the pork roast, there was nothing really to remove, just maple/molasses glaze) and began to cook them over medium-high heat, until softened (8-10 min).
And I made the dumplings while stirring the veggies every so often.
1cup flour
1.5t baking powder
1t salt
2T crisco
1T freshly ground black pepper (next time I will use 1.5 teaspoons)
1t thyme
1t marjoram
1/3cup milk
Mix all with a wooden spoon, then knead for a minute or two, and divide into 12 balls.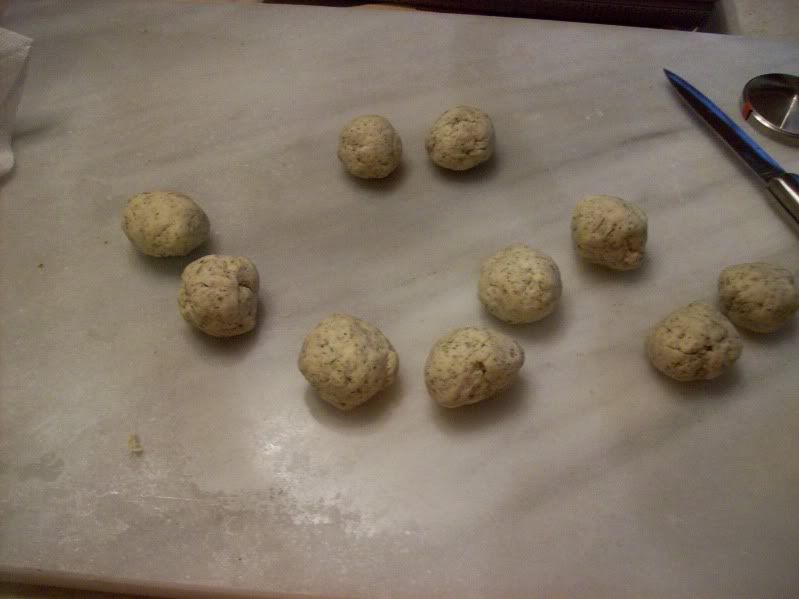 I had them wait a few minutes while I added 1 cup of chardonnay and 4 cups of my chicken stock (recall my chicken soup post) and 1 cup of water.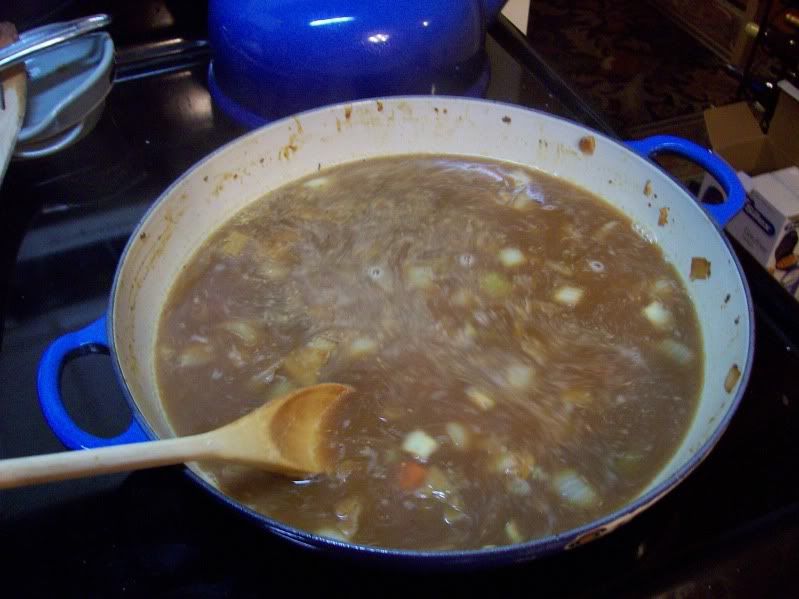 Once that started to bubble, I added the dumplings, and cooked for 8 minutes, uncovered, before flipping them over
and then I cooked, covered for 5 more minutes.
and that was it! I served the veggies and dumplings in a stew bowl (although the liquid reduced far more than I expected, a plate would have been fine) with 2 slices of pork.
This is another ugly dish, but maybe comfort food should be ugly- this is really nice on a cold winter's night. It's a little sweet from the maple/molasses glaze, but the peppery dumplings give an intense warmth.