I had a bad day yesterday. Nothing serious, just many, many little things going wrong, culminating in getting a trojan virus on my computer.
Luckily
, my virus protection software is up to date! Thank you, Norton! But needless to say, by the time I returned home, I was in kind of a mood.
Now, the day before, I'd read the newest issue of Martha Stewart's Everyday Food. I really love this magazine, but this month I think it's really surpassed its previous excellence in giving me a ridiculous number of delicious (and healthy!) recipes to try. The very last recipe of the magazine is always a cookie recipe, and this month it's nutella sandwich cookies, using whole wheat flour and oats- so it seems rather healthy! (apologies- I can not seem to find this recipe online, or else I would definitely post it. I'll copy it down and post when I make a batch, though.)
With nutella cookies on my mind, I was eager to make these. However, after more thoroughly reading the recipe, I saw the dough needs to be refrigerated (and you can skimp on the time of fridging, but you can't really cut it out altogether), and the idea of rolling out whole wheat dough (it can be tricky) was very unappealing.
So I opted for another nutella treat. A friend made these for a party I threw back in April, and actually gave me the rest of the nutella (did you know nutella has a shelf life of about a year?), and her bars were ridiculously good. So I made them instead.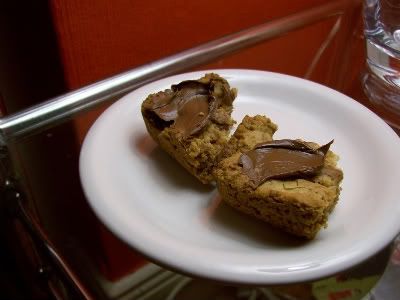 I made
Nutella Blondies
.
These were very easy. You simply melt half a stick of butter, and mix it with 1 and 3/4 cup brown sugar- that's a very, very high sugar:butter ratio. Then beat in 2 eggs and some vanilla and let it get fluffy (it gets very fluffy). Add in 2 cups of flour that's been sifted with 2t baking powder and 1t salt (I'll try 1/2t salt next time, they were overly salty, but noticeably salty), and then stir in a heaping tablespoon (and I mean
heaping
) of nutella and 1/3 (I used 1/2) cup toasted hazelnuts (I used almonds- I don't keep hazelnuts on hand, and I toasted the almonds for about 15 min, from the time I turned the oven on to the time it was finally up to 350oF).
Press it all into a greased 8x11 pan (I don't have such a thing, used 1 loaf pan and 1 8x8 pan) and back 25 (I did 30,, which was maybe a hair too much) minutes. Let them cool and top with a little dollop of nutella.
Now, you can see that they
look
good. You can imagine that they taste good. The one thing I did not expect was how ridiculously good they
smell
. Clint was in the living room while I baked these, and when I opened the oven to peek at them after 23 min, he had to come into the kitchen to investigate the heavenly aroma. I thought we were both going to pass out from the delicious smell. You may think I'm kdding, but I'm not- not completely.
So anyway, these are very easy, they're very good (the best blondies I've made so far, so I'm keeping this recipe to modify as needed), and interestingly enough, they're actually really low in butter. The same amount of ingredients for cookies would have 4 times as much butter, so it's possible these are healthy (I may try substituting 2/3 cup of whole wheat flour for the same amount of regular flour). Note: I'm kind of ignoring the nutella I added to this, which was about 1/3 of the total fat- nutella is unfortunately very unhealthy (I'd like to note that a friend pointed out the irony of the commercials where the mom gives her kids whole wheat toast spread with nutella, as a way to get them to have a healthy snack. Nutella is delicious, and by definition, terribly unhealthy).
Speaking of healthy, and I don't have an accompanying photo (but they weren't pretty, anyway), I made whole wheat pancakes this weekend. A friend gave me her mother's super awesome pancake recipe, and since
Alton Brown taught me how to make pancakes decently
(not perfectly, but I'm getting there), I've been going to town on this recipe.
2.5 cups milk
2 eggs
2T melted butter
1/4cup sugar
2cups flour
2t baking powder
1t salt
Whisk milk, eggs and melted butter, stir in sugar, add the rest of the ingredients. Cook on a greased/buttered skillet (friend said butter, but I'm finding that either works well enough). Normally I halve the recipe and add whatever fruit we happen to have in the freezer (usually blueberries, sometimes strawberries). This weekend, I wasn't in a fruit mood, I was in a gingerbread mood.
So.
substitute whole wheat flour to be one third of the total flour (i.e. 2/3c whole wheat, 1 and 1/3c regular flour)
brown sugar instead of white sugar
2t cinnamon, 1t ginger, 1t nutmet, 1/2t cloves.
Yum! It had a nice flavor from the brown sugar and spices, and an earthiness and more texture from the whole wheat flour.
Again, no pictures, because even though I can make pancakes, I still burn most of them, and you don't want to see burned pancakes when I'm trying to suggest a recipe.