We had 6 inches of snow this morning. I took a snow day- I'm not sure if I'll be in trouble at work for not going in, but after spending 2 hours watching cars fishtail all over the place on our street, I decided to play it safe. And do a bit of crafting.
We haven't decorated much, but all that's up so far is stuff I've made.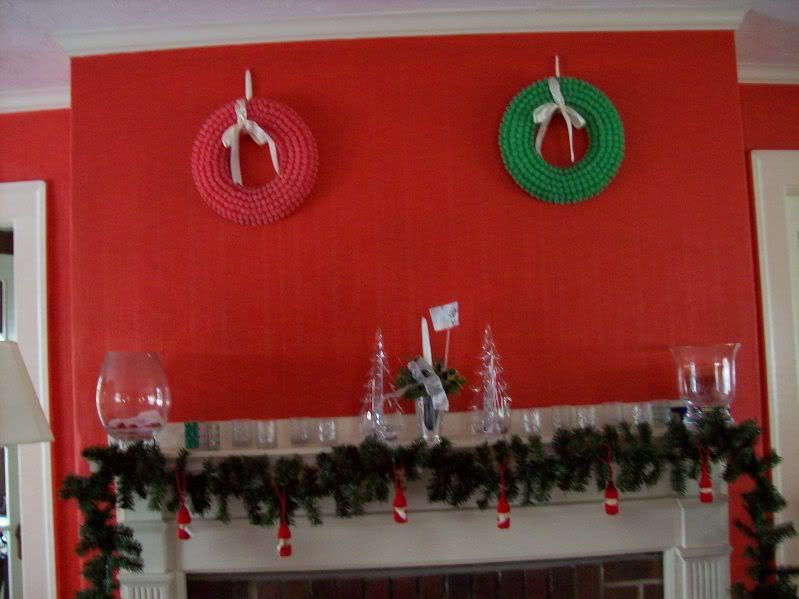 Above our mantle hang the two gumdrop wreaths I made. I got the idea from
Martha Stewart
. I used 2 12" stryofoam rounded wreaths with flat backs (a hemispheric cross section), my glue gun, about 20 glue sticks, and 5 19oz bags of red and green spice drops (which left me with probably 3/4 of a bag leftover). I just hot glued the gumdrops onto the wreaths, super easy, although a little tedious. It took under an hour for each wreath (2 episodes of "How I Met Your Mother" each)
Also, my little korknisse santas, my snowflake votive holders (trace a snowflake in glue on a cheap frosted glass tealight holder, sprinkle heavily with glitter, that's it!), the two Simon Pearce glass trees we registered for, and a centerpiece we bought at the Old St Andrew's Church (in Bloomfield, CT) craft fair.
And today I finally hung our stockings. Clint's is made following Martha Stewart's stocking pattern from the December 2004 MSL, and mine was done without a pattern (I've done enough socks not to need one).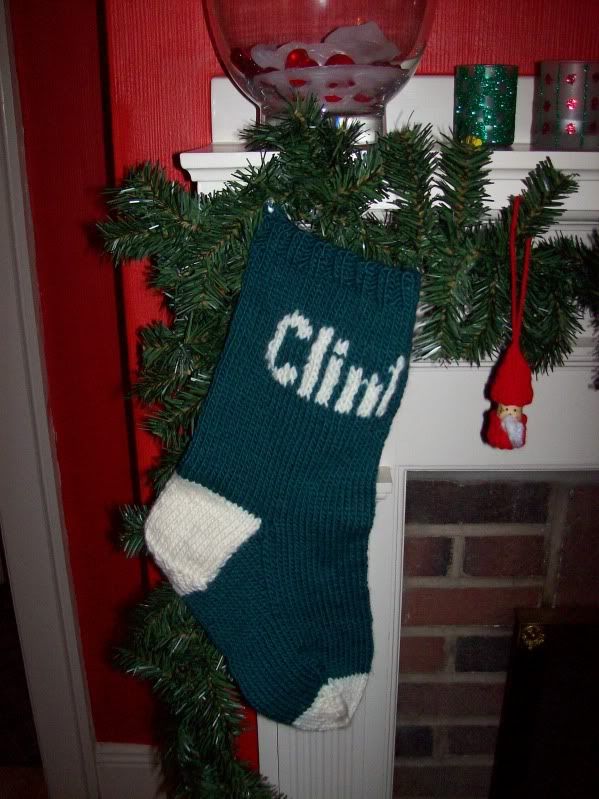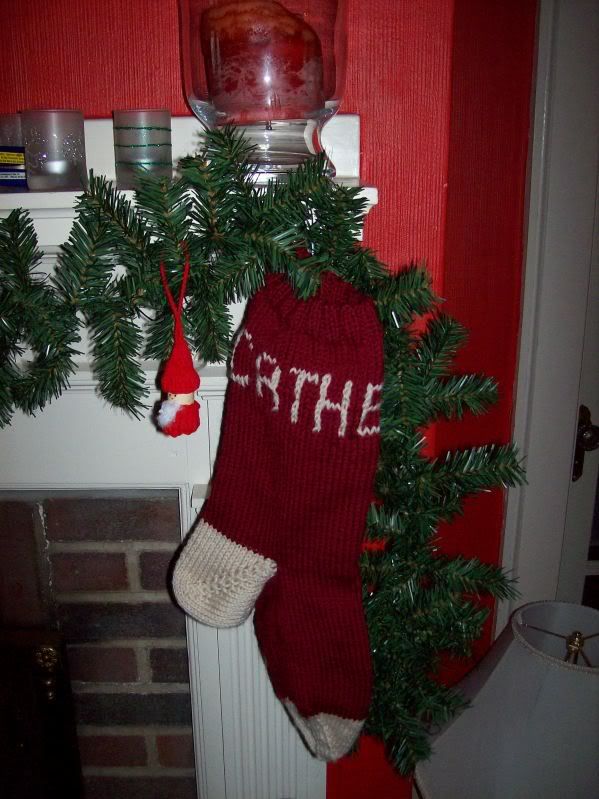 This morning I worked on our Christmas cards. Good news- I have all the paper I need to make them! Unfortunately, though, I can't seem to find my stamp box, and my gold ink pad has dried up. I'll probably have to borrow some of my mom's stamping supplies- so let's hope I can assemble all the cards before Saturday, when I'll be home. The photos came yesterday and half of them have been decorated (you'll have to wait for more on that), I've cut half of the decorative paper into the proper sized rectangle, but they all need to have a cut-out done in them. I did 10 last night, and I'm tracing a cookie cutter with an exacto knife, which is very, very tedious. It's hard to do more than 10 at a time. I've made part of 100 paper pointsettias, and need to finish those and make 100 more. Then glue everything together "Happy Holidays" or something on the front, and sign them all. Clint's in charge of addressing the envelopes.
In case you're wondering, yes, I
am
worried I've taken on too much. My goal is to send out the cards by the end of next week.
In the cooking world, I have my Christmas Cookie 2009 line-up made.
chocolate chip
sugar cookie trees
gingerbread men
peanut butter kiss cookies
7 layer bars (because Clint's never had them, and mom always sends most of hers to my aunts in SD)
mint chocolate sandwich cookies
and
maple cookies,
which I made last night.
The maple cookies aren't especially pretty. They're a simple butter cookie recipe with maple sugar added. Then you reduce maple syrup (of course, I used Grant family syrup) and pour over the cookies. And sprinkle with coarse salt, "the enhance the maple flavor". The cookies are good, but they're actually really salty, even though I skipped the sprinkling at the end, and I don't find that it enhances the maple flavor at all. I think next time I do these, I'll cut the salt in the dough in half. They're a nice, simple cookie, and the maple glaze is nice (even though I cooked mine too long and it got a little grainy).
EDIT: so I kind of forgot about those maple cookies for a couple days (we had other cookies around), and after 3 days, had another one. And you know what? I like them a lot better than I thought I did. They seem more mapley now, and after a few days in tupperware, they're soft-ish- not chewy soft, not cakey soft, but not shortbread-crispy, like they were tending towards before. I think this is a good recipe (although I'm still cutting the salt in half, the next batch will be given to people on a low salt diet).
Now I'm back to watching all the Martha Stewart Shows on our DVR and tackling the Christmas cards, and later on, when I can't stand to see any more glue, knitting some more korknisse.