I caught it! I was actually tempted to skip pilates tonight so I could have more crafting time- and I really, really love pilates, and haven't been in 2 weeks. But I usually get home from pilates at 7:30, and that gives plenty of crafting time.
Korknisse
.
I've been working on these guys for a couple weeks (I've made 8 so far, and have the pieces for 8 more, and I plan to make more)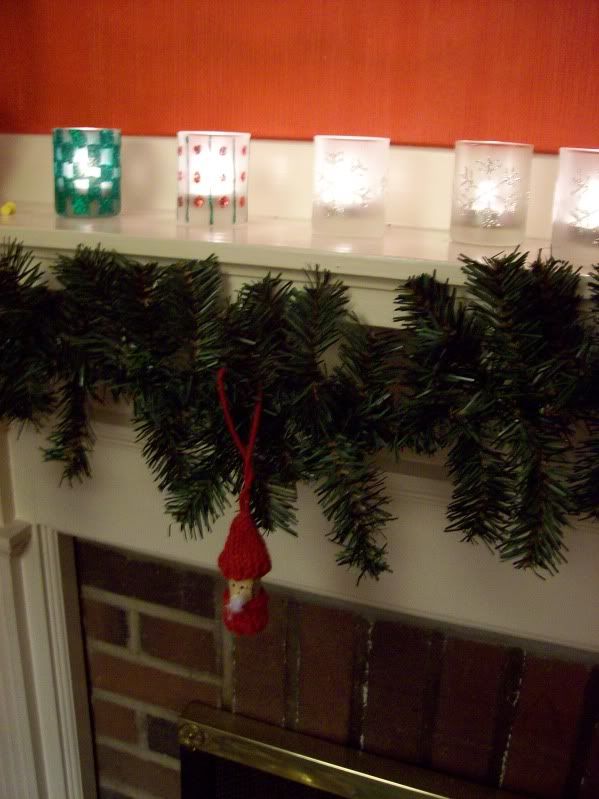 Candle holders, inspired by Martha Stewart's Halloween spider web ones I made. I've done 14, and have 16 more votive holders.... but these are kind of painful to do, so we'll see if I decorate the rest.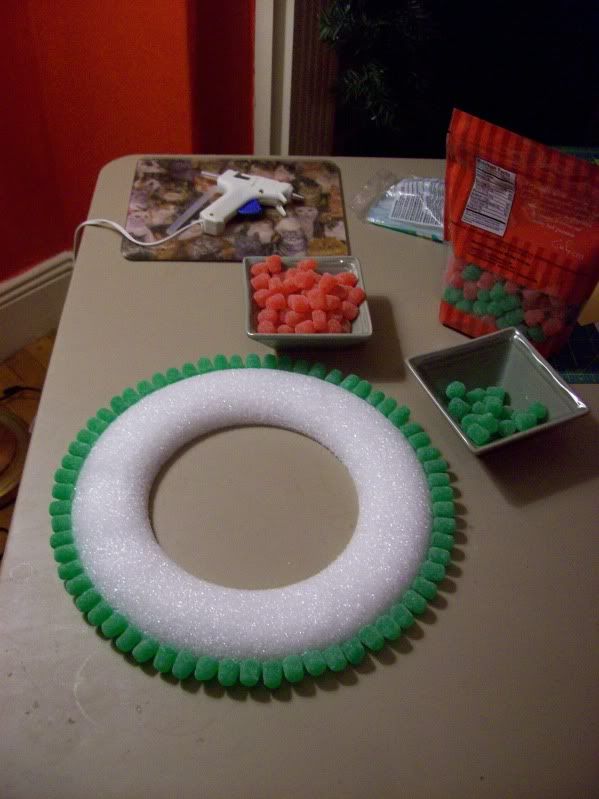 A gumdrop wreath! I bought 2 19oz bags of red and green gumdrops, one 12" styrofoam wreath form, and luckily was able to find my hot glu gun- but I think I needed 5 bags of gum drops, it's nearly half finished, and I'm out of gumdrops. Alternatively, I could have purchased a smaller wreath form, but the Michael's in Shrewsbury only had one size of white styrofoam wreath, so I had no choice. And I think the 12" will be a nice size. I'm eager to finish this, it'll look really cute. We'll have the green gum drop wreath above the mantle and the red gumdrop wreath perhaps in the kitchen.
Not holiday at all, but here's one of my new favorite foods: beets.
Now, why did I never like beets before? They're pink. They turn everything they touch pink. How did I not fall in love with them immediately? At restaurants I always see them paired with chevre, and I'll eat anything with chevre. When we went to the farmer's market in Berrysburg, PA, the beets looked good and cheap, and I decided to give fresh beets a try. First I roasted them in the oven for about an hour (a recipe suggested 35 minutes would be enough- they were wrong), which yielded rock-hard beets that I ate anyway. For this batch, I boiled them for about 20 minutes, then sliced them, topped them with goat cheese, sprinkled some sliced almonds on top, and baked for about 30 minutes. Then I drizzled honey over them. That method worked much better, the beets were nice and soft. And tasty. Unfortunately, since I gave my mom most of the beets I bought, I'm all out. I'll have to see if they look at all decent at the grocery store.
Finally, the model for our Christmas card. It's a 4x6 piece of gold paper with a bell cut-out (I'm tracing a cookie cutter with an xacto knife- we'll see how fun this is after making 100 of them... sigh) and a wedding photo of us- the real thing will have a color photo and I'll also make a little paper pointsettia to stick on the card.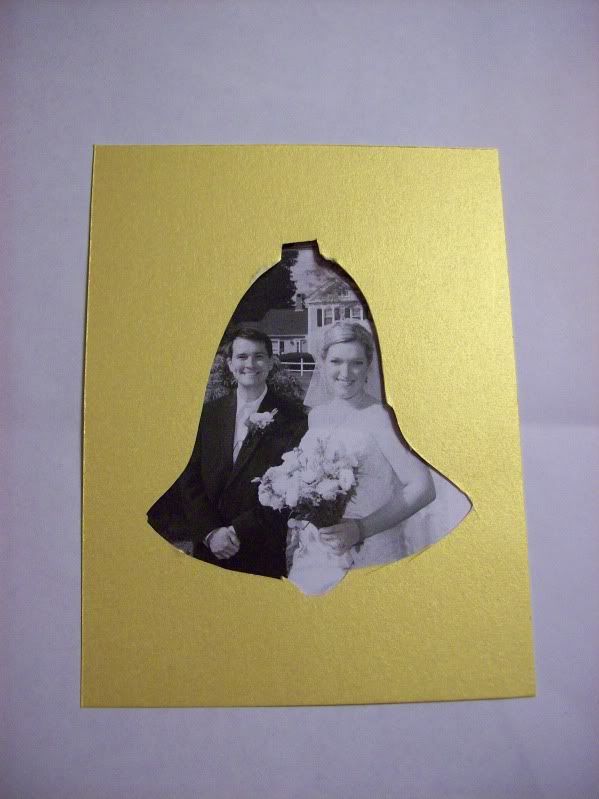 I'm also working on my Christmas stocking- although it needs a bit more planning before I get too much farther, I have to grid out my name to knit in white on the otherwise dark red (knitpicks wool of the andes "hollyberry"- how appropriate) yarn.