I see a lot of posts here and there, sharing recipes for Chinese take out and how it's just as good and just as fast. I have to say, I really can't stand American Chinese food. Korean food, on the other hand... yeah, I could definitely do well with my own recipe for bibimbob (still looking!). So when I came across this recipe for scallion pancakes on tastespotting (which are called "Chinese pancakes", but they look just like the Korean pancakes I've had from the Korean restaurant or homemade by Korean friends, and I've never seen scallion pancakes on the menu at a Chinese restaurant- perhaps because I haven't been to one in several years), I started to understand everyone's excitement over homemade Chinese takeout.
These pancakes are nice and easy, and while they're not exactly what I'm used to, they're still very good. They reheat pretty well wrapped in foil in the oven.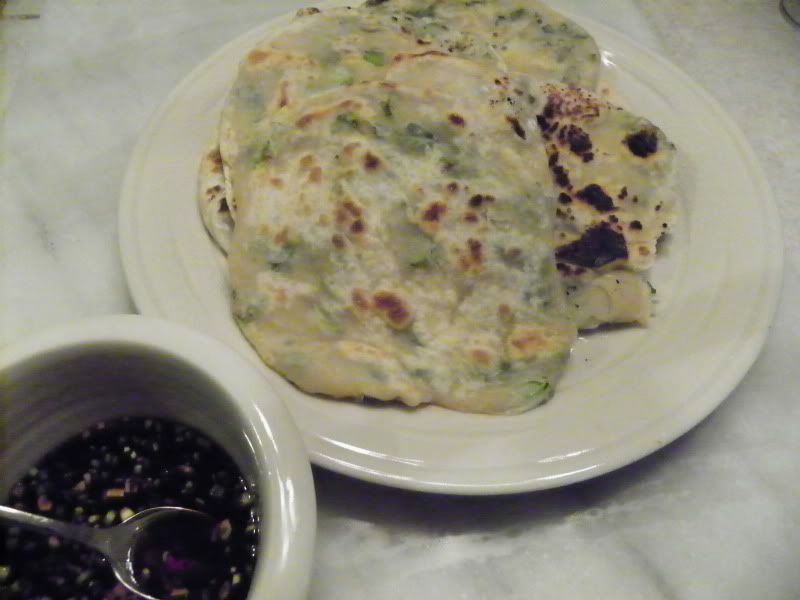 Scallion Pancakes
from
globetrotter diaries
2 -2.5 cups flour
1 cup hot water
1 bunch scallions, thinly sliced
salt
vegetable oil
Place 2 cups flour in a bowl and make a well. Pour the hot water into the well and incorporate more and more flour as you stir in circles. Transfer to a floured board and knead, adding more flour if necessary for kneading. Knead for a few minutes, then cover with a damp towel and let rest at least 30 min.
Roll dough into a log and divide into 6 even pieces. Roll out each into a flat circle. Brush with oil and sprinkle with salt and scallions. Now roll the pancake back up into a snake (like rolling up a poster) and wind the snake into a coil. Roll that out again with a rolling pin, and that's what you'll cook. (if you need pictures,
globetrotter diaries
has good ones of this process)
Repeat this process with each of the dough balls.
Heat a large frying pan or griddle over medium high heat and cook the pancakes for a few minutes on each side, until golden brown. Serve with dipping sauce.
Dipping Sauce for pancakes
a wamozart12 interpretation
1/4 cup soy sauce
1T rice vinegar (or white)
1T finely chopped scallion
1 clove garlic, finely chopped
Dash of sugar
sriracha (as much or little as you like, I used about 1t)
1t sesame oil
Mix all ingredients together, and use for dipping pancakes in.