Do you ever get invited to a last minute dinner party and need something to bring? Or throw a dinner party yourself, and completely forget about dessert? Here's the dessert for you.
As I mentioned the other day, Clint and I had our own Easter this year. But... we didn't really want to be alone, so I called up my cousin R, who lives here in town, and he was nice enough to invite us to dinner with them. It was all pretty last-minute, and I had some bread to bring along, but an hour and a half before we were expected, I decided I should bring dessert- partly because I
always
bring dessert when we go there. But what to make?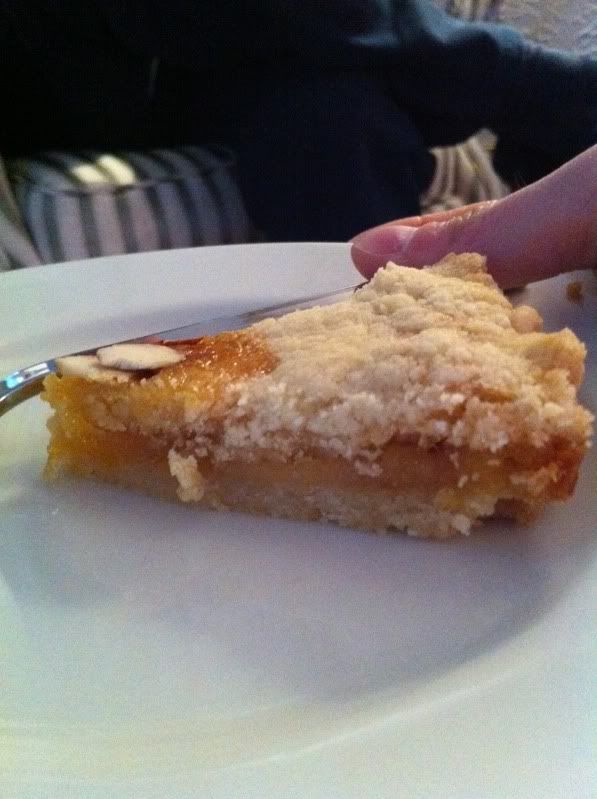 Normally my favorite go-to quick dessert is Swedish Jam Squares (probably not really Swedish), which consist of a cookie crust made from a boxed cake mix, jam spread on top and drizzled with a confestioner's sugar/milk glaze. They're good, but not Easter-dinner-good.
So I made an almond tart. It took about 15 minutes from getting the ingredients out to getting it in the oven, and almost an hour to bake- plenty of time to get dressed!
Almond-Marmalade Tart
adapted from
The Family Kitchen
Shortbread crust:
2 sticks butter, softened
2 cups flour
1 cup sugar
1/2t salt
Filling:
approx 2-3oz marzipan (make your own, or use canned), approximately 2-3oz
1/4 cup orange marmalade, or other fruit preserves/jam of your choice
Make the crust. Beat the butter and sugar together until fluffy, then add the flour and salt. It'll be pretty crumbly. Pour half the crust into a greased tart pan (with removable bottom) and pat down.
Roll the marzipan into a thin circle slightly smaller than the tart pan. Place on top of the crust in the pan. Spread the marmalade/jam on top of the marzipan. Pour the remaining crust on top of the marmalade and pat down. Decorate the top: brush with an egg wash with sprinkle with sliced almonds, or dollop some marmalade on, or thin out some marmalade with water and brush over the top.
Bake at 325F for 50-60 min, until the edges are golden brown. Let cool, then remove from tart pan. Serve at room temperature.
This dessert is like a wedge of cookie, but dressed up. The crust is a little sweet and a little salty, and compliments the sweet marzipan and marmalade nicely. It was a big hit! I imagine this will be requested again.
Note: the original recipe called for an egg, but never mentioned adding it so I forgot about it. maybe that's why my crust was so crumbly- but it still works. Also, the original recipe says to chill the crust an hour before putting it in the pan, but that didn't really work with my "dessert in a hurry" requirement the other night.