I don't keep this a secret, but people are still shocked when I say I don't like pasta. I just don't. If it's filled with delicious cheesey goodness then I'll eat it, but otherwise I pass it up if I have other options.
Therefore, the only meatballs I've ever really had are these tiny things on toothpicks. Or the giant bags of frozen Swedish meatballs from Ikea. The meatball is largely ignored in my kitchen. But a few months ago, Martha Stewart had a show all about meatballs. And my eyes were opened to the variety of the meatball: it's not just for spaghetti!
I found this recipe on tastespotting, after having forgotten completely about the MS show. Now I remember, and I have make these
buffalo chicken meatballs
next.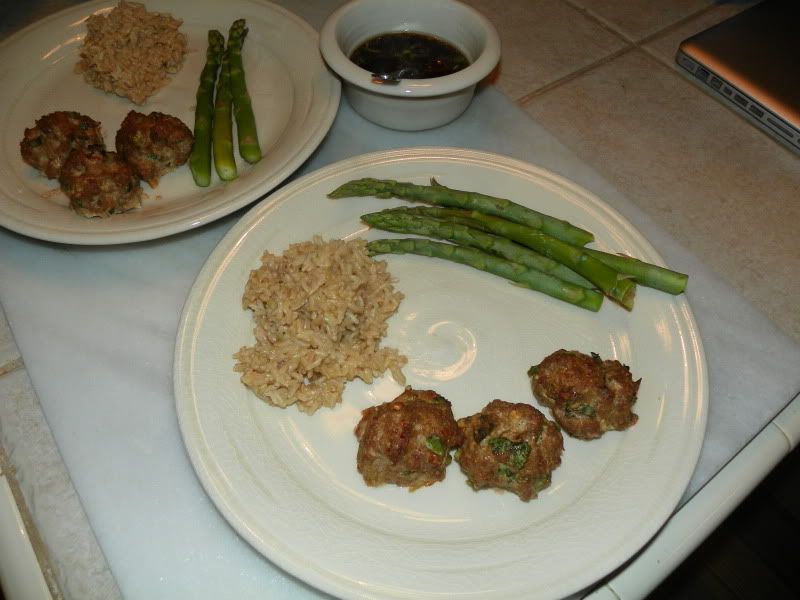 Asian-inspired turkey meatballs
from
Gina's Skinny Recipes
(look at that, healthy
and
delicious!)
1/4 cup panko crumbs
1-1/4 ground turkey (I used chicken and ground it myself in the food processor)
1 egg
1T freshly grated ginger
1 clove garlic, minced
1/2t salt
1/4 cup cilantro, roughly chopped
2 scallions, chopped
2T soy sauce
2t sesame oil
In a large bowl, mix all the ingredients together with your hands (icky, but it's the best way). Form about 3T of meat into balls, and place on a *rimmed*, parchment-lined baking sheet. Bake at 400F for 15-20 min.
Dipping Sauce
4T soy sauce
2t sesame oil
2T fresh lime juice
2T water
1 scallion, chopped
Mix all the ingredients together. Serve with the meatballs.
I never realized how simple meatballs are to make. A little messy, yes, but quick to throw together, quick to cook, and these were ridiculously good. Served with some steamed asparagus and rice, this is a great weeknight meal.