I recently returned from a trip to Kentucky. I went with my parents, who've been begging me to take this trip with them for a few years now. Since I'm unemployed, I certainly have time on my hands... so I happily agreed.
It was an awesome trip.
I don't talk all that much about alcohol on this blog, because I'm a wine drinker. What can you say about wine, aside from recommending wineries or specific kinds? I drink a lot of local wine, so my recs won't go very far for most of my readers. And I don't really cook with wine, I like drinking it too much.
Hard alcohol lends itself better to recipes. Yes, there are a number of delicious cocktails using wine, but I don't get too creative- again, I focus on the wine, not the mixer (with the exception of sangria). I'm pleased to say after my Kentucky trip, not only do I think Kentucky is lovely and want to go back, but....
I like bourbon.
I can't wait to tell my grandma, she'll be ecstatic. She's a serious Maker's Mark drinker.
We visited Lexington and Loretto, KY, for the annual Redheads and Thoroughbreds weekend with the folks from Maker's Mark. These people know how to organize an event! We had special seats at the Keeneland Racetrack on Friday to watch 10 horse races, including the 23d annual Maker's Mark Mile (I bet on horse #4, Workin With Hops, and won almost $5, woohoo!!!). In the evening was a huge (albeit terribly wet, the weather didn't cooperate) party in downtown Lexington, and Saturday was a huge, fun- and bourbon-filled day at the distillery in Loretto. Unfortunately, this is the last year for the annual party, but I still hope to go back and visit the distillery again- I think I might enjoy it more with fewer people around.
Well anyway, so the point is: I finally started to like bourbon. I've been surrounded by bourbon all my life, but everyone in my family drinks it straight- with something expensive like MM, you probably should. But I can't, it's just too alcoholy. While visiting a friend in Nashville, I was introduced to the oh-so-delicious Jack and Ginger (Jack Daniels in ginger ale), and after purchasing a fairly cheap bottle of whisky to have on hand for a friend, I made a similar drink at home once in a while. While in KY this past week, I had 2 delicious cocktails. (I'd planned to drink mint juleps all weekend long, but alas, some sort of localized mint shortage destroyed those plans!) At Keeneland, the special cocktail of the day was Maker's Mark, citrus liqueur and ginger ale. Very tasty! I have no idea about the ratios, though. At the distillery in Loretto, we were offered Spiced Apple Collinses, which were lovely. And oh look, they shared the recipe:
Spiced Apple Collins
recipe from Maker's Mark
2 parts Maker's Mark
1 1/2 parts Thatcher's spiced apple liqueur
1/2 part sour mix
splash of club soda
Mix and serve over ice.
The only problem was, I'd never heard of Thatcher's. The people mixing and serving the drinks were all "oh
you
know, Thatcher's!" Well, no, I don't really know. I've never seen this stuff- not that I've ever looked, but still. If you've heard of it, do you think it's a regional delicacy?
So when I got home, I of course had a great stash of Marker's Mark- because
I dipped my own bottles.
How awesome was that? Borderline legen-wait for it-dary. Ha. It was a lot of fun, and not hard at all.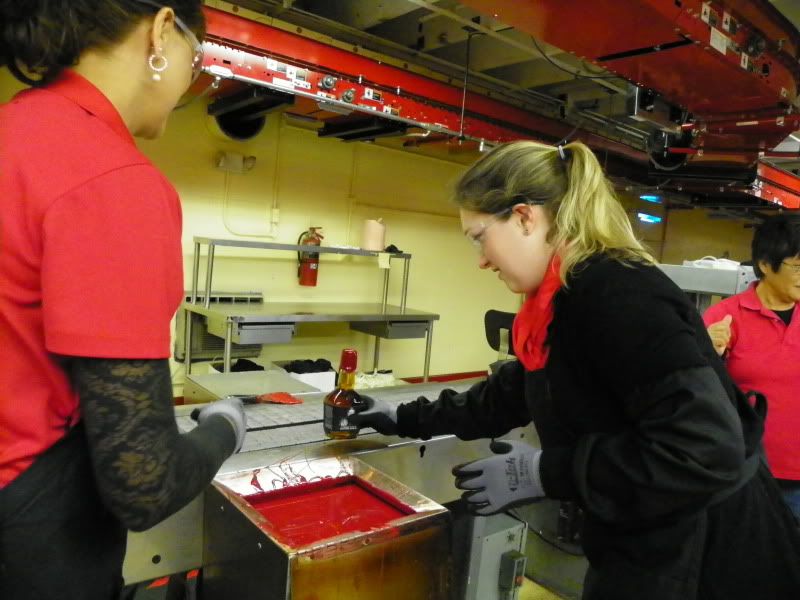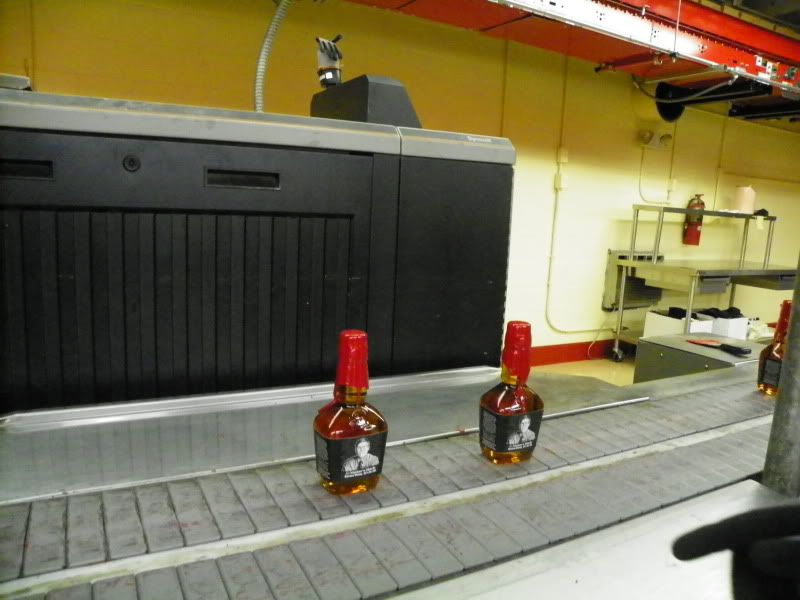 Once back in MA, I wanted this spiced apple collins. But.... no Thatcher's. So I made up my own thing.
I don't know what to call it.
2T Maker's Mark
2T ginger brandy (I used Arrow, the cheap stuff ;) )
4T seltzer/club soda
1/2T lemon juice
Mix it all, serve over ice. Yum!
It's not exactly the same, but it's good.
After perusing our new "
Kentucky Bourbon
" cookbook, I decided I'd also like to try a Presbyterian. Apparently this was my paternal grandmother's drink, so I was a little pleased it caught my eye. Grandma B drank it with gin, though, and I'm pretty sure I'll never, ever be a gin drinker.
Presbyterian (from Kentucky Bourbon, linked above)
3T Maker's Mark
4T club soda
4T ginger ale
lemon peel
Place ice in a highball glass, pour the bourbon over the ice. Add the club soda and ginger ale, then twist the lemon peel and rub it around the rim of the glass and put the lemon peel in the drink.
This is also good- although to be honest, I just added a squirt of lemon juice and skipped all the stuff about the peel.
I also tried kind of a makeshift old-fashioned, which is kind of my maternal grandmother's sacred drink. But the bitters make it, well, a little bitter.
Old Fashioned
(from Kentucky Bourbon, linked above)
1/2t sugar
2-3 dashes bitters
splash water
orange slice
maraschino cherry
5T Maker's Mark
Add the sugar and bitters to an old fashioned glass. Add the water, orange and cherry and muddle. Fill with ice, and pour the MM in, in 3 equal parts, and stir after each addition (I don't know why you don't just dump it all in- maybe that's why I wasn't in love with this drink, I dumped it all at once).
Now I should end with saying that I only have one cocktail photo to share because 1. I didn't think to photograph our cocktails at the distillery, and 2. bourbon in an old fashioned glass with other stuff... pretty much all looks the same. Maraschino cherry here, slice of lemon peel there.... not much difference.
I made these drinks carefully. Please enjoy them that way.