This month our What's Baking? theme is to bake something from our heritage. Amanda of
Our Italian Kitchen
was inspired by St. Patrick's Day when she chose our theme.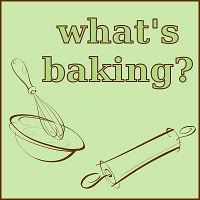 I love this idea, and I thought quite a bit about what I might bake. I thought about a German apple streudel, or a Norwegian cardamom bread (and then I made some Norwegian rice pudding after browsing a bit). But to me, baking from your heritage means more of baking something you grew up with than baking something traditional in the country your ancestors came from. While my dad grew up with some traditional Norwegian dishes, I didn't. I grew up with traditional New England fare.
So I'm going with my Yankee heritage. My entire mother's mother's side of the family has been in Connecticut since the 1600s, so I think that counts.
I made Joe Frogger cookies. These cookies are very humble, totally not fancy. They get dry and hard, and that's how I like them- they're perfect for dunking in coffee. They're a good cookie when you're starving and can't wait for dinner but don't want anything really rich or sweet. They kind of remind me of Kedem biscuits, in that they're just a nice, plain cookie to munch on. You can buy them at the Publick House in Sturbridge, MA, and their recipe is actually what I used. I grew up eating my mother's molasses cookies, which are almost the same as Joe Froggers, but I don't have her recipe. Legend has it that mom's cookies are from a recipe that's been in our family since the 1600s. She's explained to me that back then, our people were very frugal, so our family's recipes had
either
fat
or
eggs, but never both. The frugality makes sense to me, but our people were farmers, so I've never really understood not being able to use butter and eggs. But our people were tobacco farmers (did you know tobacco is a huge industry in the Connecticut River Valley? We grow shade tobacco, which is used as the outer layer on cigars) so while I'm pretty sure they had chickens and fresh eggs, maybe they didn't have such easy access to dairy products. And the Joe Frogger recipe I've used also has no eggs... so maybe mom's right.
Joe Frogger Cookies
from
The Book of New New England Cookery
, by Judith and Evan Jones, given to me by a friend several years ago
1/2 cup shortening
1 cup sugar
1t salt
1 cup dark molasses
6T water
2T rum
4.5 cups flour (I added 1/2 cup)
1t baking soda
1 and 1/2t ginger
1/2t cloves
1/2t nutmeg
1/4t allspice
Cream the shortening and sugar together, then stir in the salt, molasses, water and rum (it'll look kind of curdled, this is fine.) In a separate bowl, mix/sift the flour, baking soda and spices together, then stir it into the shortening/sugar mixture.
Chill the dough thoroughly (this is important, it's pretty soft). Generously flour a board and roll out the dough to 1/4inch thick, then cut into the traditional large circles. Bake at 375F for 12-15 minutes.
These cookies become pretty dry and hard after a couple days, and then they're perfect for dunking in coffee or tea.