I had the urge bake bread last week- and we happened to be running low on bread, anyway, so the timing was right. I didn't search for a recipe, I just made it up as I went. And as luck would have it (maybe karma owes me after being indisposed for 3 weeks- first my fall, then a horrible cold-turned-sinus infection), this bread turned out perfect. It was light and a little chewy, not dry at all, and had a great flavor. However, when I pulled it out of the oven, it looked like a manatee. It was pretty bizarre. I'm just sorry I was unable to get a picture before we'd already eaten half the loaf.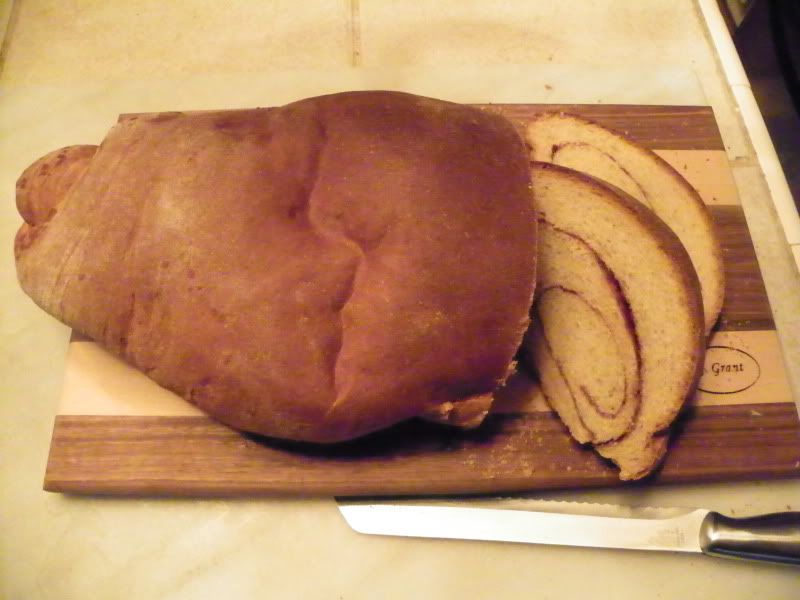 Cinnamon Swirl Bread
a wamozart12 original
2 cups of warm water (about 95-100F)
1 heaping T active dry yeast
1/4 cup olive oil
8T brown sugar, divided
2 cups whole wheat flour
1/2-1t salt
3-3.5 cups all purpose flour
2T butter, melted
1/4 cup brown sugar
3t cinnamon
In your large bread bowl (stand mixer bowl for me), dissolve 2T brown sugar in the water and sprinkle the yeast over. Let that sit for 10-15 min for the yeast to wake up.
Whisk in the remaining 6T brown sugar and the oil. Add the whole wheat flour, one cup at a time, then the salt. Stir in 2 cups of the all purpose flour, then switch to your dough hook and add one more cup of flour. Start kneading and add more flour if you need it. The dough should be a little sticky, not dry at all. Knead for about 10 minutes in your stand mixer or slightly less time by hand. Cover the bowl with a clean towel or plastic wrap and let rise in a warm place, until doubled (about 2hrs).
Punch down the dough and knead for a few seconds on a floured board. Roll it out to a large rectangle. Brush the melted butter over the dough. Whisk the brown sugar and cinnamon together and spread evenly over the butter. (I basically did what
Alton does
for his cinnamon rolls for this part, only my rectangle was wider and not as long). Roll up the dough, rolling along the long side. Place on a baking sheet and cover with a clean towel/plastic wrap and let rise for another hour.
Preheat oven to 400F. Bake bread (you can do an egg wash if you like, I didn't) for 30 min at 400F, then reduce heat to 350F and bake another 20 minutes. Cool at least 15 minutes before eating, if you can wait that long!
This is delicious fresh from the oven, toasted with a little butter, and as french toast. The loaf is huge but it hasn't lasted us very long!