I recently asked Clint to vote for what we'd have for dinner. He seemed pretty stumped, so I made it easy: pick an ethnicity and pick a meat, I'll pick the recipe.
He chose Mexican and chicken, and I chose this Veracruzana-inspired chicken dish from a Light Mexican cookbook I bought in Disney World several years ago (and have never used... I do that too often).
It was good, and relatively easy. The next day, however, I did something I don't often do: I transformed the leftovers into a new dish. Normally I'm perfectly happy with leftovers, but we ran out of brown basmati rice, and chicken served over plain rice doesn't really inspire me, anyway. And I really like pairing corn with Mexican flavors.
So first, Veracruzana-style Chicken Stew with Prunes (or in my case, figs)
The next day, the chicken was shredded from the bone, mixed with its sauce, and made into Miss Smart's Hot Tamale Spoonbread (which, incidentally, is now my favorite cornbread recipe, I love how soft and moist it is).
Stewed Chicken with Chipotles and Figs
adapted from Mexican Light, by Martha Rose Shulman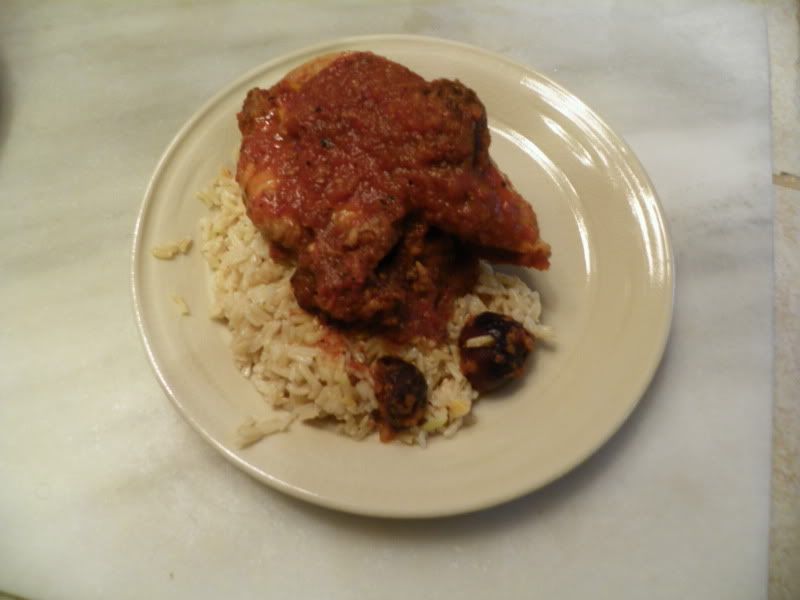 My changes were based on the ingredients I had and my desire not to go to the store again.
Note: this recipe has you make fresh chicken stock to use, which is unnecessary for me, since I make it so often, but I wasn't sure how else to cook the chicken if I skipped boiling it and generating stock. So, extra stock. The only downside is this way I didn't have enough time to chill it to skim the fat off the top like I normally would.
2 quarts water
3 lbs of bone-in chicken (I used 4 thighs and 2 split breasts, skin removed)
10 dried Black Mission figs (or 8 pitted prunes)
4 garlic cloves, 2 of them set aside and 2 of them unpeeled and toasted in a frying pan
1 medium onion, cut in half
2lbs tomatoes, halved and roasted (or 28oz of canned tomatoes, drained)
1T canned chipotles in adobo
freshly ground black pepper
pinch ground cloves
1 cinnamon stick
1T oil
First, roast the tomatoes and onion. Line a cookie sheet with foil and place the tomatoes and one onion half on the foil. Set the broiler to high, and broil for a few minutes, flip each tomato and the onion over, and broil for a few more minutes, until they're all lightly charred. Side aside. (If you're using canned tomatoes, just broil the onion alone)
Toast the garlic (this is optional): place the 2 unpeeled cloves in a frying pan and let them toast for a few minutes, moving them around occasionally. Let cool and then peel.
Begin the chicken stock. Place the water, the other onion half, 4 figs and the chicken in a large pot and bring to a boil. Reduce to a simmer and simmer for about 15 minutes. Strain 2.5 cups of the stock (or not...) and set the rest aside (later on, transfer it to tupperware, chill and skim the fat off the top, and use the stock for something else). Also fish out the figs/prunes and have them ready for the next step.
Transfer the roasted tomatoes (or use the drained canned tomatoes), roasted onion half, the toasted garlic, the chipotles, black pepper, cloves, and the figs from the chicken stock to a blender and puree.
Heat the oil in a large pot/dutch oven over medium-high heat. When it's hot, transfer the tomato puree into the pot and stir for about 5 minutes, until it's thickened slightly. Add 1/2 cup of the strained stock and some salt, and cook, stirring occasionally, uncovered, for 20 minutes. Then add the chicken from the stock, the remaining figs/prunes, the cinnamon stick and the remaining strained stock and cook, covered, for about 30 minutes.
Serve chicken and the sauce over rice (rice that can be cooked using the chicken stock you just made... if you need ideas for how to use that stock).
This dish is different from what I think of when I think "Mexican", but different in a surprising and good way. I'd just add more chipotles next time.
Leftover Remix: Stewed chicken with chipotles and figs turned into corn spoonbread.
Inspired by Miss Smart's
Hot Tamale Spoonbread
Leftover chicken from the above recipe: I used 1 breast and 2 thighs, but next time I'd add at least another thigh
Cornbread:
2 cups milk
1 cup cornmeal
2 eggs, separated
1 cup of corn kernels, frozen, fresh or canned (drained)
Shred the chicken with two forks (or your hands) and stir together with the sauce. Place in a layer in an 8x8 baking dish.
Make the cornbread:
In your stand mixer, start to beat the egg whites until they form soft peaks. Set aside.
In a medium saucepan, heat the milk until it starts to bubble, then add the cornmeal (if you forget and add them to the saucepan together, that's ok). Cook, stirring continually, until it thickens (a few minutes). Remove from heat.
Whisk the egg yolks and temper them into the milk mixture and stir in the corn. Gently fold in the egg whites and any extra spices you like (I just use salt because the chicken sauce has enough flavor). Pour the cornmeal mixture over the chicken in the pan, and bake at 350F for about 50-60 minutes, until the cornbread is cooked through.
Serve with some chopped cilantro.
I love this dish, I use it pretty often with shredded chicken (which usually only happens when I make crockpot chicken stock and save the chicken meat for something else). I also plan to turn the last 2 thighs from the stewed chicken recipe into a quesadilla, but that's less exciting than corn spoonbread.