I've been up to quite a bit lately, too much to spare time to blog about it.
In order:
My FFE swap spoiler sent me a package!!! It's all sorts of awesome.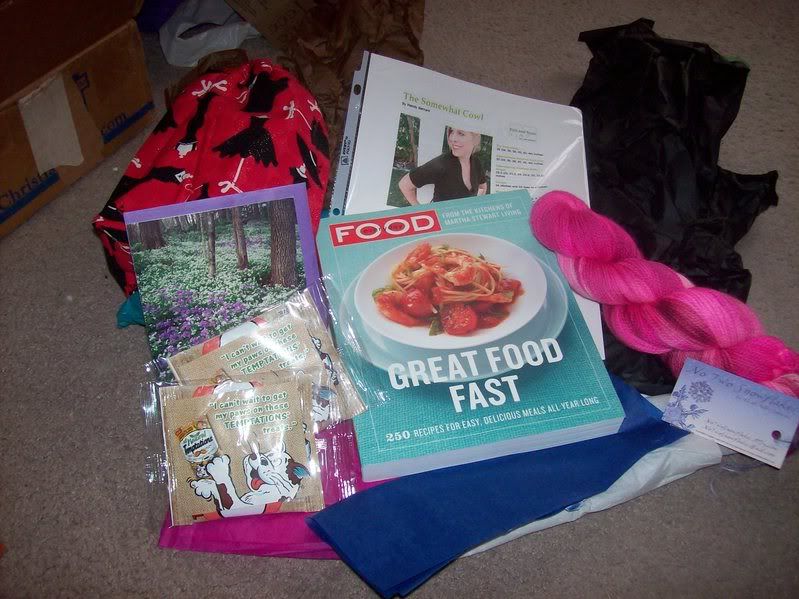 She sent Everyday Food's
Great Food Fast
, a book I've been lusting after since it was released. I can't wait to try some of the recipes! Also pink super, super soft sock yarn that's already queued up to be flutter-by socks. A pattern for Wendy Bernard's Somewhat Cowl (yay!!), a red and black draw string bag that's so going to Florida with me in a couple weeks, and some treats for Pa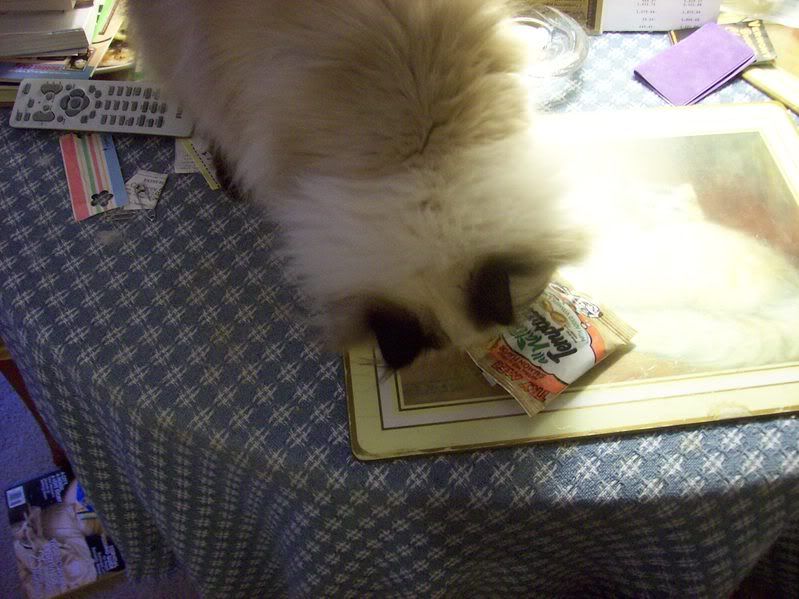 nsy. Pansy was pleased.
Saturday we went apple picking. We came home with 20.5lbs of apples, which have been baked into apple crisp, eaten, and pondered. I'll make more apple cupcakes tomorrow, and maybe also apple pie (or apple pie this weekend), and LynneP (I think) from the Sha-recipe Swap on ravelry sent a recipe for apple pie bars that I may also try. I wonder how those would go on the plane? Hmm.
The rest of the weekend was spent working (and knitting in the breaks), because YESTERDAY I HANDED IN MY THESIS. and ok, this is just draft 1 of the thesis, and to my advisor so he can look it over before I revise and hand in to my committee, but still, this is a
huge
relief. I'm taking tomorrow off to 1. celebrate, 2. rest, 3. catch up on all the stuff I've been ignoring (like birthdays- hopefully my family will understand and not get annoyed with me for not calling the birthday people- also cleaning, putting away laundry, doing laundry, etc etc.). I'm also taking tomorrow off for some scheduled condo nonsense, which is less exciting.
I finished my chevalier mittens (photos soon) and cast on a pair of fetchings originally meant for my color swap partner, until I remembered she's allergic to wool, and
that's
why I'd planned to go to WRY to buy her alpaca, I knew there was a reason! However, I'm not happy with the previous two pairs of fetching that I've done, as I used horribly inappropriate yarn (knitting bulky yarn on size 5s just to make the gauge right is not so clever), so I'm keeping the current fetchings.

Finally, FFE Swap Question of the Week #4: What are you going to be for Halloween?
Last year I meant to be Persephone (white gauzy stuff, a pomegranate), but I took ill and my 103 fever prevented me from doing any celebrating (however, the Halloween party I was planning to attend was extremely lame- I wish various powers that be would stop shutting down the Grad Student Council's social events). Since I never had a Halloween last year, I believe I'll pull out the gauze and buy another pomegranate and try again.
Speaking of Halloween, Clint and I are very excited that next year, we might get trick or treaters! I don't know what's up with New Hampshire, but I've not once seen kids trick or treating here. I was mildly surprised when no one came trick or treating at my condo complex the first couple years I lived there (actually, my first year here, I was stuck in lab til 8pm and was so, so upset at the thought that kids were coming to my door and I was missing them), because one side of the street is all houses, most with kids, and my complex is 70 units where you don't have to enter any doors to get to the unit doors, so very safe, and no one comes. Even driving around on Halloween night at dusk, I see no kids. It's strange. I hope Massachusetts celebrates, because Halloween should not be a holiday just for 20-somethings and college students!