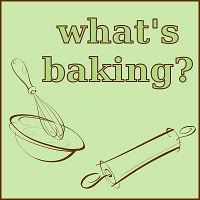 Dunne
is hosting our February What's Baking? challenge, and she chose a theme of "baked with love": bake something appropriate to serve on Valentine's Day.
Well, in our house, Valentine's Day coincided with both of us jump-starting our workouts and trying to eat a little healthier. Fortunately, I had recently seen a gluten-free, low-fat chocolate cookie on the
Martha Stewart Show
(warning: this link takes you to the video, which will start playing automatically), and I just had to try it!
I omitted the chocolate chunks. The cookies are chocolatey enough, and with the goal of a healthy/er cookie, there's no need for extra chocolate (and ok, yes, I know there's fat in the nuts, but that's healthy fat, and you can use fewer nuts. No comment on the amount of sugar, it's still a cookie, after all). Any nut you have on hand would be great in these. I also had a kind of funny mishap- the second time I made these, I made them from memory and accidentally used one less egg white. You know what? The cookies were totally fine (Clint said better). So don't sweat it if you only have 3 egg whites, go for it.
Flourless Chocolate Hazelnut Cookies
adapted from
Martha Stewart
3 cups powdered sugar
3/4 cups Dutch-process cocoa (or you can use regular baking cocoa, but these really are chocolatey-er and better with Dutch process)
dash of salt
1-1/2 cups hazelnuts (or nuts of your choice)
4 (or 3) egg whites (3 makes a crisper cookie, 4 makes them nice and chewy. I prefer 4, Clint prefers 3)
Preheat oven to 325F. Spread the nuts on a cookie sheet and toast for about 10 minutes. Cool them slightly, then chop roughly.
Sift together the powdered sugar, cocoa and salt. (I rarely sift, but I recommend it with cocoa, which tends to stay in chunks (like
the movie Dune is in your chocolately drink
.), although once baked, you won't notice them very much). Stir in the egg whites and chopped nuts.
Drop by tablespoonful onto a parchment-lined cookie sheet and bake at 325F for 20-25 minutes, until the cookie tops look dry and are cracked.