I had this crazy idea that once I was unemployed, I'd have all sorts of free time for cooking, organizing, blogging, crafting.... instead, I had an identity crisis. Well, not exactly, but I just don't really know how to structure my day and include everything I should be doing. I've been knitting a lot, and emptying out all the stuff I've had stored on the DVR for months. But cleaning? Organizing? Even cooking? With the exception of some very failed granola bars (sigh), nothing. A full week of being a lazy bum. I did, however, exercise daily (go me!), so it wasn't a complete loss.
Yesterday I snapped out of it... a little. Today was better. But yesterday I decided I required cookies. I browsed, I perused, I found things I'd like but Clint wouldn't, I found things Clint would eat but I wasn't thrilled with... then I found a coffee cake. Not a cookie, but tasty.
And today I've gotten off my lazy butt (finally) and begun to work on the seminar I'll give at a job interview next week. I'm off to a rough start, but hopefully once I settle back in to seminar-preparing it'll be smooth going.
Note: I've never made a coffee cake. Crazy, right? No one in my family has ever made one (that I've tasted, at least). I used to get so excited when someone brought in a slice of a plain vanilla cake with a cinnamony, sugary walnut swirl in the middle, it was such a rare treat. There's no reason I can't make one myself! I'm glad to have fixed that little problem.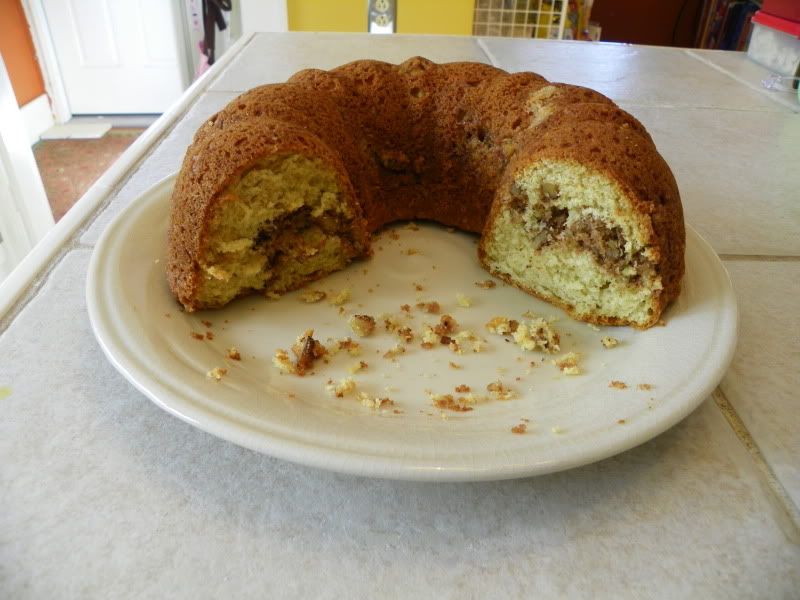 Maple Coffee Cake
taken from
Miss in the Kitchen
(part of the reason this caught my eye on tastespotting, aside from that beautiful nutty swirl, is because Miss has photographed her coffee cake slice on my mother's every day china. Have you ever seen that china before? No? Me either. I love little coincidences like this!)
Cinnamony Sugary Walnuty Swirl
1/2 cup flour
2T butter, softened
1t cinnamon
1/2 cup maple syrup
1 and 1/4 cup walnuts, roughly chopped
In a medium-sized bowl, mix the flour, butter and cinnamon until it's crumbly. Stir in the nuts and syrup, and set aside.
Cake
2 cups flour
1t baking powder
1t baking soda
1/2t salt
1/2 cup (1 stick) butter, softened
3/4 cup sugar
2 eggs
1t vanilla
1 cup nonfat yogurt or sour cream (I used half greek yogurt and half sour cream; the original recipe suggested vanilla yogurt, which I think would be interesting (in a good way))
In a small bowl, sift together the flour, baking powder, soda and salt. Set aside.
Cream together the butter and sugar, add in the eggs, one at a time, and vanilla and beat until well-combined and a little fluffy (a few minutes). Add in half the flour, then the yogurt, then the rest of the flour. The batter will be pretty thick.
Grease a bundt pan. Pour in half the batter, spread in an even layer. On top of that, spread the maple walnut mixture in an even layer, and top with the remaining batter. Spreading everything evenly is kind of a pain, just to warn you.
Bake in a 350F oven for 35-40 min. Cool about 10 min before removing from the pan.
This cake has a lovely texture, it's not super soft like other coffee cakes, but has a hearty yet fluffy texture. The cake itself isn't super sweet, so it might be nice with a simple sugar/milk glaze if the maple walnut filling isn't enough.