btw, friends, I'm playing around with new blog templates/backgrounds. I'll hopefully get a few different things up in the next few weeks. Feedback is welcome!
It all started with a quart of pumpkin eggnog that M pawned off on my because she doesn't really like eggnog, and had another quart already in her fridge. Well, I don't really like eggnog either, but we were both very happy to try to think of ways to cook with it. (I hear she made some really good eggnog muffins and cookies that I'll have to try sometime)
I made waffles. And I didn't blog about them- it would look like that was because I've been busy, but actually, it's because they weren't that good. They had nice flavor, but they were pretty dry- from no fault of the eggnog, I'm sure, I made quite a number of alterations. The waffles were based on this
favorite recipe
, only I:
reduced the butter from 12T to 8T
used half whole wheat flour
eliminated the sugar
used 1/2 cup milk and 1 cup pumpkin eggnog
and got 5 waffles instead of 8. Hmm.
We happily ate them when they were fresh, but the last 3 sat in the fridge for several days, until yesterday's blizzard, when I decided to work from home. Well, I was much more efficient than I expected, so I took some time to bake.
And... leftover waffles plus still unwanted pumpkin eggnog... well, that just screams bread pudding right?
Waffle (bread) Pudding
A wamozart12 original
12oz /5 cups waffles (about 3 large waffles), broken into pieces
2 eggs
1 cup eggnog
1/2 cup milk
3T sugar
1/2t vanilla
1/2t nutmeg
1/2t cinnamon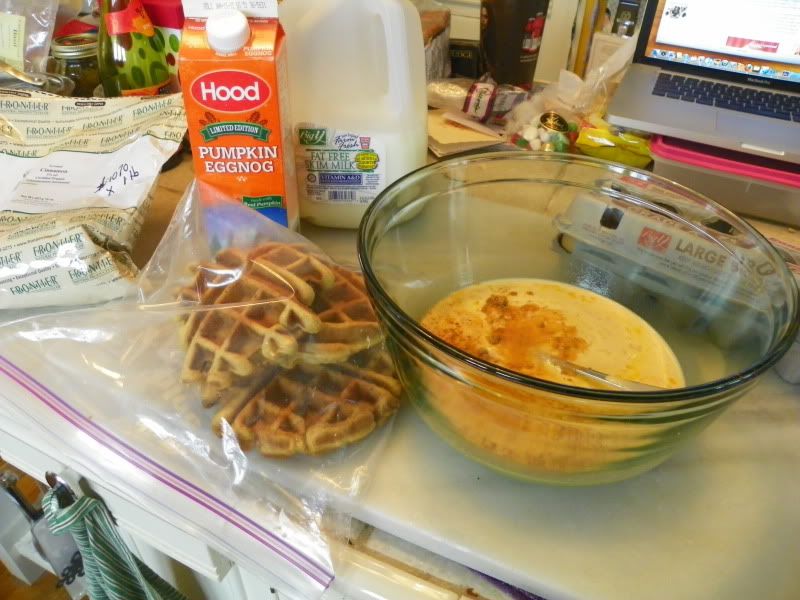 Beat the eggs, nog, milk, sugar and spices together in a large bowl. Toss in the waffles,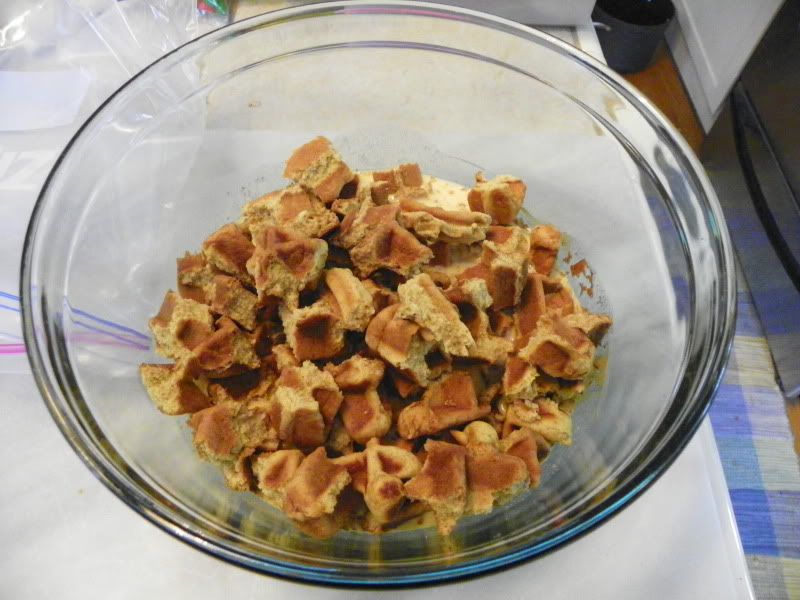 and let them soak for about half an hour- if the waffles are not covered by the custard, then come back periodically and stir everything around.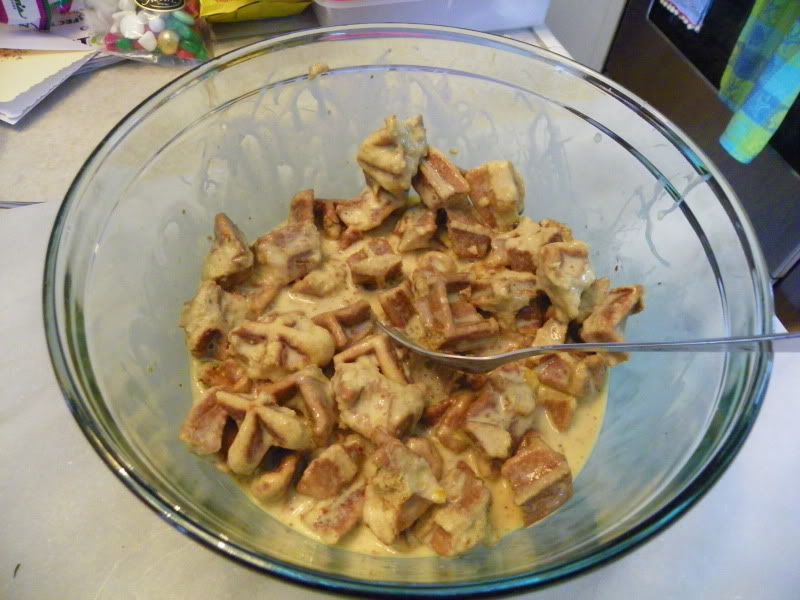 Transfer to a greased deep baking dish (I used a medium-large ramekin, I'm not sure how much it holds, though, but I will check) and bake at 350F for about 45 minutes to an hour, until the custard is no longer runny. (I ended up baking for 30 minutes uncovered, then I covered with foil for another 30. I'm not sure which is best, I was worried the top would burn.)
Enjoy warm or at room temperature, on its own or drizzled with caramel sauce, a dollop of whipped cream, or anything else that sounds food.
Results:
This is such a random and strange idea, but I really liked it. The waffles soak up the custard just as well as bread does, and because my waffles are always a little flavored, the whole dessert was nicely flavored. The only downside is that the waffles
not
covered in custard during the baking time ended up rather dry and hockey puck-like, so you'll need to make sure all of the waffles are covered in the dish. I should have added a little more eggnog, or just taken some of the waffle pieces out.
I will be making this in the future, because what else do you do with leftover waffles? Maybe this weekend I'll root around in the freezer for other leftover waffles, we always save them (I hate wasting food!)