A couple weeks ago, I heard about a blogger making soup to benefit animals.
Branny Boils Over
pledged to donate $1 to the ASPCA for every soup recipe submitted to her. I love this idea! I'm dedicating this soup to Pansy, who, as usual, hung out with us in the kitchen while we cooked, and sat with us while she ate.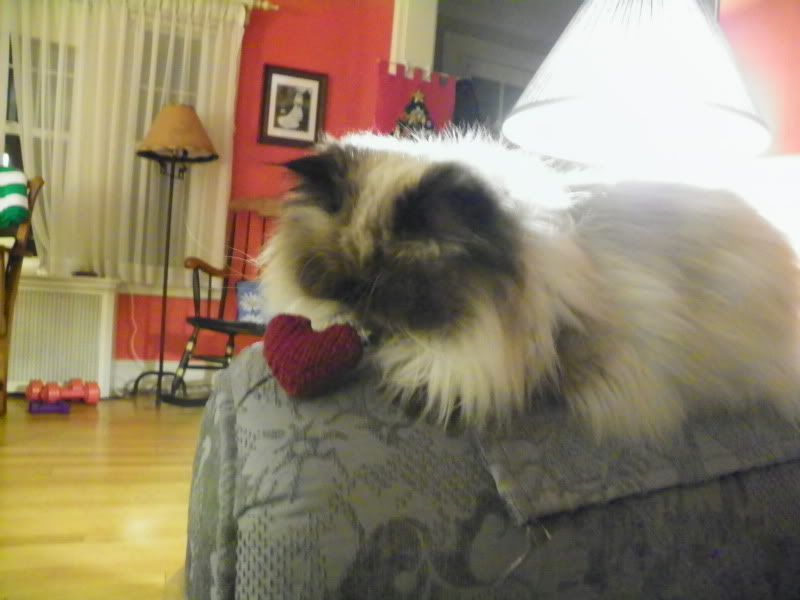 (here she is with the catnip heart I just made her)
Want do make a charity soup? Just make a soup recipe, blog about it by January 30th, dedicate it to your favorite animal, and email it to Branny. Details and her email are on her
blog
. Don't like soup? Donate directly to the
ASPCA
.
This soup had the bonus of making a "going back for seconds" meal- this only happens about every other month. I rate how "good" a meal is by whether my husband goes for seconds. And with this meal, he had seconds... and then thirds.
I made stew and bread. It's been chilly, and I'm kind of in a soup mood. We had some pork in the freezer, and who really makes soup/stew with pork? Well, I found a recipe for pork stew and because it was so unexpected, I had to bookmark it. Good move. It was surprisingly good (i.e., I thought it'd be pretty good, but it was more like "wow... this is
good
!"). It was also easy- about 20 minutes to assemble everything, then I had a 30 minute work out while it simmered, and then we ate. It would have been a great weeknight meal.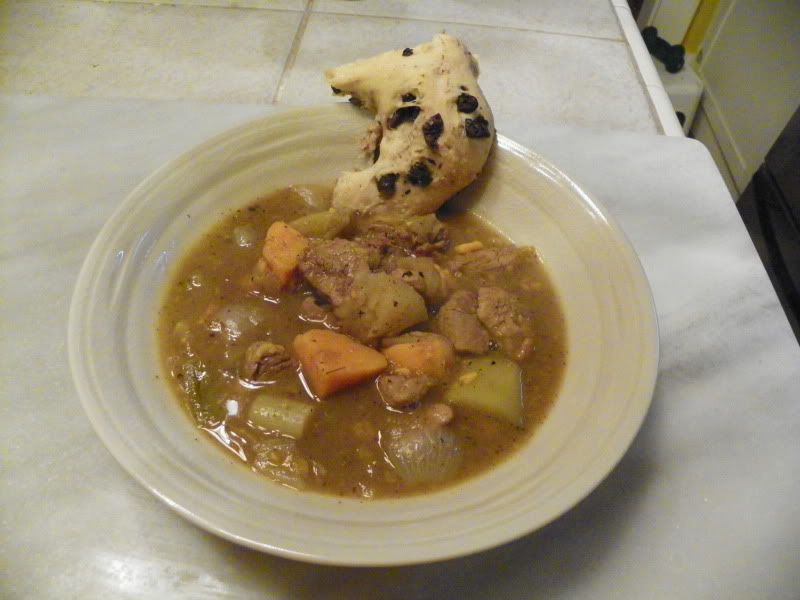 To go with our stew, I made Dorie Greenspan's fougasse. Have you ever had fougasse? She describes it in "Around My French Table" as the provencal cousin of focaccia- honestly, I think it's better than focaccia (although it's possible I've never had real focaccia). The first time I ever saw fougasse was when I was in grad school and made it a point to visit the bakery at King Arthur Flour on a weekly basis. My friend Molly and I would go every Friday and buy a loaf of either rosemary (her) or olive (me) fougasse. Molly was a serious runner, so she'd eat the entire thing in one sitting, but I'd make mine last through Sunday (it's definitely best eaten the day it's baked). KAF didn't keep fougasse on the weekly rotation for very long, which was sad for my mouth, happy for my hips. It's a really simple bread, but something about it has a beautifully pure flavor, it's hard to describe. It's composed of olive oil, flour, yeast, water, salt, rosemary and olives (I omitted the lemon zest, more or less accidentally), and I think some combination of the salty, acidic olives with the blank palate of the rest of the ingredients does something magical. As Clint forcefully stated, "this bread is stupid-good".
Oh, and perhaps the pork stew and olive fougasse aren't the best pairings (sweet potatoes and olives? kinda weird), but it worked pretty darn well at for us. Next time I may make sage fougasse and have it with this soup, or maybe the olive fougasse with minestrone.
Pork, Sweet Potato and Apple Stew
adapted from
Our Life in the Kitchen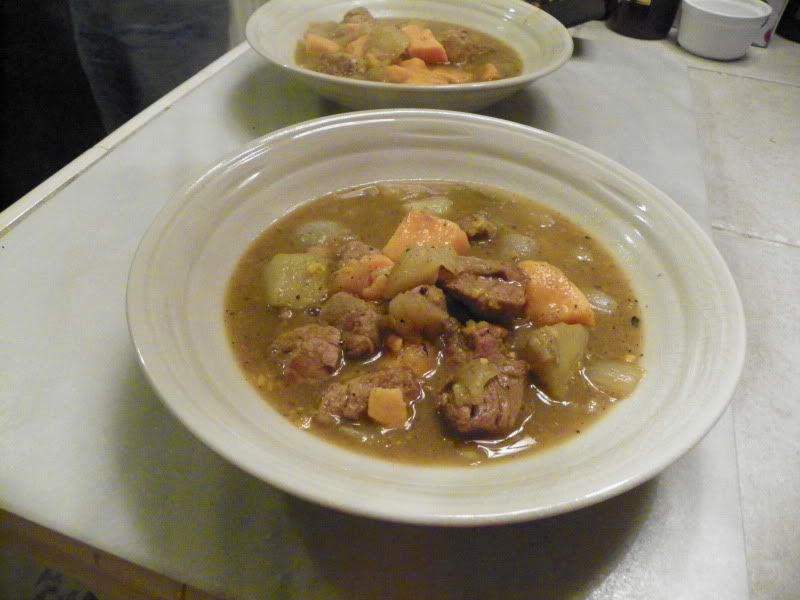 1-1.5lbs pork (original recipe said pork stew meat, I used a pork tenderoin), cut into chunks
2 large or 3 medium sweet potatoes, peeled and cut into large chunks
2-3 apples, peeled or not peeled (we peeled) and cut into large chunks
2 leeks, cut into 1 inch chunks (or 1-2 onions, roughly chopped)
2-3T olive oil or butter
1t cumin
1t dried sage or rosemary
black pepper, to taste
1/3 cup flour
6-8 cups chicken stock (or a mix of chicken stock and water)
In a large pot/dutch oven over medium heat, heat the oil. Add the pork and brown for a few minutes. Add the leeks and cook for 2 minutes, then add the cumin, sage and black pepper and cook a few minutes until fragrant. Sprinkle in the flour and stir until it soaks up the fat in the pan, and add the stock, sweet potatoes and apples. Simmer over medium-low or low heat for about 30 minutes.
Note that there's no salt in this: surprisingly, we didn't need any. I used 1.5 cups of homemade salt-free chicken stock, 1.5 cups of canned low sodium chicken broth, and 4 cups of water, and we didn't need to add salt at all. Of course, salt your own to taste before serving.
Olive Fougasse
from Dorie Greenspan's "Around My French Table" (if look it up on amazon.com, you can read the recipe page 48) on "look inside this book")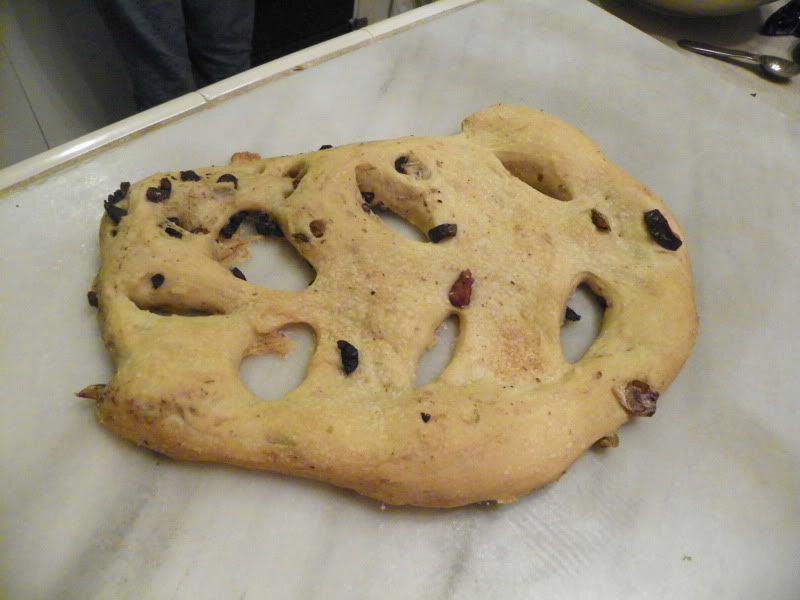 Note: Dorie recommends letting the dough sit in the fridge overnight before baking. I'm sure it'll be delicious if you just let it sit a few hours, though, but I haven't tried that yet (I will this week, I'll report back).
2/3 cup warm water (in my opinion, 95-100F)
2t yeast
1t sugar
4T (1/4 cup) olive oil (I used extra light, but EVOO would be the normal one)
1 cup warm water
4 cups AP flour
1.5t salt
1T fresh, chopped rosemary
1 cup pitted, chopped dates (I used kalamata)
zest of 1 lemon or orange
1T olive oil
2t water
salt
Combine the 2/3 cup water with yeast and sugar, stir and let sit for about 10 minutes, until the yeast wakes up and is frothy.
Stir in the 1/4 cup olive oil and 1 cup of water. Meanwhile, in the bowl of your stand mixer, whisk together the flour and salt. Pour in the liquids, and stir to combine with your dough hook for a few minutes on low. Knead in medium for 10 minutes. This dough is very soft and sticky, so my KA could handle 10 minutes on medium.
Now add in the olives, rosemary and zest and stir to combine (I kneaded with my hands for this part). Let the dough sit in a cool spot/refrigerator (I left it in the mudroom area, which we've recently discovered is uninsulated and averages about 50-55F) at least 6 hours, preferably overnight, or up to 3 days. I left it overnight.
On the day of baking, divide the dough in half (I left one half in the bowl to bake the next day). Roll out the dough to a flat-ish oval, and with a sharp knife, cut slashes in the dough, kind of in a leaf shape (traditional) or another shape you like. Let rest about 15 minutes.
Preheat your oven to 450F.
A few minutes before baking, whisk together the 1T oil and 2t water and brush over the top of the dough. Sprinkle with salt. Bake on the medium or lower rack in your oven for 10 minutes, then rotate and bake another 8-10, until lightly golden. (If you bake 2 loaves at once, put one on the medium rack and one on the low, and swap them after the first 10 min of baking).
Best eaten fresh from the oven, and accompaniments are totally unnecessary, this is a bread worth eating completely plain.
I only ever post recipes I think are worth sharing (unless there's some hilarious story or lesson to be learned from a fail), but I think these two recipes are more worth trying than other things I've shared. I'm telling you:
go make these
. And then make them again. I'm baking the second loaf of fougasse today, and then making more to bake later this week, and I think I'll be bringing this stew to our ski weekend in VT in March.