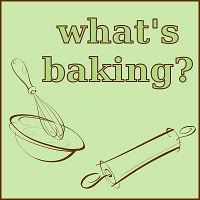 For this month's What's Baking, the challenge was to bake something with holiday colors. I think it took me about 2 days to decide what to bake... I found a recipe for red velvet cookies and decided I
needed
to bake them.
To increase my use of holiday colors (in case the red velvet wasn't quite red enough), I tinted the frosting green. Note on food coloring: I've recently made the switch from the regular little bottles of liquid food coloring to gel food coloring. In the past I've enjoyed paste colors (from my Martha Stewart cake decorating kit), but even if you're careful and cap them tightly, they still dry out. The gel colorings seem to color food just as vividly as paste, but I find them easier to work with. My mom gave me a box of 8 colors of Americolor gel food coloring in my Christmas stocking last year, and I've used nothing else since. The green frosting took a single squirt of color, and I'm sure I'd have needed at least half the bottle of liquid color for that shade.
Red Velvet Sandwich Cookies
from
The Family Kitchen
Note: for Christmas, I made a double batch, and got about 3 dozen sandwiches
1 stick butter, softened
1 cup sugar
2 eggs
2T buttermilk (or 2T regular milk with a dash of white vinegar, and let that sit for a few minutes before using)
1t vanilla extract
Red food coloring: 1T liquid or a healthy squirt of gel- add until you like the color
1 1/3 cups flour (I used AP, but part WW might be good)
1/4 cupcocoa powder
1t baking powder
1/4t baking soda
1/2t salt
Cream the butter and sugar together, then add the eggs, milk, vanilla and red color and beat a few minutes, til fluffy. In a separate bowl, sift together the dry ingedients (sifting is important, I did not sift and that's a mistake- my Hershey's cocoa stayed in chunks and I got Dune in my chocolately cookie (gold star if you get the reference).) and add to the wet ingredients (add in 2 parts, so you don't get flour and cocoa flying all over).
Here's where I differed from the recipe: drop 1T of dough on a parchment-lined cookie sheet. 2-3T makes an enormous cookie and you'll only get 12 cookies from the batch, which simply is not enough. Bake for 375F 12-15 minutes, until they're no longer gooey. Frost after they're completely cooled.
Frosting: I did not use the cream cheese frosting in the recipe, because I married Mr Red Velvet Connoisseur, who despises the use of cream cheese frosting on red velvet cake and declares it's just wrong. I used my own favorite childhood frosting, Suzie Q Filling, which is about the same as my husband's chosen frosting recipe (how interesting our favorite childhood frostings are the same...)
Suzie Q Filling
delicious on all sorts of chocolate cakes
recipe from my mom, who got it from someone at a Tupperware party in the 1980s
1 cup milk
5T flour
1/2 cup crisco
1/2 cup butter
1 cup sugar
1/2t salt
1t vanilla
In a small saucepan, whisk together the flour and milk. Cook over medium or medium-high heat for a few minutes, until it's very thick. Remove from heat and cool until it's just lukewarm. Mother says this is called "poor man's frosting".
In the bowl of your mixer, beat together the crisco and butter (you can use all crisco or all butter if you like). Add in the sugar and beat until it's fairly fluffy, then add in the salt, vanilla and milk/flour mixture. Mother's instruction: "beat like hell". This means turn your mixer on and go sort the mail, or vacuum, or check your email. I'm kind of kidding, but just let it beat for a few minutes (scrape down the sides if you need to, though). Add in food coloring if you like.
To make sandwich cookies:
unless you baked them perfectly and they're all exactly the same size, before you frost, match up pairs that are the same size before you start frosting. I find the easiest way to frost is to scoop the frosting into a plastic bag and cut off the corner to pipe onto the cookies, rather than spreading with a knife- that just gets messy. Pipe some frosting onto the cookie (not too much, these are more solid than whoopie pies, so when you bite in, all the frosting will squirt out the sides) and top with the paired cookie. And voila, sandwich cookies!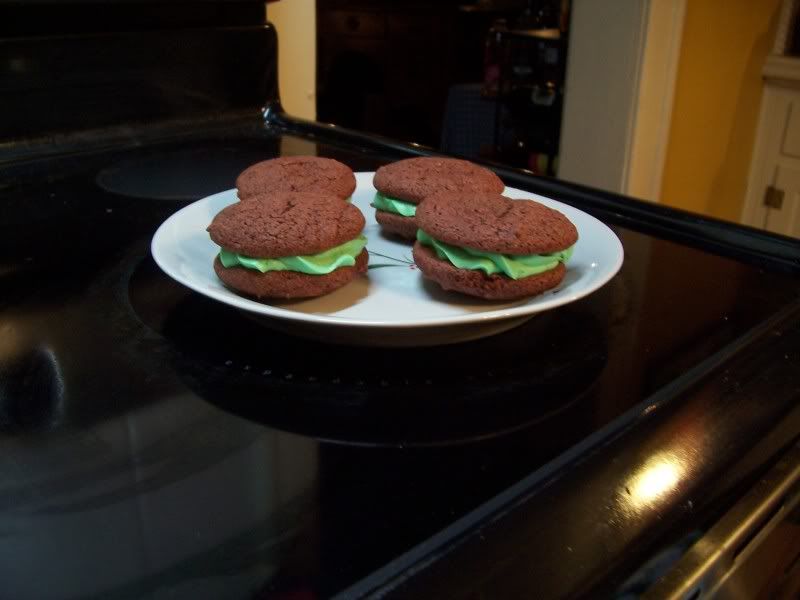 Note: I love the texture of these cookies- they're a cross between a whoopie pie and a cookie, cake-like, but nicely firm but not quite crisp on the edges. I could eat these all day long...