You thought I forgot about you, right? I didn't... I've just had other things going on. Most of them are definitely not as enjoyable as blogging, but the rest of the things have been crafting, so of course they're super fun and I can't wait to get home from work each day so I can craft. Wanna see?
I made some hats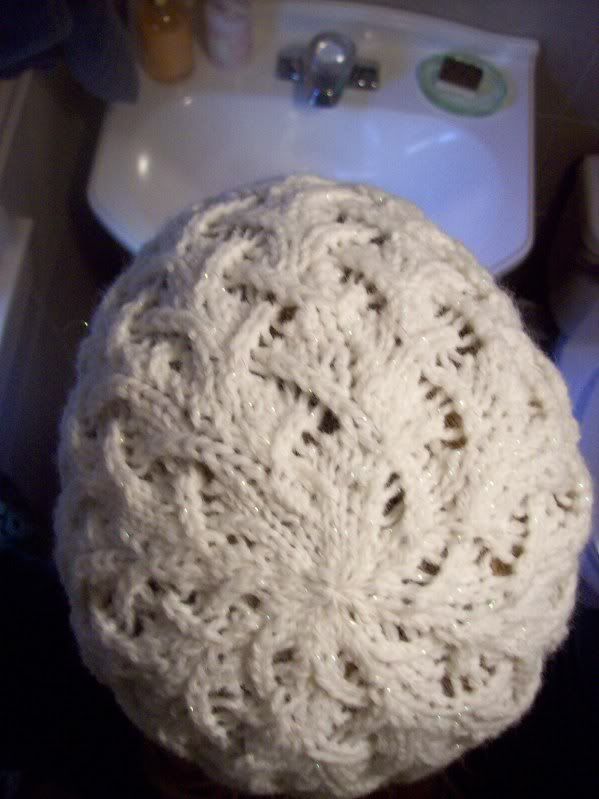 I knit the purple one first, for a swap, and I loved it so much (despite having a hell of a time getting started) that I knit the white one for myself. It fits well and is cute, but is kind of worthless on a windy evening.
I made a pair of gumdrop wreaths for the Wadsworth Tree Festival in Hartford, CT, shown ehere on either side of the large wreath.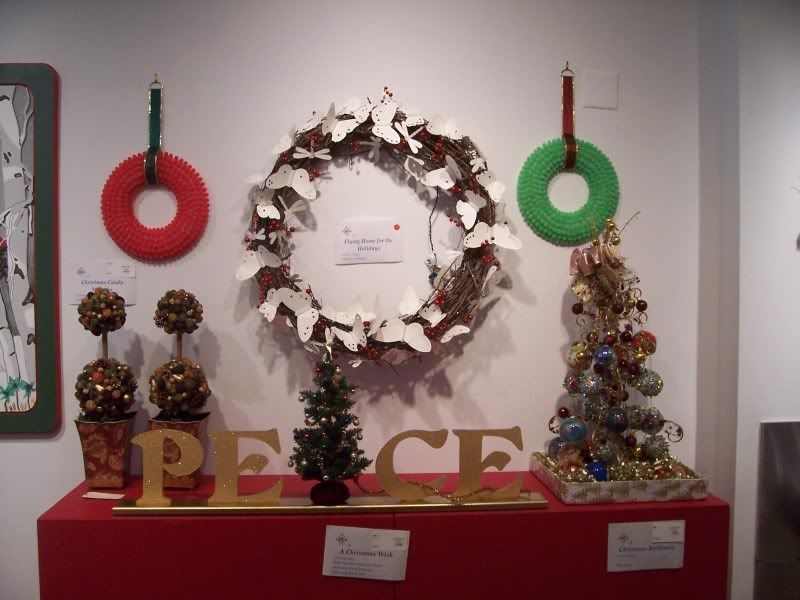 That was fun, I made them exactly like last years, but sprayed them with 5-6 coats of acrylic sealant spray (stinky, stinky) and after the final coat, sprinkled them in white Martha Stewart glitter. I'm now making more and more- we'll hang last year's (which didn't last all that well without being sprayed, but are good enough for another month) and I have given and will give more as Christmas gifts.
I made a cheesecake. Little known fact- I hate cheesecake. Like, gag, it's nasty. This is kind of unfortunate, because I used to love it, and it's because of a sad association with an illness. However, I used to spend many, many calories on cheesecake, which I no longer do, so I'm viewing this as a positive diet change. So why did I make a cheesecake?
I have no idea. Plus, it was for a party.
Now, since it was for a party, and at this party I had no camera (this party was the post-concert reception of my choir's Boar's Head Festival, which was rather awesome), so I can't show you how pretty it was. Fortunately, the blogger I got it from has a lovely picture, so just go see hers.
Savory Cheesecake with Onion Pear Compote
taken from Josie at
Pink Parsley
3 8oz packages of cream cheese, softened (I used neufchatel cheese)
8oz blue cheese, crumbled
6oz parmesean cheese, grated
4 eggs
1/4 cup cream (I used fat free 1/2&1/2)
1/4t black pepper
Beat the cheeses together until creamy. Beat in the eggs, one at a time, then the cream and pepper. Pour mixture into a greased 9inch springform pan wrapped in foil so that the water from the water bath doesn't seep in to the pan, and bake in a water bath for 45-50 minutes at 350F, until the middle is not quite set and the edges are slightly brown.
Chill overnight, then remove the sides of the springform pan and serve on the bottom of the sprinform pan, topping with the compote.
I know there are tricks to get it to not crack, but.... I wouldn't worry too much. You're going to cover it with the following compote, which will cover up any imperfections.
Onion Pear Compote
4 cups onions, chopped
2t olive oil
2 cups pears, peeled and chopped (about 2 pears)
2T vinegar (recipe says pear or raspberry vinegar, but I just used balsamic, which was good)
1 cup brown sugar, lightly packed
1/4 t salt
pinch cayenne (I omitted, not knowing the preferences of the guests at the party)
Heat the oil in a large pan, add the onions and cook over medium until softened, then reduce heat and cook until translucent, about 10 minutes. Add the pears, vinegar, sugar, salt and cayenne and cook until pears are soft (about 20 min more). Note: here the recipe says to then remove the onions and pears and reduce the liquid in the pan til it's thick, but I didn't actually have any liquid in the pan, so I skipped this.)
I tried some of this, and even though it's savory and lovely and blue cheesey, it's still cheesecake. The compote was good enough to disguise that on my second bite, but... I can't do cheesecake. Everyone else loved it, though!
I know, I know, why did I bring a dish I hate? It caught my eye, that's all I can say.