I had a quick trip to Disney World this past weekend. Originally I wasn't going to go, but when my parents emailed me their flight info, I just felt so...
sad
. then the next day, my advisor and I decided on late October/early November for a defense date, and I decided that I could spare a 3 day weekend at least 2 months before the date. My annual pass is also still good, so it'd be a shame not to use it, right?
I landed 35 min early on Friday night. My parents met me at the hotel with food (roast beef sandwich and tiny cupcake from the Beach Club gift shop). This was the start of a tasty weekend.
Saturday, Epcot: breakfast at The Land (egg, cheese and bacon croissant, yum). Lunch at the Akershus is Norway. Now, this used to be my favorite restaurant. I like Norwegian food, perhaps because of my heritage, but maybe just because I like seafood and strange cheeses. I think it's not hte most popular restaurant. Many years ago, it was a buffet: a hot buffet and a cold buffet. Then they switched to a cold buffet and they'd bring the hot dishes to your table, which mostly included what the hot buffet once had. Around this time, they also made it into character dining with the Disney Princesses- it makes sense, the restaurant looks like a medieval castle. Then they had the hot dishes be one per person (all you can eat is a little much, really). Now the only traditional Norwegian hot dish is the krotkake, a meat ball-type thing, the rest of teh dishes include pan seared salmon with mushroom soup or seafood chowder (no more jarlsburg cheese soup! :( ), pan seared chicken over bean stew, bbq pulled pork, etc. They also took all the variety of herrings from the cold buffet (leaving one type of herring), the gjetost (caramelized goat cheese), the lefse (potato pancakes), most of the unusual types of meat, the cucumber salad, the cold scrambled egg to be eaten with the smoked salmon, etc etc. The cold buffet is basically a salad bar with salami, jarslburg and munster cheeses, turkey, mackerel, and smoked salmon. It's not terribly Norwegian. It also costs a fortune, so I think I might give up on that restaurant, until they go back to the Norwegian point.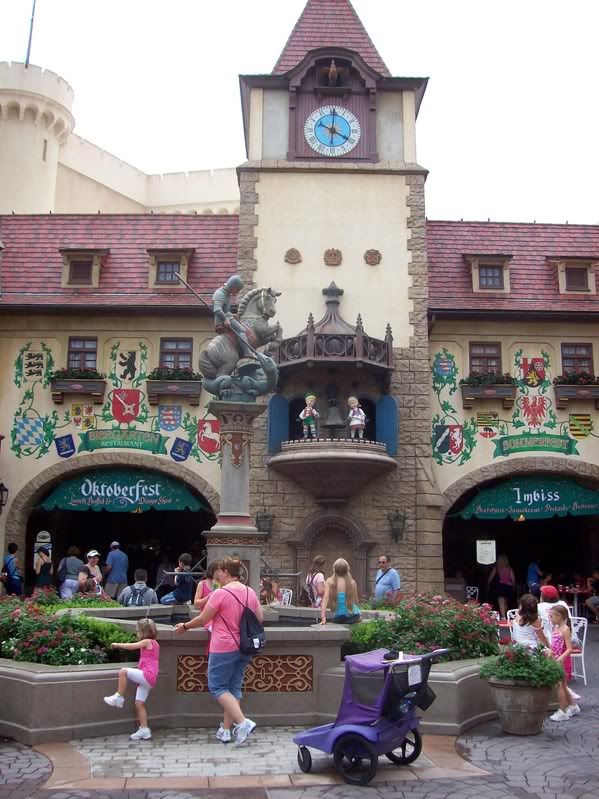 After lunch we proceeded to Germany and Dad and I drank our way around the world (Mom got wine in Germany but no more). We were lucky enough to show up in Germany just as the clock struck 4:
Saturday dinner: France, at the Chefs du France. We rediscovered this place 3 or 4 years ago, and had a wonderful dinner. This time was merely fine. Part of my problem was they were heavy on red meat, none of which I was in the mood for, so I had the ahi tuna, which was overcooked although still tasty, just kind of boring. The desserts were pretty awesome, chocolate mousse with coconut ice cream (also supposed to have bananas of some sort, which were absent), and rhubarb compote on a butter cookie with strawberry mint sorbet (which was OMG delicious). It revived my desire to make my own sorbets and ice creams.
Sunday: we had breakfast at the Main St Bakery in Magic Kingdom (honey-glazed cinnamon buns and coffee all around- these are the best cinnamon buns in Disney World, and believe me, I've tried a
lot
of cinnamon buns).
We took tea at the Grand Floridian as a late lunch, which was lovely as always. We usually have the Buckingham tea, which includes tea sandwiches (watercress and cucumber, chicken, egg salad, shrimp salad, and pear-gorgonzola, with a caramelized onion tart), scone and raspberry tart with devonshire cream, choice of strawberries and cream or two pastries from the pastry tray, and your own pot of tea. This time we splurged and had the Grand Tea. This is basically the Buckingham plus a glass of champagne (with a strawberry stuck on the rim, a great idea, it really improves your perception of the champagne to smell the strawberry as you drink) and some pate. I was apprehensive about the pate, but it was ok. Honestly, it tasted like chicken sausage.
We stopped for a snack at the candy store on Main St between lunch and dinner, and mom and I split a beautiful cupcake. We were impressed to find that it tasted as good as it looked- I had my doubts. The next day we tried the chocolate cupcake, which was even better (and I usually prefer vanilla cake)
Finally, for dinner, we had the best meal of the week
end. We dined at Narcoossee's at the Grand Floridian, which has a perfect view of the Magic Kingdom fireworks. For those of you on the meal plan, this counts as two sit-down meals per person. It's a splurge, but I think it's really worth it. I began with a passion fruit mojito. This was the best mojito I'd had, up to that point (that would change the next day). It was just a classic mojito, with passion fruit nectar added. This is the restaurant that serves a slab of butter sprinkled with special Hawaiian sea salt- I couldn't remember what restaurant did that, so I was happy to finally answer that question. This sea salt is tangy, very unlike regular salt, so that was a great touch. My entree was scallops over corn and crab risotto, and OMG yum. Mom had steamed lobster, which was actually prepared in a really wussy way- everything was all cut up, she had no need of lobster crackers. However, this is the south, where they don't know Maine lobster like we New Englanders know Maine lobster. Dad had surf and turf, which was a buttery lobster tail and some kind of steak. We were all very happy. For dessert dad had the gelato sample (vanilla, fig, blackberry and chocolate, all in little tiny square cups, each with its own spoon), and mom and I had the sugar free dessert, which was a mixture of fruit and three small scoops of sugar-less mango sorbet. Another bump on my desire to make my own sorbet. Sugar is absolutely not necessary in certain sorbets. Since I have my dreaded pineapple allergy, I made sure the fruit wasn't all pineapple (Katy might remember that time we went to Legal, I got the fruit dessert, assuming they'd never put
pineapple
in, and it turned out to be just pineapple. Sigh.), which it actually was, so I got strawberries and raspberries, while mom got the regular fruit mix- which had exactly one piece of pineapple. Ah, well. I liked my fruit mix better anyway.
Yum, yum, yum.
Monday we went to MGM (Hollywood studios, whatever). Dad and I always go on Tower of Terror, then meet mom for breakfast at the bakery place kind of around the corner from the Brown Derby, also around the corner from what used to be the villains store and is now a candy store. We dined on cinnamon rolls and apple turnover, both of which were merely adequate (compared to the other things we ate all weekend).
For lunch we went to the Prime Time Cafe, which is better for the atmosphere than the food- mostly because it's not really my type of food. The best dishes here are the meatloaf and the pot roast. I don't eat pot roast, and while I eat meatloaf, I'd never choose it over anything else. Dad had meatloaf (and
loved
it) and Mom and I had the chicken pot pie- very, very good. For dessert I had the brownie sundae (which was: brownie, vanilla ice cream, hot fudge, caramel sauce, whipped cream, m&ms and caramel corn. Very impressive). Mom had a simple hot fudge sundae, and Dad had the s'mores. Then we all felt very, very ill.
We went back to the hotel later on, since it was starting to rain, and stopped in the Crew Cup at the Yacht Club hotel, which was supposed to have a great variety of beers. (Disney World, in general, is not the place for the beer connoisseur. Beer is decent in Epcot, but no where else). We were disappointed in this place's beer list: all the typical crap (bud, bud light, michelob, etc etc etc), and 2 types of Sam Adams, Newcastle and Heineken. That was about it.... so dad had a Newcastle, mom had a mango champagne thingy, and I had THE best mojito ever. It was your basic mojito, but with Barritt's ginger soda instead of seltzer/club soda. OMG YUM. I love ginger, so it was definitely my kind of drink. I wonder if this is the ginger beer that Sherry uses in her Dark and Stormies....
For dinner we ate at the counter service place in France (dad had fish and chips from England). Mom and I split a ham and cheese croissant and the cheese plate (brie, some kind of swiss, and munster). I also had a glass of French wine, a Vouvray, I believe. It was nice. The gewurtztraminer I had in Germany on Saturday was the best wine of the weekend, th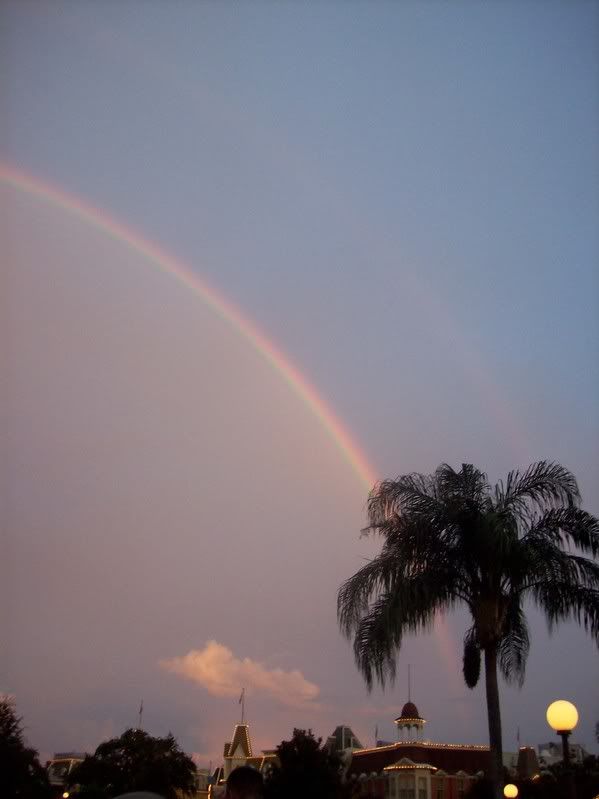 ough. I also had an Oro d'unito or something like that in Italy, and a pinot gris for dinner in France on Saturday night.
Tuesday I left :( Mom ran and got me a cinnamon bun from the gift shop, which opened 10 minutes before the bus picked me up. It was the same type of bun as at the bakery in MGM. It was fine.
I brought home a caramel apple, some Mickey rice krispie treats (which are cuter than they are tasty, I think they use Marshmallow fluff) and a package of chocolate covered pretzels. This week I am dining on salad.
We saw a lovely rainbow (you can see a hint of the second rainbow to the right) on Sunday.