Well, wamozart12 got married. I feel like I should do a whole "I got married" entry here, but it doesn't entirely fit with the cooking/crafting theme. I mean, I could make it fit- we had plenty of food at the wedding, all of it planned very carefully by myself, and some of it was even made by me. But that would require a lot of digging around for photos, and, well, I'm tired. I'm not wedding-ed out by any means, but in terms of food, I want to move forward.
The wedding ate up all my time. I loved planning it, but my kitchen was a little sad and lonely, and I was having too easy a time losing weight. Therefore!
First, I made a pie.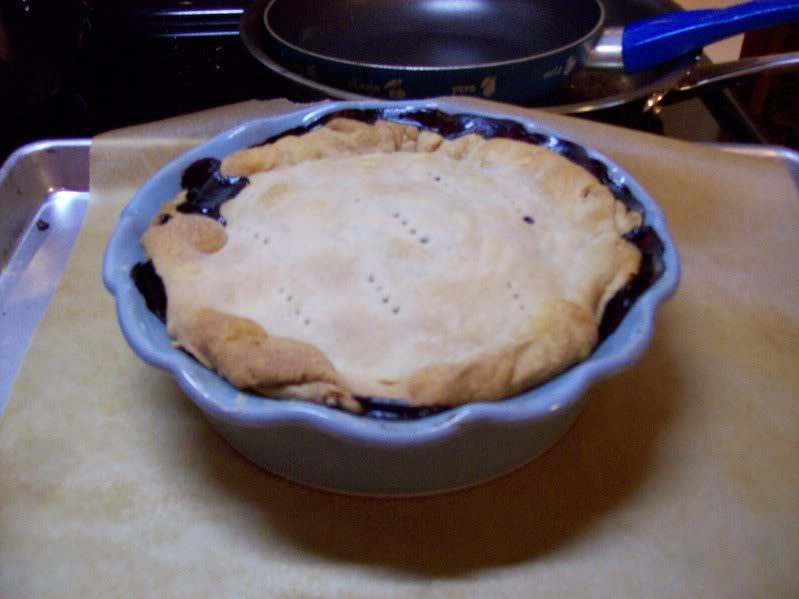 I came home to an empty house, my husband was in NH for work. I happened to have a brand new pie dish (wedding gift from a friend with impeccable taste in gifts), blueberries in the freezer, and pie crust in the freezer. So. That was nice.
The next night, we had my parents over for dinner. I made pork wellington (which I've posted about before) and served the leftovers of this pie, as well as a spectacular apple pie bread acquired at the farmers market (bakery's website
here
). And it just so happened that I had some cheese on hand...
a wedding gift from my friend's parents. You probably can't read the cheese markers, but we have: dill havarti, cheddar (unlabeled), manchego, horseradish
bacon
cheddar, and apricot maple chevre. I love how the cheese markers are shaped like cows, goats and sheep- so you can use them appropriately.
Then for the past few weeks, a raveler in the Knit n' Bake group has been taking cooking classes in France, and sharing photos of her baked booty. Reading these posts at the end of the day, when I'm really ready for dinner is rather troublesome, but after watching Ina Garten make some cheese danishes, using frozen puff pastry, I decided to take matters into my own hands- and also use up some of the 2.5lbs of plums I got at Stop and Shop:
these were simple- it's just frozen puff pastry rolled out and cut into squares (9 squares per sheet, 2 sheets per box), a dollop of cheesecake mixture (4oz cream cheese, 1/2 an egg (use the other half for the egg wash), 2T sugar, and vanilla) and plum/apple slices, fold over, brush with egg wash (1/2 egg and apple cider- although milk might be better) and bake at 400 for about 10-15 minutes, until they're done.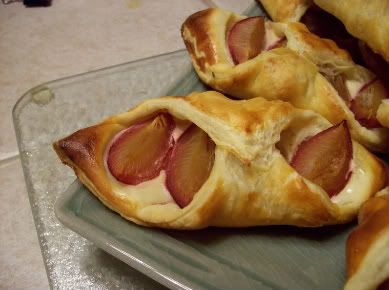 We ate those pretty quickly.
And finally, since I'm going to Disney World in 2 days, I decided it'd be nice to have a little packable snack for the plane ride. And it being fall, I have a slight craving for pumpkin. I found, in my new
More Recipes from Magnolia
cookbook, a pumpkin walnut cookie with brown butter frosting recipe. I had a really tough time waiting for these cookies to come out the oven. They'll definitely be repeated.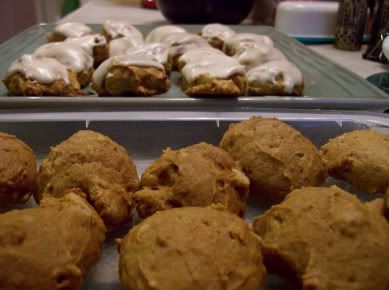 In summary, yum.