Does anyone else chant this to themselves when dealing with weight vs volume measurements? It's saved me more than once.
I made pound cake this weekend. I really like pound cake, it's fluffy, simple and homey, and makes a great base for a lot of things.... like ice cream (which I ate while the cake was baking, so I didn't get to try that pair this time around).
I was reading last month's Yankee Magazine (love that mag), and saw
this recipe
for pound cake, with strawberry sauce. I thought, ooh but ew, hulling 5 pints of strawberries to cook down? Doubtful. But I brought the mag with me when I went cat sitting this weekend.
Paula Deen made
her grandmother's pound cake
on Saturday morning, which reminded me of the Yankee mag recipe, so I decided I'd try it. Then I had a lousy trip to Border's and was angry, so required some baking to make myself feel better.
This is a cream cheese pound cake, which gives the batter a really nice flavor. The cake itself turned out much lighter than I thought (this may be the first from-scratch pound cake I've ever baked, and I'm pretty sure the most recent one I've eaten has been Sara Lee, which I find more like a tasty piece of cardboard), although I'm not sure I taste the cream cheese in the baked cake. I also didn't feel like making a strawberry sauce to serve over the cake.... so I swirled in strawberry jam (my parents have a jam shelf in their fridge- so they had strawberry jam to spare)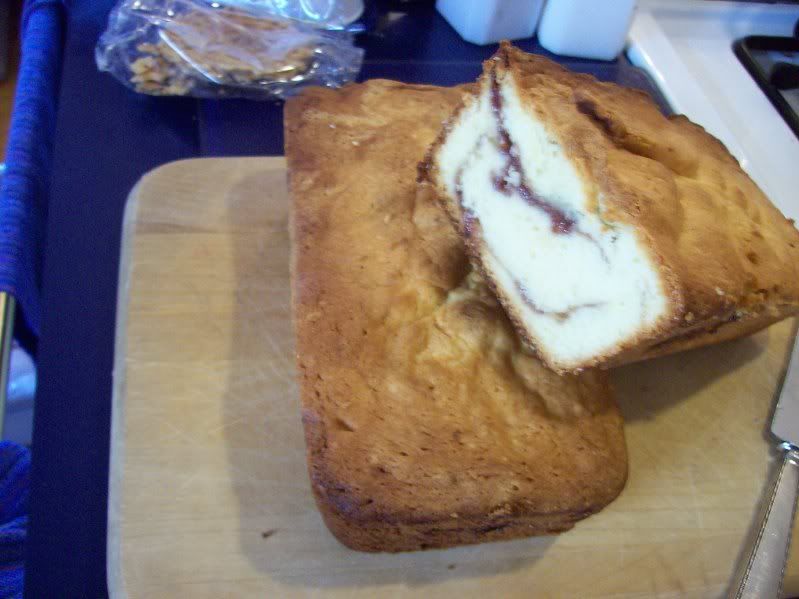 Pound cake!
Cream 3 sticks of butter and 1 8oz package of cream cheese. Add 3 cups of sugar (1 cup at a time), beat. Add in 6 eggs, one at a time, beating well after each. Add 1t each of vanilla and almond extracts.
Stir in 1t of salt, then 3 cups of flour, 1/2cup at a time (to reduce flour flying everywhere).
Spray 3 loaf pans, and in each, put about 2 large glops of batter, so that the entire bottom of the pan has about an inch of batter. Briefly microwave strawberry jam (or whatever, I almost used blackberry before I found a ton of strawberry jam) so it's soft and soupy, and spoon several dollops on top of the batter. Swirl around evenly, then add more batter, spread out evenly, more jam, spread evenly, and end with one last batter layer. Bake in a preheated 325oF oven for 1 hour and 20 minutes.
It starts to smell good after 40 minutes. I find it's nice to throw in a tiny cake pan of batter that's ready in under an hour, so you don't have to wait quite as long to taste it.
Next time, I want to play around with increasing the cream cheese:butter ratio, and see if I can bring out the cream cheese flavor. I'd also like to try neufchatel cream cheese for a lower fat version.
In other food news, I had delicious sushi last week. It's up there with the best sushi I've had (reminder: I live on the east coast, which isn't really known for its awesome sushi).
Baba Sushi
Labmate X took photos of every meal (there were 7 of us, 6 had sushi) because they were beautiful. I had the Lion King roll (spicy tuna and avocado, with tempura king crab on top and Baba Eel sauce, which is kind of teriyaki-y and banana-y, really interesting and delicious) and the sweet potato tempura roll, recommended by labmate DN. I wish I could remember what everyone else had, because they were beautiful and apparently incredibly tasty. Sushi lovers in Worcester, go there!