We rang in the New Year in style this year. First we head over to M&M's house for a vast array of treats to munch on while playing Apples to Apples, before the ball dropped. I should have eaten more, but I kind of forgot (but what I had was delish! Especially the bruschetta).
In the morning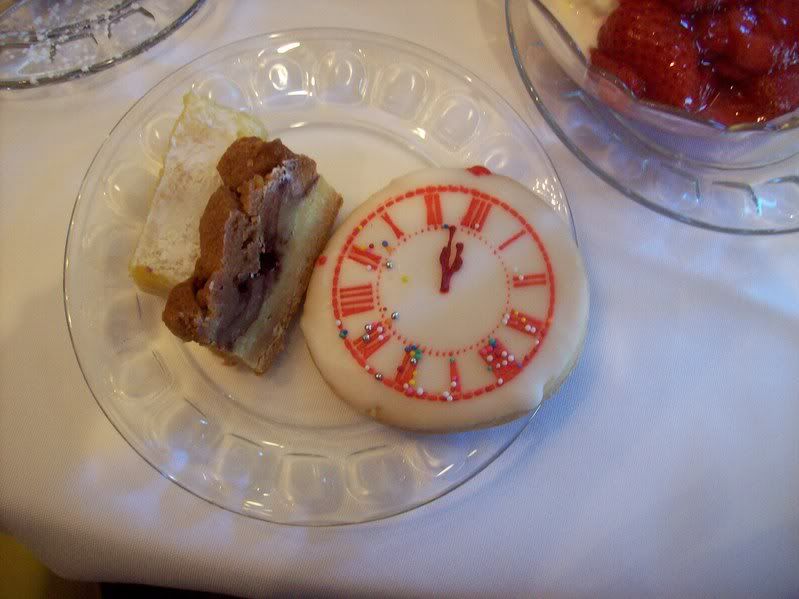 we went over to Town and County to hobnob with country clubbers, and dined on a big buffet of good food (my favorite were the eggs benedict on brioche, and pear, candied walnut and gorgonzola salad. The seafood bisque was unimpressive, and so I was sad- I was really looking forward to it). They had lovely-looking (I stress
looking
, the taste left much to be desired, unfortunately) cookies.
In other tasty-foods news, my
peppermint bark
is almost done (yay and boo). It was delicious, but I've been trying for a while to eat healthier, and kind of gave up before Thanksgiving, thinking I'd just wait til January to eat healthy again. So I need that bark gone. It was super easy, I recommend it.
Right now I'm in the midst of hurried revisions and packing, so cooking will be slow for a while (probably until after I move). However, I'm going to the grocery store tonight, as they're having their big citrus caselot sale, and I have high hopes of buying a box or 2 of 40 pink grapefruits. I tend to go through a box that size in a little over a week, so buying 2 right now is tempting- they might be gone by next week. And no, I don't share the grapefruit. :)