I meant to post last week, but I was too busy cooking.
Can you imagine?
Last week, I made a rhubarb crisp. For some reason (I think having rhubarb images scattered around marthastewart.com helped), I had rhubarb on my mind the way you get an annoying song stuck in your head. It would not go away. As luck would have it, when I went in the grocery store, one of the first things I saw was that rhubarb was on special. So I bought a pound and a half, having no idea what to do with it.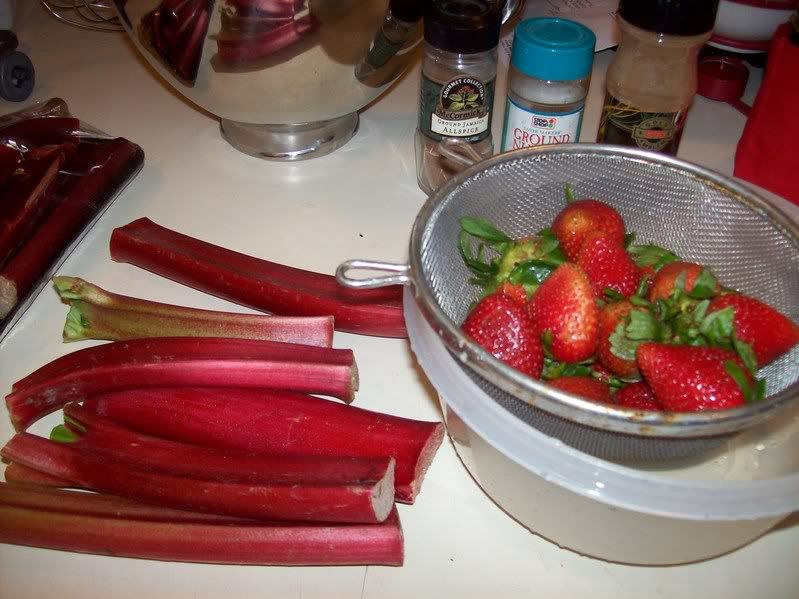 The rhubarb recipes in the April
Martha Stewa
rt Living
were for tarts and teacakes, and I didn't feel like making a crust but the idea of a tart was very tempting. I made a strawberry rhubarb crisp, combining the basic idea of the tart with my typical apple crisp.
A pound of rhubarb, cut into 1/4inch slices, and about 8oz of strawberries (which I just happened to have).
Combine with 1/4cup of sugar (I'd actually add less next time, I prefer a tarte
r rhubarb dish, but if you like it mildly sweet, this is good. If you want it truly sweet, add in a bit more) and 2-3 tablespoons of flour, put in a 9x9 or 8x8 square baking dish. Then make the topping.
1/3cup flour
3/4cup oats
2/3cup brown sugar
dash of salt
teaspoon or so of cinnamon and ginger
1/2teaspoon or so of nutmeg
mix.
then add 1/3cup melted butter, combine (will be crumbly) and pour over the fruit.
Bake at 350 for about 45 min, until bubbly.
Eat. Restrain yourself for about 15 minutes until it's cool enough that you won't burn yourself. omg it was
good
.
...
So that was last weekend. Come Tuesday I had to start cooking madly for a little hors d'ouerves mini reception-type thing for a meeting I was attending (helping run) on Friday 3 hrs away. This is tricky, but I'm not unused to hosting cocktail parties at places other than my home. I made about half of the stuff at my place, and the rest at my parents' house, which was half an hour from where the reception would be held.
My menu consisted of tried and true foods, ones I couldn't mess up (except when I found out my parents haven't sharpened their knives since 1974, and I therefore had some serious problems cutting the tomatoes).
Cherry tomatoes stuffed with herbed chevre
Tomato/basil/mozzarella skewers with
fig/balsamic reduction
Sausage profiteroles
Figs poached in port wine
, served with chevre
Cranberry chocolate oatmeal cookies
Beer cookies
Coconut macaroons
Mango/cream cheese spread
Olive tapenade
Olive bread and rosemary bread, instead of crackers.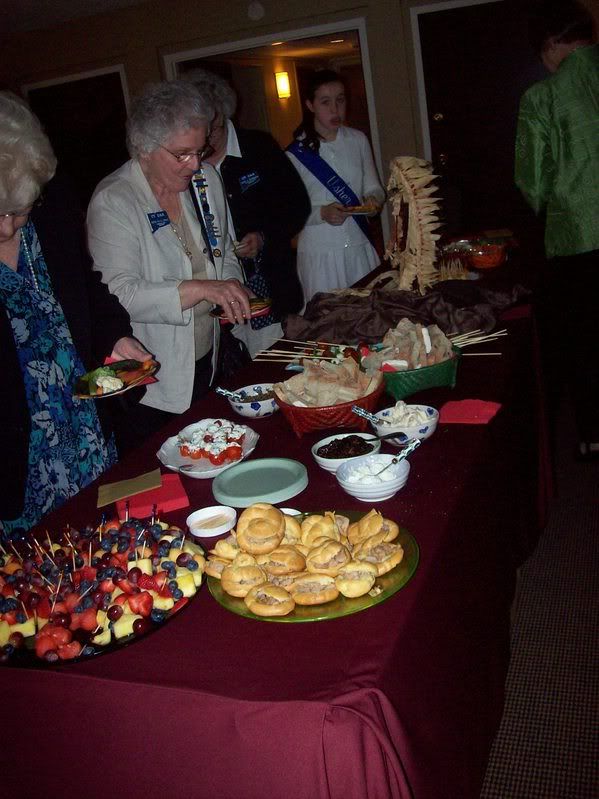 Some notes:
Stuffed tomatoes: make sure you have a sharp knife. Seriously. This will be a disaster if you don't have a good paring knife. Also, I used basil and tarragon, kind of by accident the first time, but one of those great accidents, like oven-safe tupperware.
Skewers: I marinated my own mozzarella because I couldn't find the already-marinated stuff- not impressed. I marinated for about 8 hrs at room temp in 1/2cup evoo, a tablespoon of lemon juice, some basil and parsley. It didn't add much flavor and the olive oil leaked out of the tupperware, all over the bag during the car trip. However.... the balsamic/fig reduction is AMAZING. I need to make more. I also boiled it for about 20 minutes instead of the recommended 5-7. Quickly, because it's that awesome and
needs
to be shared: finely chop 2 dried figs (I used black mission) and put in a small saucepan with 1/2cup balsamic vinegar. Bring to a boil, then simmer until reduced- note times mentioned above. Yumyumyum.
Sausage profiteroles: yum. Also, you really need to cook that flour/butter/water mixture for 5 minutes over heat; if you don't, they don't puff and look very sad in comparison (I had two batches, the first were sad, the second was puffy and jolly)
Figs poached in port wine: if you make the whole batch, you'll probably have leftovers. Make a sandwich with figs and chevre, it's really tasty.
Oatmeal cookies: I used the Quaker oats recipe, and used chocolate-covered cranberries instead of raisins or chocolate chips. This was kind of a compromise between people who like raisins in their oatmeal cookies and people who like chocolate chips. It's a good compromise.
Beer cookies: I've explained the fabulosity of these before. They continue to be fantastic.
Coconut macaroons: a Martha Stewart recipe that is so incredibly easy, yet impressive.
Mango cream cheese spread: 1/2cup mango chutney (get the cheaper stuff, it's good enough-unless you can afford to spend $7 for just enough chutney for this recipe) and an 8oz package of reduced-fat cream cheese. Combine. It's that easy.
Olive tapenade and bread were store bought... although I might have to start making my own olive tapenade, they don't have it at my grocery store anymore :( It's Hannah's brand, very good, and not nearly as greasy as some.
Next up: cookies for four reasons... a birthday, a very late birthday, a because-you're-far-away package (shoot, is she reading this? ;) ) and choir rehearsal snacks. I'm not entirely sure what I'll bake, and I might not get all of this with one batch, which is all I have time for tonight. So, we'll see. Choir and birthday are tomorrow, but the birthday package will be late anyway, so.... yeah.
I also need to get my boyfriend to grill this week while he's on spring break, because 1. yum, and 2. it's pretty darn hot out, really nice grilling weather. Maybe he'll do a guest post about grilled sausage or something.
And if all the above wasn't enough for you, check
this
out. I'm really tempted to make the sushi ones sometime soon.