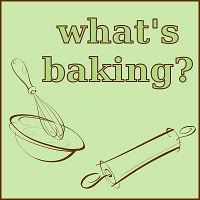 Lindsay of
Peace, Love and French Fries
chose the theme for this month, and she chose yeast! Her intent was to try to get people who haven't done much/anything with yeast before to give it a try. Obviously I'm not one of those yeast-fearers, but I did try to make some I've never done before. Originally I planned to make soft pretzels, but things were way too hectic to plan for that. Fortunately, I had another recipe in the back of my mind that was a little easier.
Pitas!
I'd wanted to make pitas ever since someone mentioned how she never bothers buying them anymore because her homemade ones are so much tastier and are easy to make. I can't really compare these to storebought pitas because I have never found any in my area. Because of that, pitas aren't really on my radar, I never think of them as an option for anything. After my first attempt at making them, that's totally changed!
Homemade Pitas
I only use active dry yeast, since I buy it in bulk (2 cup deli containers) at the store, and that's all there is in bulk. The original recipe used instant.
3-4 cups flour
1.5t salt
1T sugar
1T yeast
1 and 1/4 cups warm water
2T olive oil
Sprinkle the yeast and sugar over the warm water, let sit for a few minutes to let the yeast wake up. In a medium bowl (or the bowl of your stand mixer), combine 3 cups of flour and the salt, and then add the yeast mixture and oil and stir together with a wooden spoon, until the mixture forms a ball. If it seems dry, add a little more water.
Knead for about 10 minutes- either by hand or with your stand mixer. While kneading, gradually add more flour until the dough is tacky but not sticky (I added an extra 3/4 cup or so).
Place the dough in a lightly oiled bowl, roll the dough around so it's oiled all over, and cover with a dish towel and let rise for 1.5-2 hours in a warm spot.
After the dough has approximately doubled in size, punch it down and divide into 8 equal pieces. Roll each into a ball, and place on a cookie sheet and cover with a damp dish towel. Let rest on the counter for about 20 minutes.
On a well-floured surface, roll out each dough ball to a round with about 1/4in thickness, about 6-8 inches in diameter. If you're having trouble getting the dough to stretch, let it rest and come back to it after working on the others. Place all the rounds on a parchment-lined cookie sheet, cover with the damp towel and let rise for 30-45 minutes.
Now preheat the oven to 450F, and preheat the baking surface- either a baking stone or a cookie sheet. My baking stone is small so I used a cookie sheet. When the pitas are done rising, open the oven and place each round directly on the preheated baking surface- using my biggest cookie sheet I could fit 4 pitas at a time. Bake for 3 minutes (or up to 6-8 if you want them a little crispy). They'll puff up impressively.
Now fill them and enjoy!
The reason I made these pitas the day I did is that I had some ground lamb in the freezer and a recipe from the Sandwich King I wanted to try.
Greek tacos
! Ground lamb cooked with chopped onions, tomato paste and oregano, made into a pita sandwich with some tzatziki and a cucumber-tomato-red onion relish