Since my last post, bunches and bunches have happened. Today I'll tell you about the edible parts of that, and sometime after Christmas, I'll tell you about the knitting parts.
Before food, let's enjoy my cat. She discovered a Pansy-sized couch on Thanksgiving evening.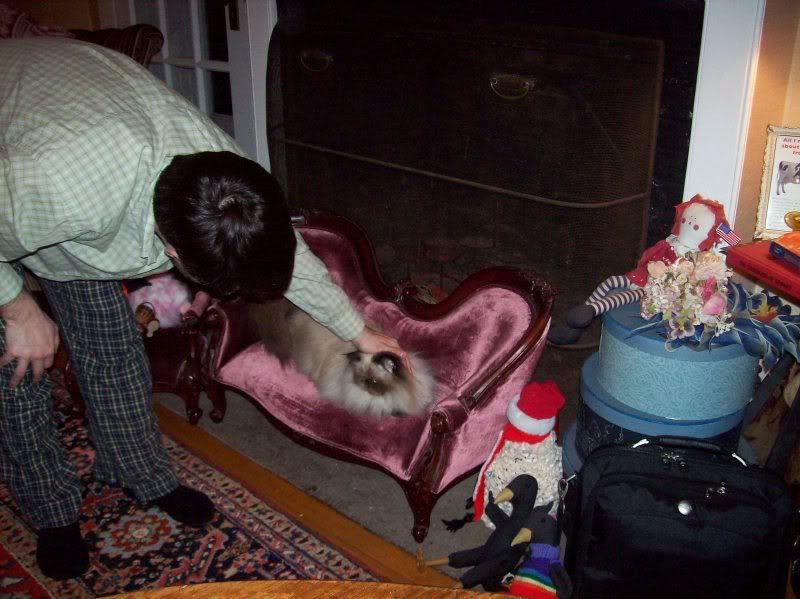 Our two Thanksgiving delicacies are somewhat unusual- at least, I've never heard of them being the most important parts of any other family's Thanksgiving dinner.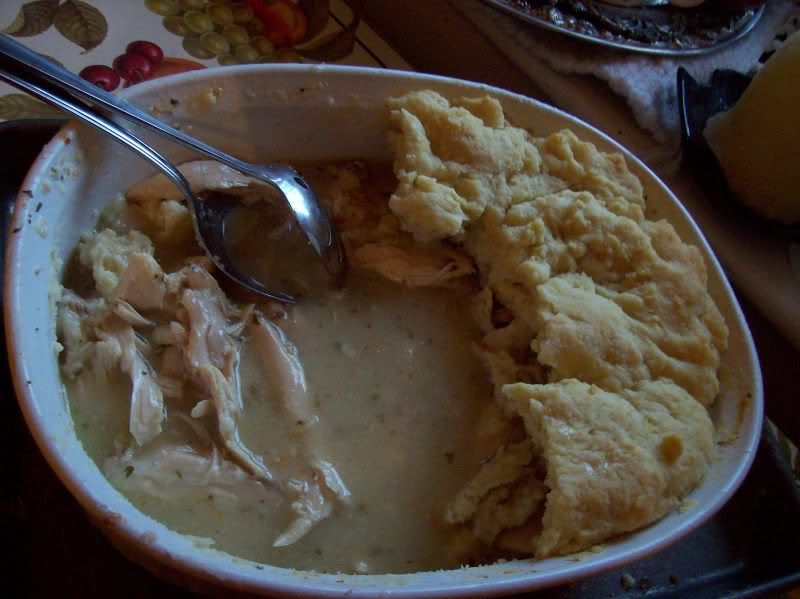 Chicken pot pie, which dates back to the mid-20th century (probably earlier, but mom's Thanksgiving memories start in the early 1950s), when there would be upwards of 40 people at the Thanksgiving table (which stretched through 2 rooms). There was always one turkey, but one turkey does not easily feed 40. They'd kill the rest of the chickens (keeping none over the winter) on the farm and make a chicken pot pie. These days we have around 12 diners, and the turkey would be sufficient for our group, but we still have (and adore) the pot pie. It's simple, just large chunks of chicken, a thin gravy, and a biscuit top.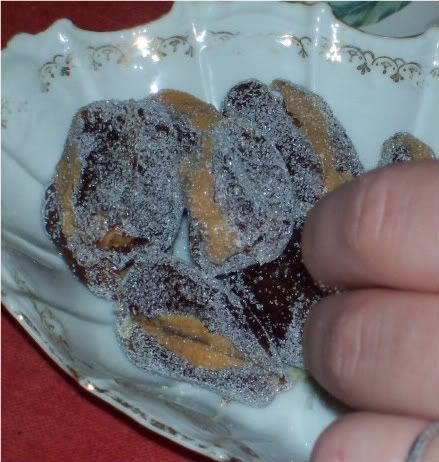 And peanut butter dates. We
always
have these on Thanksgiving, and
only
on Thanksgiving. They're just dates sliced open with a little dab of peanut butter inside, and rolled in sugar. It's not like they're seasonal or difficult, but they're only made for Thanksgiving (and usually they disappear in about 15 minutes). I made some this year, I wasn't sure if it'd be taken care of. This is usually Grandma's contribution.
As usual, I also made two pies.
Pumpkin (from the recipe on the Libby's can) and apple cranberry ginger (inspired by
williams sonoma
)
I splurged and bought a new pie dish from Simon Pearce, as a reward for my successful PhD defense. Unfortunately, they're discontinuing the cranberry bakeware, so I think I need to stock up soon!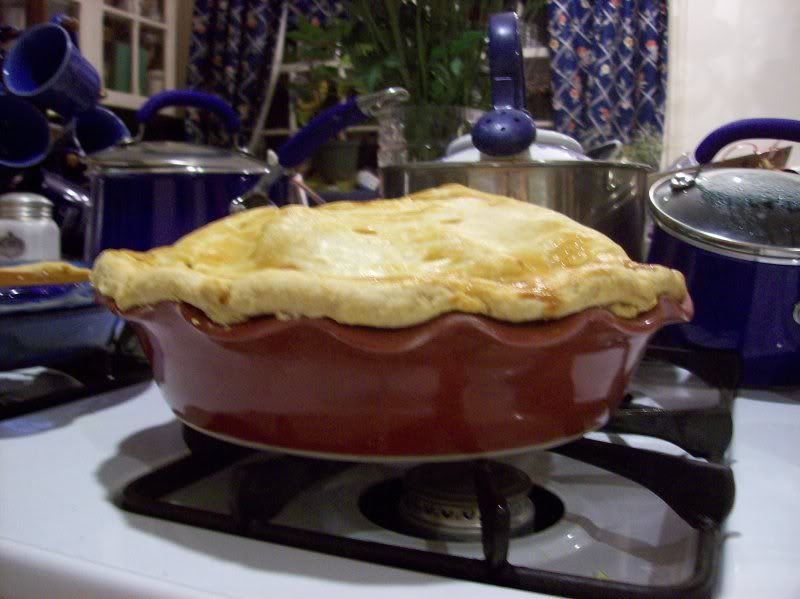 I've also had some really nice food over the past few weeks. The defense dinner was quite nice, we ate at the Norwich Inn. I had salmon that I can barely remember (ah, exhaustion) other than it was delicious, and we had nice little pear bites wrapped in prosciutto. It was very Giada and nicely done. The crisp pear worked much better than the cucumbers I tend to do, and it was also served with a balsamic reduction.
I had much celebratory cake: carrot cake at my cake/champagne reception at school, chocolate cake after dinner, apple cake (that I made) at the defense itself, and cupcakes on Sunday: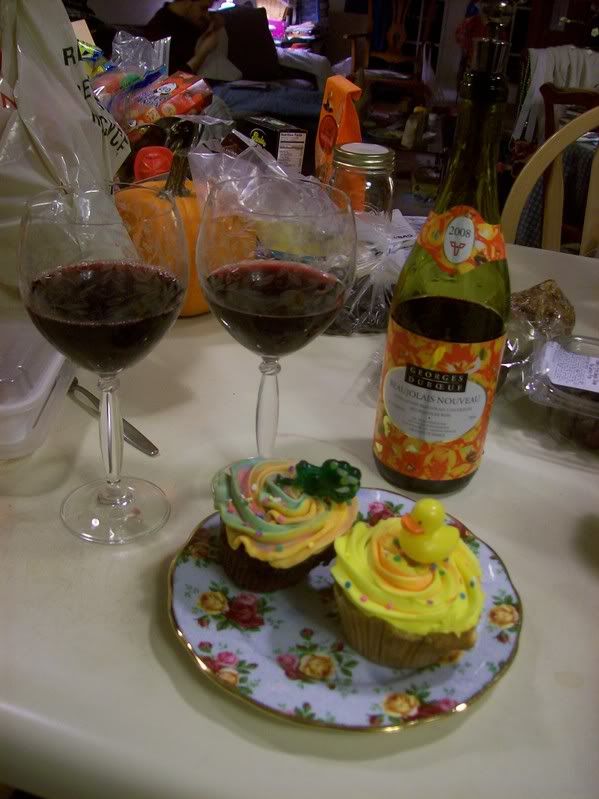 cupcakes (one chocolate, one vanilla, both with vanilla buttercream, from Lou's Bakery in Hanover, as were the carrot and chocolate cakes) pair very nicely with the new Beaujolais.
On Sunday we ate at Simon Pearce before all my people left, and I had, for the first time, their signature sesame chicken. It's basically chicken fingers (reminded me of the chicken fingers at Charlie's Place that used to be in West Hartford) with a lovely apricot glaze. Rachael Ray featured this once on $40 a day. Clint orders it often, but I usually see things I'd rather have than chicken.
And this brings us to some tasty foods I have made recently. I'm about to kick off Christmas Cookie Time, so I'll have many more home-made goodies to share.
I've been making caramel sauce.
Looks nice here, right?
Then over ice cream, even better! But, um, leave it overnight, and it's a crumbly mess. I've made it 4 times, and despite the recipe simply being too vague ("cook until desired consistency" is a ridiculous direction for sugar, because it thickens as it cools!), I can't get it right. It may be that this recipe needs to be used while fresh, because no matter how short a time I boil the brown sugar, cream and butter mixture, it crystallizes by the next morning.
Last night I had better luck with something I'd never tried before:
Cheesecake! Recipe from
Coconut & Lime
. I started out in an 8x8, like she recommended, then I decided it'd be much prettier in my tart pan, so I ended up with an extra mini cheesecake to devour instantly. But it affected my cooking time, so I'm not sure if I may have overbaked...? Is it supposed to be brown on the edges like that? Well, either way, I'm thrilled with my first cheesecake (even though the recipe is for cheesecake squares, so may be a little different than true cheesecake.... I'll pursue this further). I'm bringing this to book club tonight, so hopefully it'll be well-received! My book club ladies are good cooks, so when they give compliments, the food is really quite good.